Barack Obama's Favorite TV Shows and Movies of 2019, Revealed
While you would think that former President Barack Obama would have too much on his plate to stay up-to-date on the latest hit movies, music albums, and books, it's clear to his social media followers that, no matter how busy he is, entertainment remains a priority. Obama recently released lists of his favorite books, TV shows, and movies from 2019 to his followers on Instagram and Twitter. Saying that all of his chosen favorites "made the last year a little brighter," Obama has shared his favorites like this for the past few years.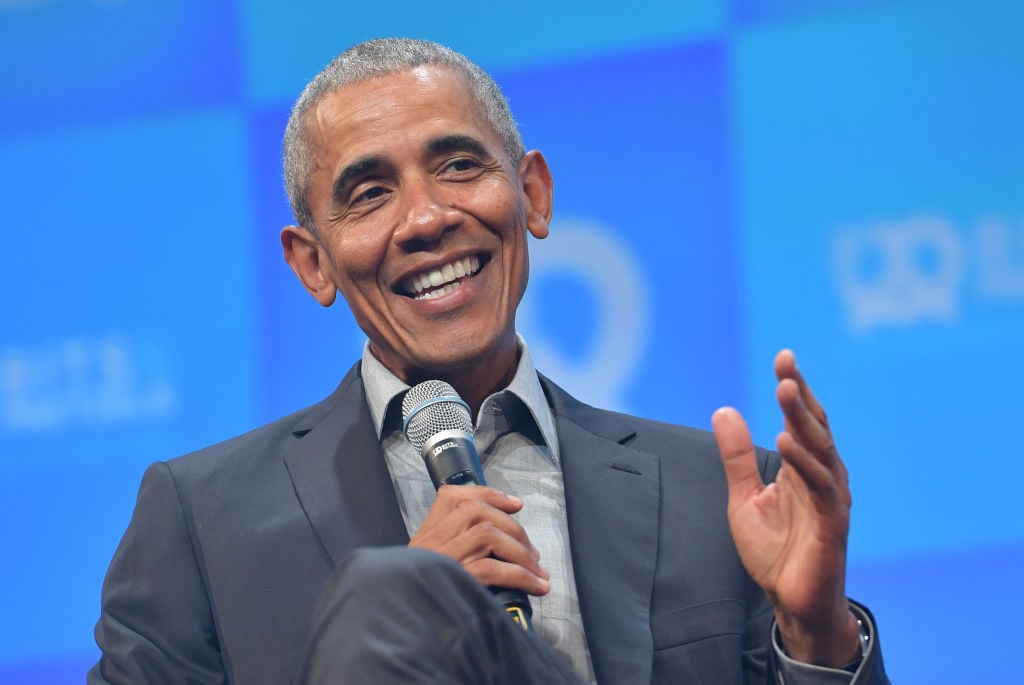 Barack Obama's top movie picks from 2019
The 58-year-old former president shared his picks for his favorite 2019 movies before celebrating the new year.
Among them was Booksmart, directed by Olivia Wilde and starring Beanie Feldstein and Kaitlyn Dever. Booksmart debuted in March and centers around two high school seniors who regret how much time they spent studying versus having fun. The film earned Feldstein a Golden Globes' nomination for Best Actress in a Musical or Comedy.
Another popular choice among Obama's favorites is Netflix's The Irishman, directed by Martin Scorsese. This film stars Robert De Niro, Al Pacino, and Joe Pesci and has had high popularity on the streaming site since its release at the end of November.
Another recent Netflix film that made Obama's list was Marriage Story, a film portraying a family working through their separation starring Scarlett Johansson and Adam Driver, and directed by Noah Baumbach. Netflix has raised its bar this year, releasing more original content than any year prior.
Included in Obama's list of favorites was also the film American Factory that he and his wife, Michelle, released with their new production company, Higher Ground Productions. Higher Ground partnered with Netflix for American Factory. Telling the story of a Chinese company's factory in Ohio, the documentary is the first film created by the Obamas' production company.
Barack Obama's top TV picks from 2019
Though he only listed a few, Obama's TV choices make it clear that the former president is a fan of dramas.
Fleabag, from Amazon Prime, received a mention and the show's official Twitter account promptly tweeted a response that they were appreciative of his approval. Fleabag is a comedy-drama that showcases the life of a young woman living in London
Watchmen, a superhero drama from HBO, also got a shoutout from Obama, as did Unbelievable from Netflix, a true-crime limited series that follows detectives uncovering the truth about an alleged rape.
All three shows are only available via subscription or premium cable but are among the highest-rated on their respective platforms. While he only listed these three, he stated that he considered them "as powerful as movies" and his choices make it clear that he is a fan of powerful and moving entertainment, in both movies and television.
Barack Obama's top book picks from 2019
Along with sharing his favorite movies and TV shows from the past year, Obama also listed his favorite book recommendations from 2019. Like past years, most of the books he shared are historical non-fiction and some literary novels.
Saying that literature and art are useful as outlets that "can enhance our day-to-day experiences," this is the second time this year that he's taken to sharing some of his favorite reads of the year.
Included in his end-of-the-year list are Lost Children Archive by Valeria Luiselli, a novel about the migrant crisis; Normal People by Sally Rooney, a quiet and quaint love story that is being adapted into a TV show by Hulu; and The Topeka School by Ben Lerner, which explores identities among white males.