'Barefoot Contessa': Ina Garten's Roast Chicken Recipe Is the 'Best Kind of Comfort Food'
Ina Garten has the best roast chicken recipe that is versatile enough to be a simple dinner or an elegant addition to any menu. The Barefoot Contessa's tried and true roasted chicken requires little prep time but the result is juicy and flavorful.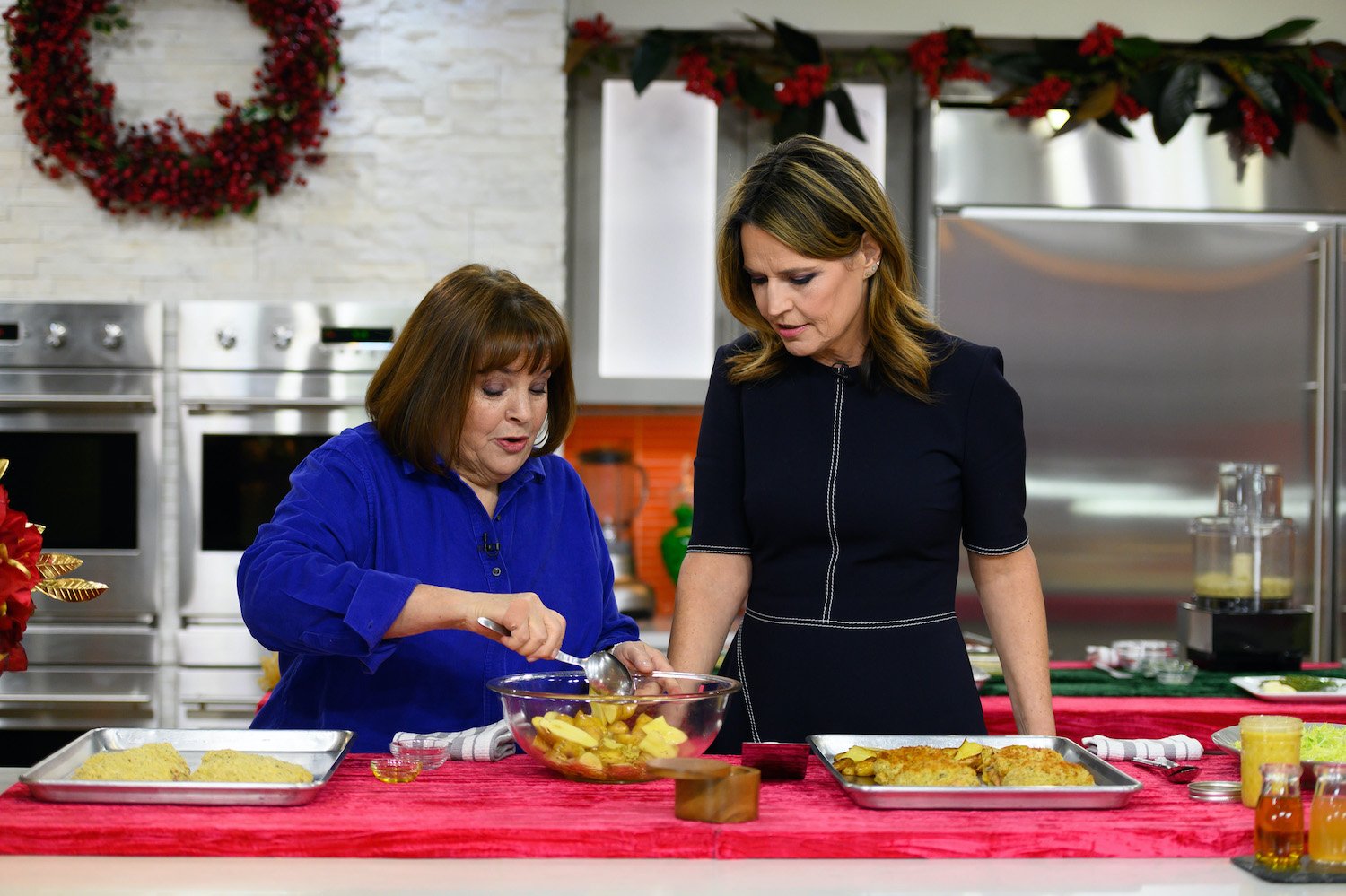 'Barefoot Contessa' star shares her tricks for the best roast chicken
When demonstrating how to make the roast chicken recipe on her Barefoot Contessa cooking show, Garten notes, "I can do this in my sleep" since it's one of her go-to meals.
She first rinses the chicken and pats it dry with paper towels, explaining that when she brushes it with butter and seasons the chicken with salt and pepper, everything will stick better.
Garten recommends using butter rather than olive oil for her roast chicken. "Butter's actually better for this than olive oil," she explains. "The butter has some milk solids in it that burn a little bit so it makes the chicken nice and brown."
Ina Garten's perfect roast chicken recipe
The Barefoot Contessa roast chicken recipe uses just a handful of ingredients for a delicious main course. "Roast chicken's just the best kind of comfort food," she explains. "And the good news is it can be a really simple meal or it can be a really elegant one." (You can find the recipe on The Food Network website.)
Ingredients
1 (5 to 6 pound) roasting chicken
Kosher salt
Freshly ground black pepper
1 large bunch fresh thyme, plus 20 sprigs
1 lemon, halved
1 head garlic, cut in half crosswise
2 tablespoons (¼ stick) butter, melted
1 large yellow onion, thickly sliced
4 carrots cut into 2-inch chunks
1 bulb of fennel, tops removed, and cut into wedges
Olive oil
Preheat the oven to 425 degrees Fahrenheit.
Remove the chicken giblets and thoroughly rinse the chicken inside and out and pat dry. Stand the chicken up to salt and pepper the inside, then stuff it with thyme, lemon, and garlic.
Brush the outside with butter and season it with salt and pepper. Using kitchen twine, tie the legs together and tuck the wing tips under the chicken so that it cooks more evenly.
In a roasting pan, add the carrots, onions, and fennel and season them with olive oil, salt, pepper, and thyme, tossing to coat. Place the chicken on top of the vegetables.
Roast the chicken for 1 ½ hours. Check for doneness by cutting between the leg and thigh — the juices will run clear when properly cooked. Place the chicken on a platter and let it rest, covered with foil, for 20 minutes.
Ina Garten shares her perfect roast chicken tips
Garten had some tips for fans for the best roast chicken. On the Barefoot Contessa website's 'Ask Ina' section, one fan said they made the recipe but it turned out "a bit dry" and the vegetables "charred."
The Barefoot Contessa star had some easy tips for avoiding dry chicken. "First, I would use an oven thermometer to make sure your oven temperature is accurate. (You can buy them at any hardware store!) Second, you don't want to roast the chicken in a pan that's too big," she explained. "The pan should be just big enough to hold the chicken and vegetables snugly, or it's true, the vegetables will burn."
When asked about her favorite quick weeknight dinner, she said her "roast chicken with vegetables roasted in the pan" is her top pick, followed by her skillet lemon chicken recipe.