'Barefoot Contessa': Ina Garten's Fans Are Loving Her Fancy Hot Dog Recipe
Well, hot dog!
Ina Garten does it again in while sheltering in place. The Food Network star and host of the popular cooking show, Barefoot Contessa, is known for her easy, delicious recipes that are never too complicated or fussy. And that's not changing despite having more time on her hands than usual due to the coronavirus.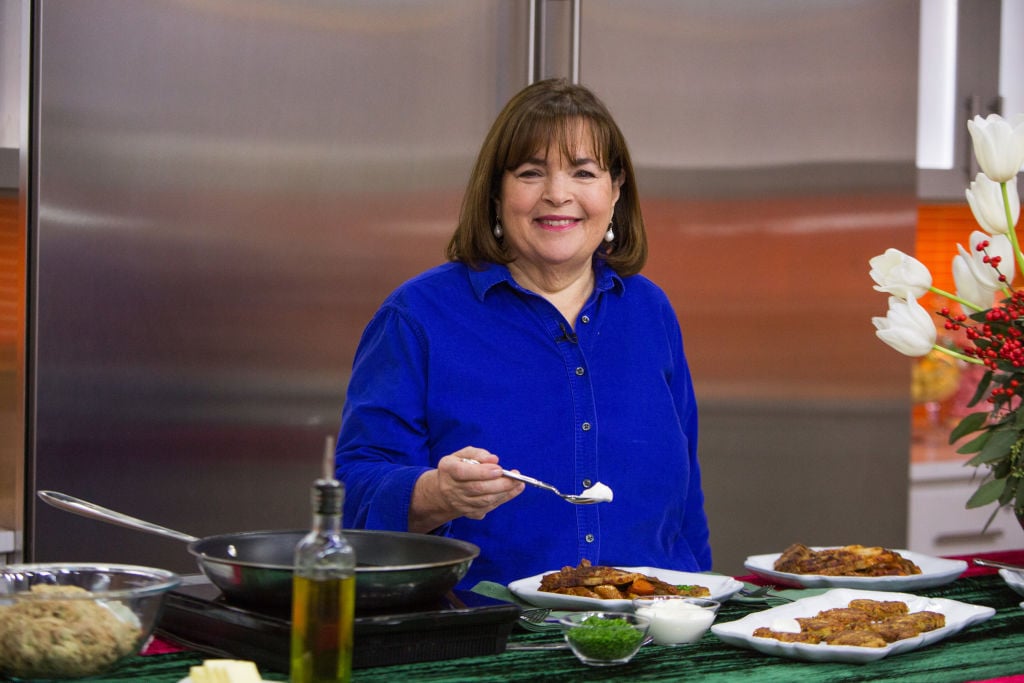 The Hamptons resident has been connecting with fans through her Instagram account, sharing recipes, and coming up with ways people can get creative with the random ingredients they have in their pantries to whip up a yummy meal. Garten, just like her food, has been a comfort to fans. And thanks to an Instagram post featuring her fancy hot dog recipe, fans are loving her even more. 
She shared a fancy hot dog recipe on Instagram
Being a celebrity chef, one might think Garten and her longtime husband, Jeffrey Garten, eat dishes fit for Barefoot Contessa at every meal. While that certainly is the case lots of times, the celebrity chef isn't afraid to use ingredients found at a casual barbecue, not in an episode of her popular cooking show. Garten shared in an Instagram post how she prepared hot dogs for a quick dinner making fans love her even more. 
On May 11, 2020, Garten posted a snapshot of her dinner featuring her elevated take on hot dogs with a side of vegetables. She explained in the caption that the meal had to come together quickly so she prepared hot dogs. 
"It's Week Whatever in quarantine and I needed dinner in a hurry so I wrapped some hot dogs in puff pastry and baked them," she wrote before adding, "OMG they were so good!"
She continued, saying, "Love the high/low thing plus they took five minutes to prep! (No one was disappointed.)"
Fan reactions: Ina Garten is a 'food hero' and a 'national treasure'
Garten probably didn't realize the kind of reaction she'd get when she posted a picture of her hot dog dinner for all of her 2.6 million and counting followers to see. Scrolling through the comments, people loved that the celebrity chef made hot dogs for dinner and told her so. 
Throwing around phrases such as "national treasure" and "legendary," Garten's followers loved her fancy hot dog recipe.
"Oh man. Who besides me is defrosting a hot dog right now?! Ina, you killed it with this one!!! 😋," wrote one person while someone else chimed in with, "INA, YOU TRULY ARE MY FOOD HERO THIS QUARANTINE ❤️."
Another praised Garten for offering up a solution to being without hot dog buns. "What a great idea! Do you know how many times I have hot dogs but no buns…a lot," they commented on her post. Others loved how despite her status as a celebrity chef with money to buy anything at the grocery store, Garten turned to hot dogs.
"A champagne 🥂 queen who knows how to keep it real when necessary! 👏🏽," one of her followers said. Journalist Katie Couric even shared her thoughts on Garten's hot dog recipe. "Only you could make this look delicious Ina!!!😍," she wrote.
These fan reactions are just a handful of the many like it on Garten's hot dog recipe and the rest of her Instagram posts. She's been a major source of comfort for her fans providing humor in the form of a cocktail recipe and she kindly signs off every post with the #StaySafe hashtag.
Ina Garten's fans love how relatable she is
Just as her fancy hot dog recipe shows, even though Garten is a celebrity chef she's not intimidating because her approach to food and cooking is so down-to-earth and relatable.
In a previous Instagram post on May 2, 2020, Garten shared why she'd been making food in big batches: because she'd grown tired of regular cooking sessions and, of course, the clean up.
"I don't know about you but I'm finding cooking every day a little exhausting (and endlessly loading the dishwasher!)," she wrote in the caption accompanying a picture of not one but two of her famous roast chickens.
How relatable is that?