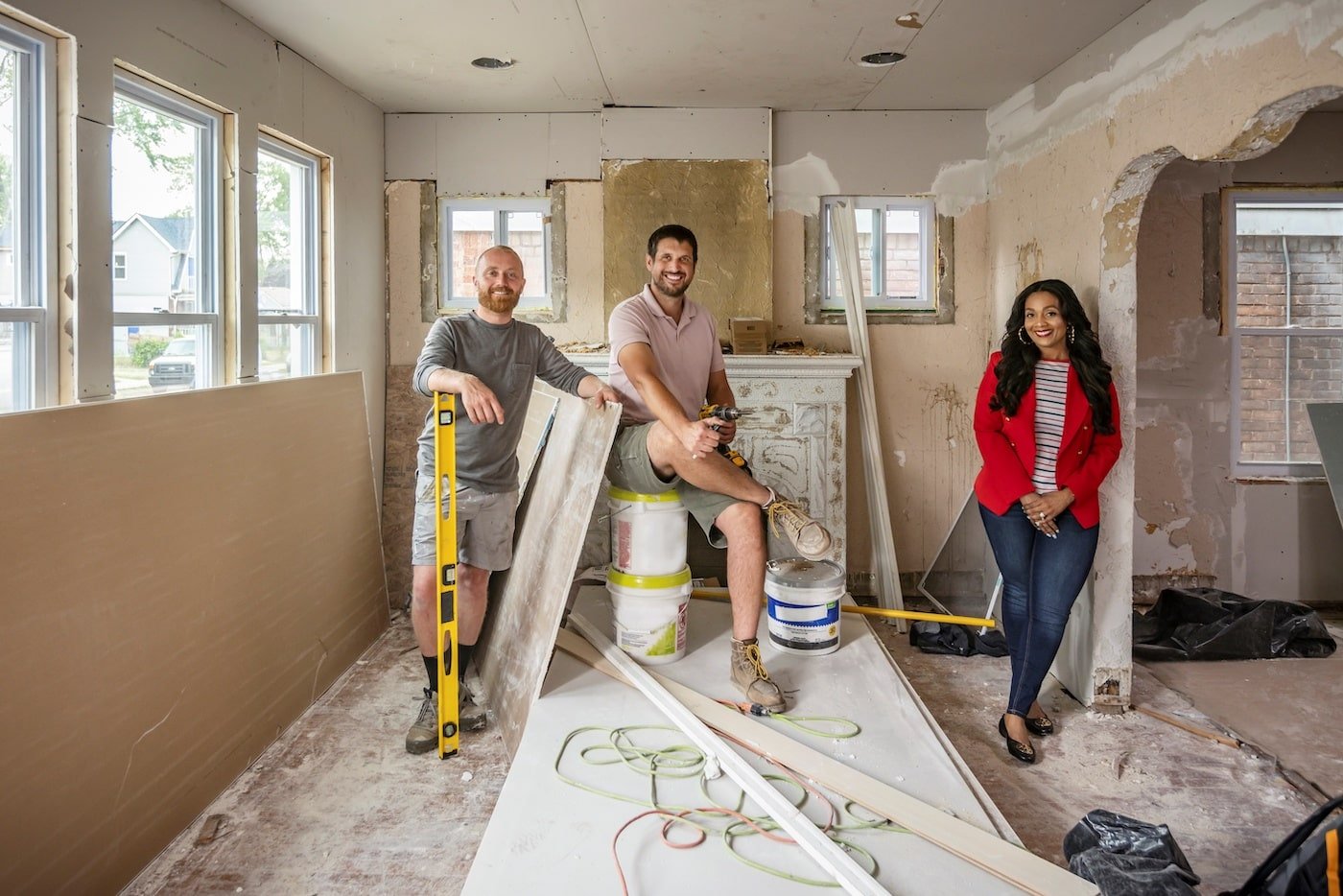 Exclusives / Thanks, I Hate It
'Bargain Block' Stars Reflect on 'Best Accidental Error' in Their Career [Exclusive]
HGTV 'Bargain Block' stars Evan Thomas and Keith Bynum had no idea what they were in for when they packed up and moved to Detroit.
HGTV Bargain Block house-flipping stars Keith Bynum and Evan Thomas admit they had no idea what they were in for when they moved from Denver, Colorado to Detroit, Michigan.
The construction and design couple found house flipping in Denver "cost prohibitive" so they sought an emerging market with promise: Detroit.
"The market was really tricky to navigate and you had to have just so much cash. So we were looking for a market that would have made our job a little easier," Bynum explained to Showbiz Cheat Sheet.
"So a little over six years ago I flew out on my birthday actually to Detroit, never been here," he admitted. "Saw eight houses. Put offers on two, we got one of them and we sold our place in Colorado and moved out here. We thought the house was livable, but it wasn't. It looked nice from the outside. And then when I got here, we broke into it, it was like … really bad. So that was kind of our start."
'Bargain Block' was born from a happy accident
Rather than throw in the towel, Bynum and Thomas met this new challenge with gusto but were shocked when they dove into the deep end of the Detroit market.
"It was like the best error that you could have possibly made. Like the best accidental error. Or we just made the best of an error, I don't know," Bynum said. "But the reason that we moved out here actually was I was looking at houses in Detroit and in Denver, all the houses across city borders stayed the same price per square foot."
"So I just assumed looking at these now, what I was looking at is 10,000, $5,000 houses in Detroit and then seeing Ferndale literally right across the street, right with a comp of $220,000," Bynum explained. "I was telling Evan, this is too good to be true. And then, of course, the house sold for $64,000 across the street. The same exact house was sold for $220,000. And so then I became enraged."
The couple are true Detroiters now
Bynum's rage quickly shifted to resilience. "It was so frustrating to see something so devalued that there was nothing different other than a street and a city name. So that was what was so irritating to me," he said. "So here we are, like 70-something houses later. And, we really try to show people that it's one of the best cities that you can live in. And there's a really great opportunity if you are a new homeowner for sure. It's a really cool place. I love it."
The couple are now true Detroiters, soaking in the culture, food, art scene, and the people who make Detroit an amazing place to live. They are also tackling groups of neglected homes, one street at a time, and love how Detroit is getting a spotlight on Bargain Block.
"We always put in all new electrical, all new plumbing," Thomas said. "Often times new HVAC and there's always a new room. There's oftentimes a lot of new framing and a lot of new drywall. All new windows. I have seen people actually comment online wondering if we put in all-new electrical because it's not shown on TV and we definitely do."
Essentially, Bargain Block allows the duo to bring a dilapidated home to life and essentially create a new home. Bargain Block Season 3 continues to feature Thomas and Bynum's renovations, plus this season they tease an added bonus. "There's some really fun surprise guests on some of the other episodes to watch for, coming up. We had a lot of fun. So definitely there are some really fun pop-ins," Thomas added.
HGTV's Bargain Block is on Wednesday and available to stream the next day on Max®.