'Basketball Wives': Which Ladies Are Friends in Real Life?
When the inaugural season of Basketball Wives aired, viewers were quickly hooked on learning about each woman's lifestyle, their friendships, and the cattiness that goes on behind the scenes. After the success of the original, there were several spinoffs, including Basketball Wives L.A. and Basketball Wives: Miami.
The cast members have changed over the years, but for the past four or five, there's been a core group rotating in and out of the show. They include Shaunie O'Neal, Evelyn Lozada, Jackie Christie, Tami Roman, and Jennifer Williams.
If you've riding along with season 8 these past few weeks, then you know who's in the current crop and how they interact with each other on the show. With all the drama that's going on, fans wonder which ladies are aces in real life when the cameras aren't rolling? Here's a breakdown.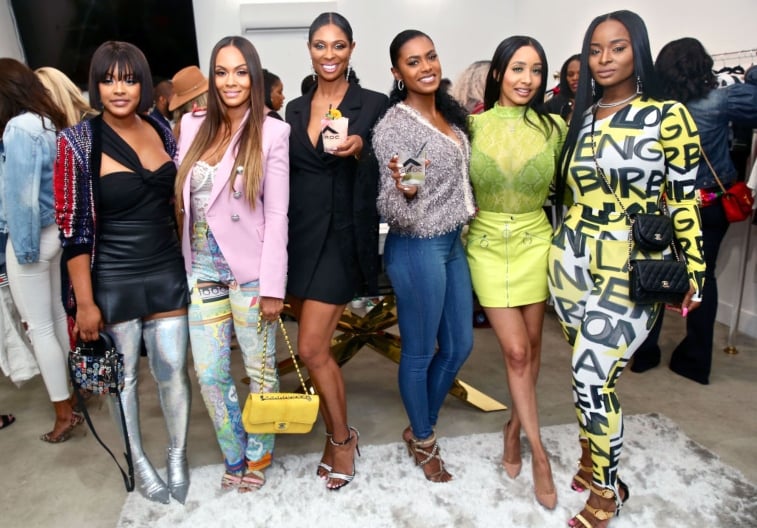 Shaunie is cool with Evelyn, Jackie, and Malaysia
Shaunie and Evelyn keep up with one another outside of the show, and although she's had a spat or two with Malaysia (remember Brandi?) over the years, they get along just fine. While things are good with her and Kristen, it's unclear if they spend time with each other off camera.
Malaysia is friends with Cece, Kristen, Shaunie, and Evelyn
It might not look like it right now, but Malaysia and CeCe are friendly and Malaysia is always going to claim CeCe as family. As her cousin Byron's fiancée, CeCe is automatically in the fold, even when things are rocky like they are right now. However, fans are questioning Malaysia's loyalty to CeCe.
The rift within the family is real and has affected the group, but Malaysia is still on Team CeCe and Team Kristen. A quick stroll through social media proves that, as Malaysia was a guest at CeCe and Byron's engagement party. You'll also note birthday wishes from the rest of the girls in the crew on her IG page.
Evelyn is on good terms with Kristen, Shaunie, Feby, Malaysia, and Jackie
Shaunie is one of Evelyn's closest friends but Evelyn has had her share of ups and downs with Jackie and Malaysia. Currently, everyone gets along, but she did give Jackie that lie detector test, so who knows? As Ev points out, Iyanla can help her.
OG counts CeCe and Tami as friends
Some fans believe that OG wants to keep CeCe close because of Byron's connections in the NBA which could help her man, Kwame. But OG is willing to physically fight for her friend, CeCe. Also, she and Tami were able to bond and have each other's backs.
Tami is over it but checks for OG
Tami has moved on to greener pastures with her career and personal life, leaving all the BBW drama behind. At one point, she and Shaunie were really good friends, but it appears the dynamics have changed. This began last season with the Shaq and Evelyn rumors, but Tami stuck around for season eight to see how things would go.
The drama and shaky friendships appeared to be the last straw, but somewhere in there she built a relationship with OG. Recently, she even took to Twitter to defend OG and her behavior this entire season. She's good with Kristen and Jackie, but "the collective" has lost one of its members.
Jackie is fine with everyone except Feby
Jackie has evolved into a peacemaker and this season she's found herself stuck in the middle with the Kristen/CeCe drama. She actually hangs with CeCe outside of the show too. Although Malaysia and she aren't on the best of terms at the moment, something tells us that eventually they'll make up.
But as far as she's concerned, Tami, Shaunie, and Ev are her girls even if they hurt her feelings sometimes.
Kristen chose her team
She's on the outs with CeCe and outside of the show, spends time with Evelyn, and is cool with Shaunie, Jackie, of course Malaysia. Kristen and OG have had issues and made peace twice, but all that's out the window now.