'Baywatch' Had a Strict Contract Stipulation For No Weight Gain
Baywatch was one of the most successful series in television history. It's a combination of attractive models in skimpy swimsuits with a plot that allowed them a healthy dose of melodrama, billions of people around the world reportedly tuned in to the syndicated series. The iconic red swimsuits were custom-made for every actor and actress. However, as many involved told Yahoo!, this meant that they all had to stay on their toes. 
'Baywatch' was about lifeguards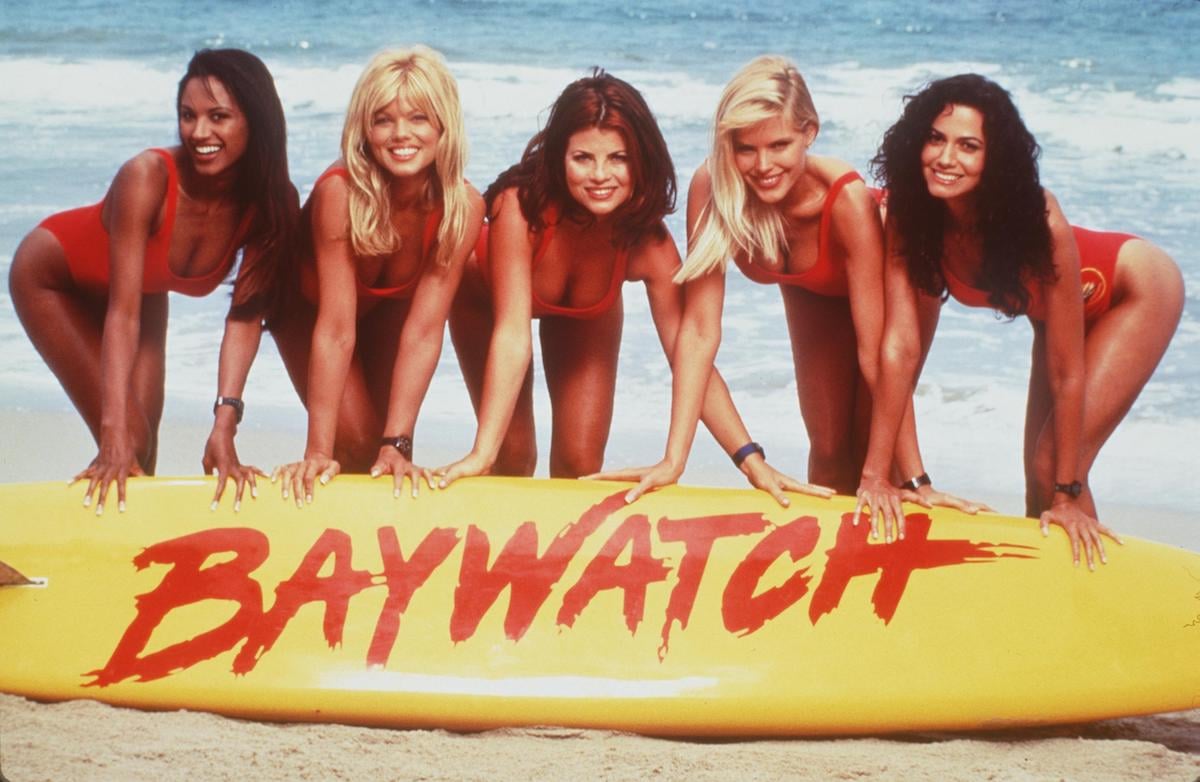 As IMDb notes, Baywatch was a show about lifeguards in Southern California. This was a simple premise. However, what set it apart was not a gripping portrayal of realistic scenarios, well-thought-out plots, and invigorating subtext.
While the show's creators maintain that all of this applied, the show was mostly known for the voluptuous beauties and ridiculous stories. 
It must have worked. Although the series was canceled after one year on NBC, creators resurrected it in syndication. It remained on the air for more than a decade after. It made stars of Pamela Anderson and the rest of the actresses.
Briefly, it boasted a young Jason Momoa while also bolstering the career of an already-popular David Hasselhoff. Just how big it was, however, may surprise some people. 
Why was 'Baywatch' so popular?
Putting a cast of Playboy bunnies past and present in revealing outfits and setting it to the melodramatic fare that was a staple of the '80s and '90s was a calculated move. After all, while the show had a writer's room, plots, and even people trying to keep some semblance of reality on the set, most of the discussion of Baywatch had to do with the women on the scene and the swimsuits they were wearing.
According to the Guinness Book of records, the series reached a billion people worldwide every week. While it's easy to shrug this off as a testament to the beauty on the screen, they didn't just arrive on set in front of cameras.
Creators put a lot of care into the swimsuits. However, the practices behind the series still might raise more than a few eyebrows. 
Staying in shape
Looking back at the iconic swimsuits, Yahoo! writer Kimberly Potts explored what went behind them. A creation for the series based on little more than the makers' creative vision, the costume department did not grab the swimsuits from the local Target. According to co-creator Greg Bonann, who was once a lifeguard himself, he wanted the swimsuits to show off every individual while remaining functional. 
"TYR designed the suit per my specs," Bonann told Yahoo! "The swimsuits had to look good on the women, but had to also be functional in the water. The now-famous 'slo-mo' shooting … required good support on the top and minimal creep in the back."
This meant that the stars had to make sure that they fit into the skimpy wardrobe. Alexandra Paul spent five years on the series. During that time, she saw firsthand what went into making the show. However, while the show was a bright mark on her resume, it also meant that she had to think about everything she ate or drank.
"There was a clause in our contract that said we couldn't gain weight," Paul told Esquire in a since-deleted article, quoted by Yahoo!. "When I first saw that, I was like, 'What? I can't believe this! Why, do they just have these for the women?' 
While the show was often fairly criticized for objectifying its female stars, the weight gain clause was not just for the women. Try as they may to say that it was a show about lifeguards saving lives, its marketing was based on the sex appeal of its stars. This meant that Pamela Anderson had to keep a certain weight, but so did David Hasselhoff.
However, while this practice may be questionable, at best,
"Everyone else seemed so disappointed and shocked about it — our show did do a lot of good things, especially in places like China or Iran, where people saw women wearing bathing suits, and it was OK. To me, in a way, culturally, we did a lot of good. I think people don't give us credit for that."
Whether or not it was objectification or liberation remains to be seen. However, the stories about the demands that they put on everyone on the set show just how seriously, right or wrong, the show's primary sell was taken.