'Beat Bobby Flay': Food Network's Unpredictable Release Schedule Leaves Fans Confused
Food Network is known for making talented chefs into Hollywood stars, and Bobby Flay is one.
Among his most popular shows on the network, Flay has starred in Iron Chef America, Beat Bobby Flay, and Throwdown with Bobby Flay. While fans can't get enough of his surprising talent for taking on new food challenges and knocking them out of the park, they're curious about what they're missing out on.
More than a year after the pandemic, fans are noticing Beat Bobby Flay 'new airs' that are clearly pre-pandemic, leaving many of us confused by the network's unpredictable release schedule. 
Food Network's 'Beat Bobby Flay' first aired in 2013
Since its premiere in 2013, Beat Bobby Flay has been one of Food Network's fan-favorite food competition shows with two talented chefs going head-to-head to win a chance to go up against Bobby Flay himself. Before the final showdown with the celebrity chef, Flay picks an ingredient the competitors have to use in their dishes, and a guest judge picks the winner. Each episode features new chefs and incredible creations. 
To even the odds a little bit, Flay's competitor gets to prepare their signature dish before Flay learns about it at the start of the round. Once he finds out, he's forced to develop his own similar creation that must win a blind taste test.
Although Flay is a superstar chef, his win/lose record on the show is surprisingly low. In fact, Flay has lost 77 out of 224 cook-offs, which is 34% of the time. Meaning, the all-star chef has only won 66% of the time on his own show!
Fans wondering how long it takes the network to air new episodes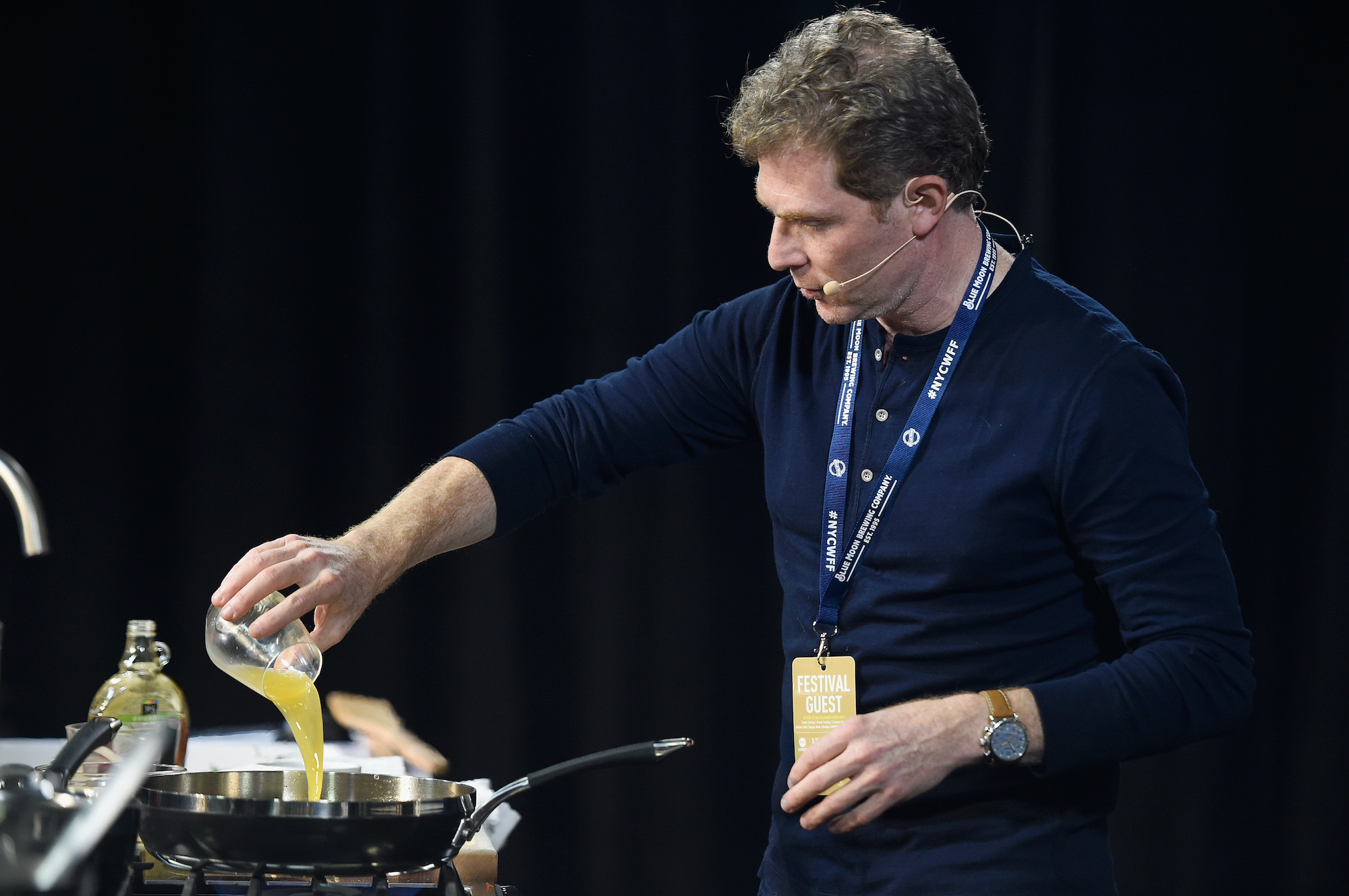 In response to recent Beat Bobby Flay new airs, Reddit user Craypacific took to the platform to ask other viewers, "how many unaired episodes of BBF has Food Network been holding onto from pre-Covid times?" and how many they'll be using in the coming episodes and seasons.
Many respondents agreed it was confusing that the show is still unmasked and not social distancing more than a year after the pandemic made its appearance. 
"I've been wondering about this too! I was in the audience for an episode in October 2019 that they said would air around September 2020, and it still hasn't," one commenter agreed. "Wondering if it ever will or if it didn't make the cut."
Another Reddit user pointed out, "Last week's episode Bobby started with a 'spring' reference, so I think there are still a lot of episodes to go."
Several other respondents chimed in, questioning just how many episodes they're sitting on.
'Beat Bobby Flay' is currently airing season 27
Starting 2021 off right with mouth-watering meals and friendly competition, Beat Bobby Flay has been airing their new season (27) on Thursdays since New Year's Day. The first five were aired in January, the next four in February, and the last four are expected to air in March. 
According to Premiere Date, "Belly Up" is scheduled to air on March 4th, "If I Dip, You Dip, We Dip" on March 11th, "Boil and Trouble" on March 18th, and "At It Again" on March 25th. 
There hasn't been any word on when Food Network viewers can expect to see season 28 of Beat Bobby Flay since 27 hasn't finished up just yet. However, fans remain curious about whether season 28 will see a masked cast or more pre-covid shootings.