'Beat Bobby Flay': Is Bobby Flay Actually in the Room When Judges Taste His Food?
In the last decade or so, Food Network has gone from a network that taught people how to cook to one about dining out and food competitions.
However, one chef that always kept that competitive edge was Bobby Flay. Flay's current show, Beat Bobby Flay, forces him to do this while allowing judges to critique his work blindly.
One fan theory about the judging on Beat Bobby Flay posits that Flay and his opponents aren't even in the room for these taste tests, making them even blinder than presented on the show. 
What is 'Beat Bobby Flay'?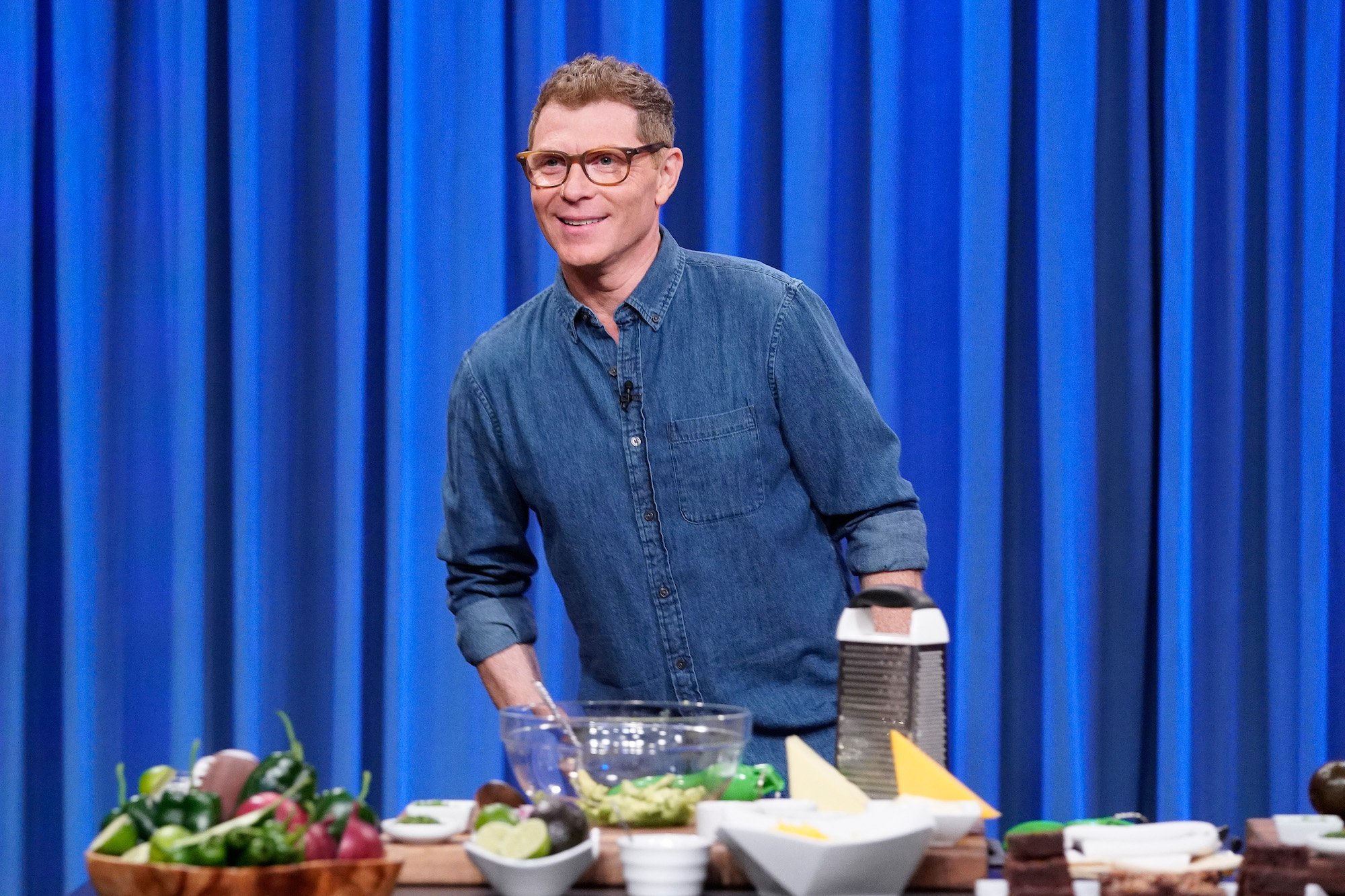 Flay has embraced the competitive aspect of Food Network for years. When shows like Iron Chef were the rare competitive shows on the network, Flay became a staple both in America and the native Japanese version.
Yes, he had his cooking shows like Rachael Ray and other big-name personalities, but his competitiveness was on another level. 
Now in 2020, Flay hasn't relented on his competitive streak. While many personalities face off against one another in various Food Network kitchens, Flay built a career early on facing the big-name chefs and the small-time chefs. They didn't have big names in the industry.
This has taken several forms throughout the years, but the prime example is his current show, Beat Bobby Flay. 
According to Food Network, Beat Bobby Flay pits two chefs against each other in a preliminary round. Two of Bobby's friends, be they chefs or celebrities, taste the food and pick a winner.
That winner doesn't get a money prize or a show on the channel, but a chance to cook their signature dish next to Flay and see who comes out on top. It's a short, thirty-minute show in which a different set of industry judges have no eye into the kitchen. Instead, they taste the food without the knowledge of who cooked it. 
The fan theory, which was presented by users of Reddit, might explain how judges stay blind.
How blind is the 'Beat Bobby Flay' taste test?
RELATED: The Way Food is Judged on 'Beat Bobby Flay' Makes No Sense
On the Reddit, user addyray posited that while the show is presented as though the judges eat the food in front of all competitors, the editing implies that the competitors aren't in the room. The show's whole purpose is blind taste-testing, and if judges saw the reactions of Flay and his opponents, they might get an idea of who cooked it. 
To bypass this, the Reddit user theorized that while Flay and his opponents are watching the judges live, they might be doing so from a video screen. Cameras make it appear that Flay and the competitors are right in front of the judges, but they never show them all in the same shot.
This theory helps explain how the dishes' makers keep their anonymity as the judges decide a winner. Perhaps, it is the most likely answer as to how the judges could do this without reading into body language and other visual queues. 
How judging works on Food Network shows
Judging will be an inherently subjective aspect of the Food Network's competition shows, but every show has its method to make it as fair as possible.
According to Mashed, In Chopped, judges do a straightforward taste-test after watching everybody perform, regardless of if it's celebrity chefs or average contestants.
However, anyone who has watched the show will note that contestants often have personal stories that tie into their meals and could theoretically sway the judges in one way or another. 
The king of all cooking competitions, Iron Chef, had judges rate the contestants on a list of criteria, giving the title to whoever had the final score. While this quantifies aspects of a dish, it's still a subjective lens that could be dictated by several outliers.
From Guy's Grocery Games to Cutthroat Kitchen, every show has a twist on how it is judged. 
However, when it comes to Beat Bobby Flay, this plausible theory posits a situation that genuinely relies on the food alone. Whether it is true or not, it serves as a fascinating look at how these shows are presented, acknowledges the role that editing plays, and shows exactly how a show can both manipulate and keep things sacred at the same time.