What The Beatles Family Think of Peter Jackson's 'The Beatles: Get Back'
Fans are about to witness what really happened when The Beatles recorded Let It Be, thanks to Peter Jackson's highly anticipated three-part documentary, The Beatles: Get Back. Over the decades, fans have come to think of the album as the band's break-up album, even though The Beatles recorded Abbey Road after.
Michael Lindsay-Hogg's original Let It Be film didn't help matters. Hogg's film portrayed a frustrated band on the brink of splitting. Most of The Beatles came to despise the film because it showed painful memories. However, Jackson's documentary seems to have dispelled the myth that The Beatles hated each other during the Let It Be recording sessions. The surviving members of the band and their families couldn't be happier.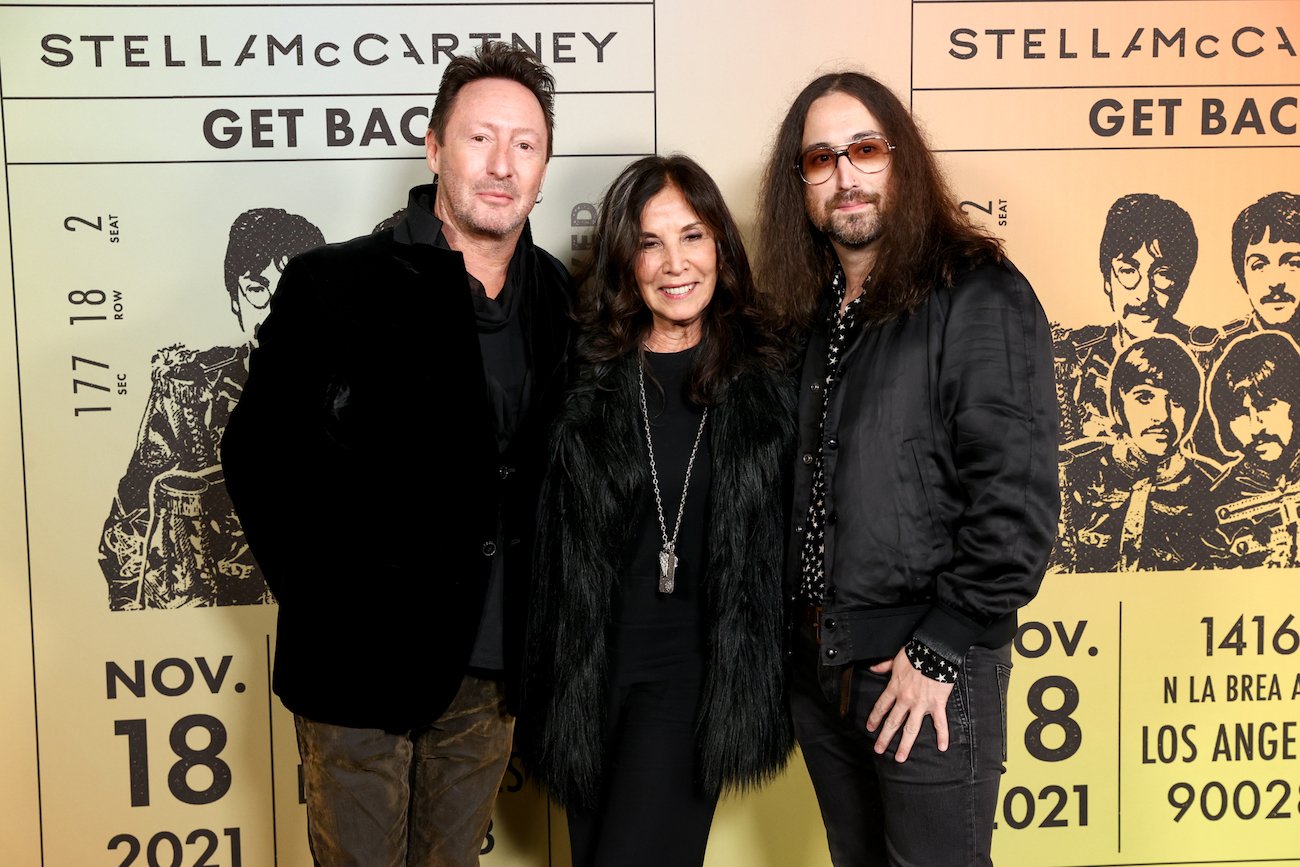 Ringo Starr didn't enjoy 'Let It Be' but enjoys 'The Beatles: Get Back'
During an appearance on Jimmy Kimmel Live, Ringo talked about Jackson's upcoming documentary. He said he wasn't a fan of the original Let It Be film. All it did was focus on the fighting, not the beautiful, collaborative moments.
"I had a lot of talks with Peter Jackson because I didn't actually like the original one [Let It Be] because it was very dark. Not even dark, it was dull. It was all about this argument that John and Paul had," explained.
However, after Ringo watched Jackson's film, he realized those recording sessions weren't all bad. "Peter was in LA and he was saying [Get Back] was lots of fun it was lots of joy… [and] there was lots of good music, of course. It was four guys in a room. Whether it's up or it's down or it's laughter or whatever, it's better. But it's six hours long! And two hours a night… put something cozy on," Ringo continued.
Ringo isn't the only Beatle whose perception of those sessions changed after watching The Beatles: Get Back.
Paul McCartney's views about The Beatles' split have changed since watching Jackson's documentary
Speaking to the Sunday Times, Paul explained what it was like watching The Beatles: Get Back. He admitted that even he bought into the myth that the Let It Be sessions were the band's darkest period.
Paul explained (per the Daily Mail) that watching the film brought back many good memories. "I'll tell you what is really fabulous about it, it shows the four of us having a ball," Paul said. "It was so reaffirming for me. That was one of the important things about The Beatles, we could make each other laugh."
Ultimately, watching The Beatles: Get Back changed Paul's perception of the band's split. "There is proof in the footage," he said. "Because I definitely bought into the dark side of The Beatles breaking up and thought, 'God, I'm to blame.' It's easy, when the climate is going that way, to think that. But at the back of my mind there was this idea that it wasn't like that. I just needed to see proof."
The Beatles' children enjoyed the documentary
The Beatles: Get Back had its UK and LA premiere, and both saw members of the Beatles family in attendance. Paul and his daughter Mary appeared at the London premiere, as did George Harrison's first wife, Pattie Boyd, George's only son Dhani Harrison, Ringo's two sons Zak and Jason Starkey, and Giles Martin, son of The Beatles' late-producer George Martin.
Before Jason even saw the 100-minute edit at the premiere, he knew it was going to be great. Vermilion County First reports him saying, "It's going to be great – I haven't seen (the film) yet. Remember, my dad was the greatest rock n' roll drummer in the world. The music is great and it always will be great."
John's sons, Julian and Sean, Paul's daughter Stella, and George's widow Olivia Harrison attended the LA premiere. After, Stella invited her Beatle family members and other celebrities to launch of her Get Back Capsule Collection.
Julian posted a photo of him and his brother and shared that he had a magical night. He wrote, "What an Amazing night, firstly seeing 'Get Back' & then Stella's Event afterwards…The One True thing I can say about it all, is that it has made me so proud, inspired & feel more love for My/Our family, than ever before… And the film has made me love my father again, in a way I can't fully describe… Thank you to All who had a hand, in bringing this project to fruition… Life Changing."
In another photo of him, Sean, and Stella, Julian wrote, "Glowing Silly Billies…. Wish You were here Dhani & Zak!" Stella posted the same photo, writing, "My brothers from another mother. x Stella."
Dhani Harrison loved the documentary and said his father would too
Dhani Harrison can't speak any more highly of Jackson's documentary. The director actually called Dhani up to invite him to a private viewing of the film in its early stages. Dhani couldn't give a single note on it. Dhani told Esquire that "it was all just beautiful. He was very complimentary about my dad's behavior in all of the reels."
However, after seeing the final product at the London premiere, Dhani can't be more proud. He thinks that George would enjoy Jackson's documentary despite having a negative attitude toward the original Let It Be.
He told Berkshire Live (per Vermilion County First), "(My father) was always bummed out that this was portrayed in bad light and they were always a bit sad about it and that's why Peter has been given such a big crack at it. He's really delivered. Sure, there were arguments, but what you're going to see is way more of just a band squabbling, and it's nice. (The documentary) creates a new dynamic, and anyone who gets to see the whole thing will see that the behavior changes and they really come together. He'd be very happy to see what Peter came out with."
We're not sure what George would think of The Beatles: Get Back, but it seems as if the documentary has exceeded the expectations of the remaining Beatles and their children.