The Beatles' Producer George Martin Revealed His Biggest Regret Before He Died
The Beatles' producer, George Martin revealed his biggest regret in life before he died in 2016. He should have signed an important contract.
After Decca Records turned The Beatles down for a recording contract, the band auditioned for one of EMI's finest producers, George Martin, then known for making comedy records. After a rough audition, Martin recognized their spark.
Since then, many have called Martin the fifth Beatle. However, before he died in 2016, Martin revealed he had a huge regret when it came to The Beatles.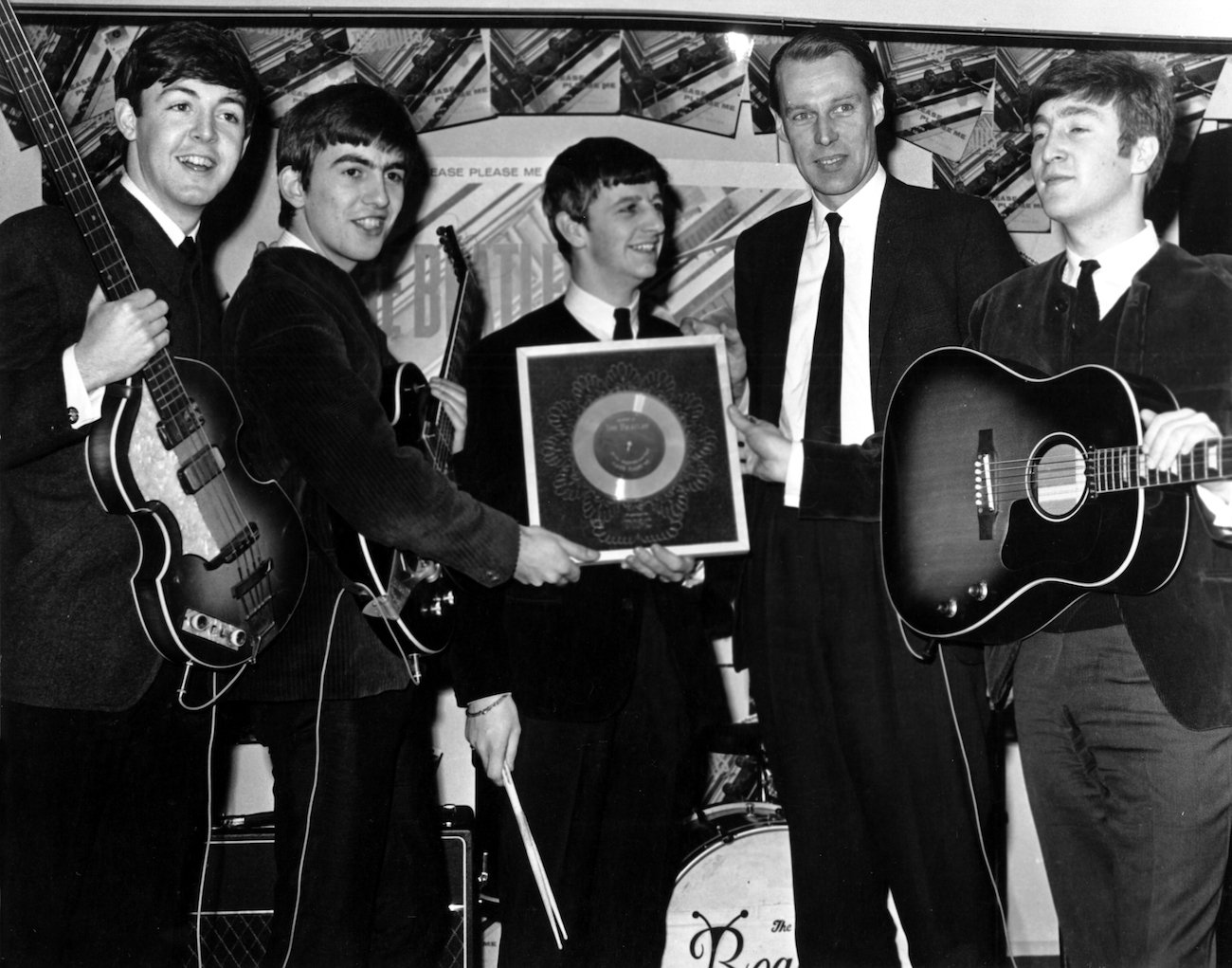 The Beatles' producer, George Martin, revealed his biggest regret before he died
According to Yahoo!, Martin revealed his biggest regret in life before he died. He made a huge mistake signing away the rights to any royalties of songs by The Beatles.
"My only regret with the Beatles is that I was wrongly advised and signed away my royalties to their records — about half a penny per title but, with them, that would have been an enormous amount," Martin said in a 2007 interview with Mark Ellen which appeared in The Times.
However, Martin said he was happy and that none of it mattered. He continued, "But I've got all the money I could want. People think I'm a multimillionaire and I'm not. I tend to look at people and think, 'Are you a good human being?' That's what impresses me most rather than what they've achieved.
"We're a bit short on people like that at the moment – people who do good things and spread love for each other. We get an awful lot of people who are selfish. I think Margaret Thatcher started it, the greed thing, people just wanting more and more.
"And we've lost our morals to some extent. And the church has weakened. People don't believe in anything apart from money and success. I know it's easy for me to say as I've had some success, but I really believe family and love are more important than anything. Amore Solum Opus Est indeed!"
Martin wasn't the only one who regretted The Beatles' catalog
The famous producer wasn't the only one who regrets signing away The Beatles' catalog. In their early years, The Beatles themselves signed a bad deal with their publisher, Dick James. Down the line, they lost ownership of everything.
In 1963, James entered the music publishing world, and he was hungry to be The Beatles' publisher. To wow the band's manager, Brian Epstein, he organized the group's first TV performance on Thank Your Lucky Stars.
Then, James earned the rights to Please Please Me. He suggested he and Epstein start a separate company called Northern Songs, which would house the entire Beatles catalog. Epstein and The Beatles signed the necessary contracts "not really knowing what it was at all about," Paul said (per Beatles Bible).
"We said to them, 'Can we have our own company?' They said, 'Yeah.' We said, 'Our own?' They said, 'Yeah, you can. You're great. This is what we're going to do now.' So we really thought that meant 100 percent owned. But of course, it turned out to be 49 percent to me and John and Brian, and 51 percent to Dick James and Charles Silver," Paul explained.
James and Silver actually owned 25 percent each, while John and Paul had 20 percent each, and Epstein 10 percent. So, essentially, James made way more money off The Beatles' songs.
In 1969, The Beatles lost complete control of the rights to their catalog when James sold his share of Northern Songs without offering John and Paul the chance to buy him out. Years later, the catalog ended up in the hands of Michael Jackson. However, Paul recently got the entire catalog back.
The producer almost turned The Beatles down
Song catalogs aside, Martin might have had another regret in his life. Can you imagine what he would have thought if he never signed The Beatles? He was very close to denying them a recording contract in 1962.
While The Beatles were in the middle of their residency in Hamburg, Germany, Epstein told them he'd gotten them a recording contract with EMI Records and that they needed to come home. However, that was a lie. Epstein had only gotten The Beatles an audition with Martin.
Martin was already doubtful of the band's chances. "I wasn't too impressed with the tape Brian Epstein had played me," he told Desert Island Discs in 1996. "There was something there but I couldn't find out whether it was worthwhile or not.
"What I said to Brian was, 'If you want me to judge them on what you're playing me, I'm sorry, I'll have to turn you down.' He was so disappointed. I felt really sorry for him, actually because he was such an earnest young man. So I gave him a lifeline. I said, 'If you want to bring them down from Liverpool, I'll give them an hour in the studio.'"
After some hiccups, some serious conversations, and a famous quip from George Harrison, it was clear that The Beatles had something. Martin just didn't know what it was. He quickly fell in love with the four boys from Liverpool, though. Fans were about to fall in love too.