The Beatles Told Maharishi Mahesh Yogi Not to Use Them for His Own Business Purposes — According to Associate Peter Brown
Prior to The Beatles' stay in India, they had to visit Maharishi Mahesh Yogi to tell him not to use them in his own business endeavors, according the group's associate Peter Brown.
The Beatles had a complicated relationship with the leader of the Transcendental Meditation movement, Maharishi Mahesh Yogi. The guru had his quirks and didn't know much about the modern world. According to the group's former associate, Peter Brown, Maharishi might not have realized he shouldn't have taken some liberties regarding his new famous friends.
However, The Beatles put him straight.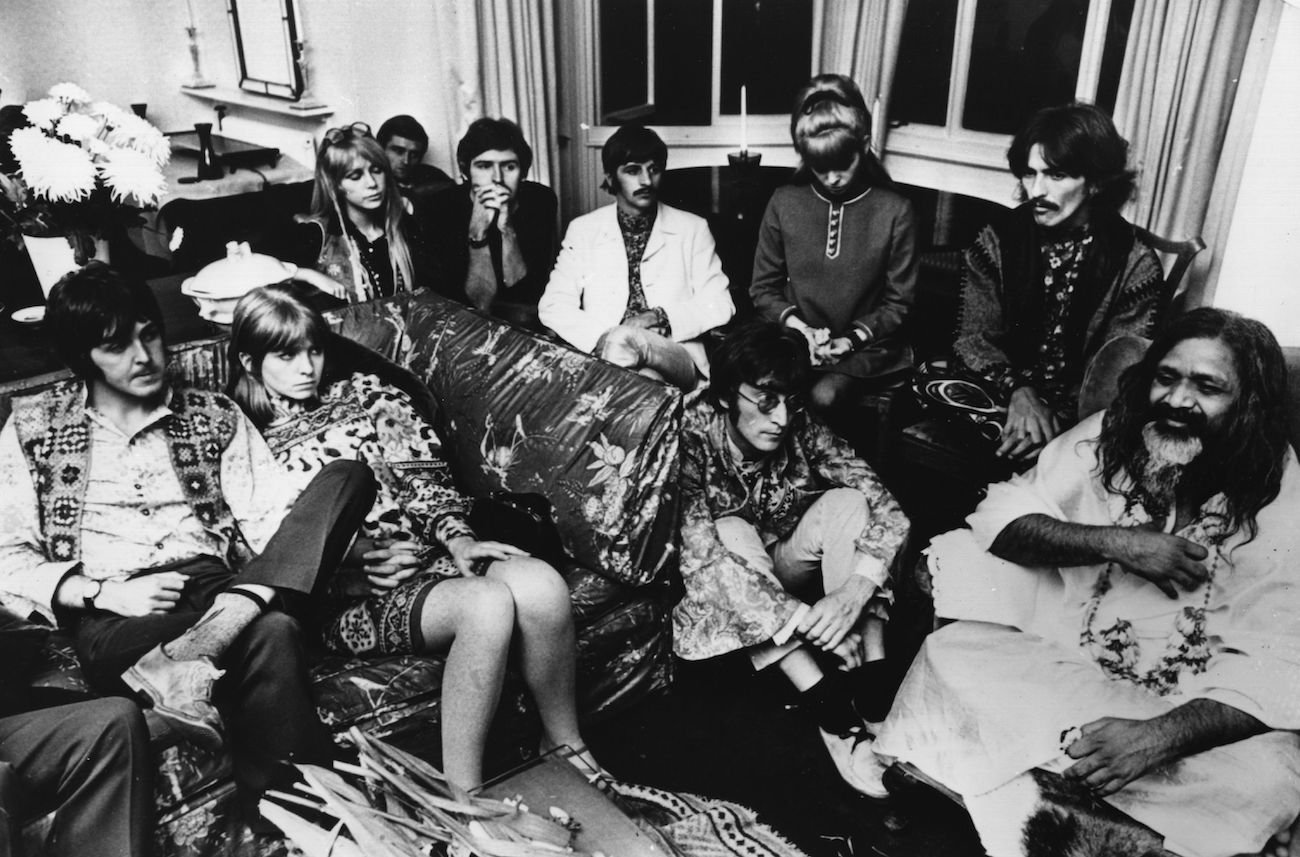 The Beatles first heard Maharishi Mahesh Yogi speak at an event in London in 1967
As if by fate, The Beatles' relationship with Maharishi Mahesh Yogi started with a newspaper article. According to Rolling Stone, in February 1967, George Harrison's wife Pattie Boyd came across a newspaper advertisement for Transcendental Meditation classes.
She signed up to be a part of the Spiritual Regeneration Movement. George and the rest of The Beatles joined. In August, they attended Maharishi's lecture in London.
"Maharishi was every bit as impressive as I thought he would be, and we were spellbound," Boyd wrote in her 2007 memoir Wonderful Tonight.
By that time, The Beatles were searching for the next big thing. They'd experienced many things being famous but wanted the answers to the universe. "We'd been the Beatles, which was marvelous," Paul McCartney recalled in The Beatles Anthology.
"We'd tried for it not to go to our heads and we were doing quite well – we weren't getting too spaced out or big-headed – but I think generally there was a feeling of: 'Yeah, well, it's great to be famous, it's great to be rich – but what it's all for?'"
Maharishi's teachings seemed to be the answer. Later, The Beatles, Mick Jagger, and actor Marianne Faithfull attended Maharishi's 10-day conference of the Spiritual Regeneration Movement in Bangor, Wales. It was extremely enlightening. During the conference, the band announced they were quitting drugs.
"It was an experience we went through," Paul said in Philip Norman's book Shout! "Now it's over and we don't need it any more." However, their stay at the conference was cut short due to the unexpected death of their manager, Brian Epstein.
That's when Maharishi invited The Beatles to his annual retreat for Westerners at his ashram in Rishikesh, India. Although, the guru did something unexpected before their arrival.
The Beatles confronted Maharishi Mahesh Yogi about using them for his business purposes
The way Rolling Stone tells it, the guru might have naively expected his new famous friends to help spread the word of the movement faster in the West than he could. He was wrong.
"The Maharishi turned out to be more business- and media-savvy than his followers might have initially guessed," Rolling Stone wrote.
Former Beatles associate Peter Brown wrote about Maharishi's misconception in his book, The Love You Make. He noted that before The Beatles' trip to India, Maharishi tried negotiating with ABC's lawyers for a TV special that would include an appearance by the group.
Brown warned Maharishi that the arrangement was impossible. Still, Maharishi continued to tell ABC's lawyers that he could make The Beatles' appearance happen.
So, The Beatles had to set him straight. Brown, George, and Paul visited the guru in Sweden. They told him not to use The Beatles for his own business purposes. Maharishi agreed and giggled.
On the plane ride back, Brown wrote that George defended the guru. George said, "He's not a modern man. He just doesn't understand these things."
Meanwhile, in With the Beatles, Lewis Lapham recalled that Maharishi often "cast himself as the director on a movie set."
John Lennon fled India after hearing a rumor about Maharishi Mahesh Yogi's impropriety
Fast forward to The Beatles' stay in India. John cut his stay short after hearing rumors about Maharishi's inappropriate behavior toward certain females in the ashram. He felt the guru had tried to fool them and began to think he only wanted fame and money.
John Lennon's wife, Cynthia, recalled it in her book John (per Beatles Bible). She wrote, "It was only when John and I talked later that he told me he had begun to feel disenchanted with the Maharishi's behavior. He felt that, for a spiritual man, the Maharishi had too much interest in public recognition, celebrities and money."
John confronted the guru. He told Rolling Stone (per Beatles Bible), "I was the spokesman – as usual, when the dirty work came, I actually had to be leader, whatever the scene was, when it came to the nitty gritty I had to do the speaking. And I said, 'We're leaving.'
"'Why?' Hee-hee, all that s***. And I said, 'Well if you're so cosmic, you'll know why.' He was always intimating, and there were all his right hand men intimating that he did miracles. He said, 'I don't know why, you must tell me.'
"And I just kept saying, 'You know why' – and he gave me a look like, 'I'll kill you, bastard,' he gave me such a look, and I knew then when he looked at me, because I'd called his bluff. And I was a bit rough to him."
After that, John promptly fled India. He wrote "Maharishi," which he renamed "Sexy Sadie" at George's advisement. There was never proof of Maharishi's impropriety. However, The Beatles left India with a bad taste in their mouths. Their views of the guru and their time in India changed years later. The Beatles reflected fondly on Maharishi, if only for what he thought them.