Becca Kufrin Asks 'Bachelorette' Runner-Up Blake Horstmann if He'll Accept Her Rose
Becca Kufrin almost picked Blake Horstmann on her season of 'The Bachelorette.' Now that she's single, she asked her runner-up if he would accept her rose.
After Becca Kufrin broke up with Blake Horstmann on The Bachelorette, she was engaged to her final pick Garrett Yrigoyen for two years. But the pair ended things in summer 2020, and now Kufrin is a single woman. She was reportedly linked to The Bachelor: After the Final Rose host Emmanuel Acho. But now, she is seen in a new video asking Horstmann if he'll accept her rose — here's how it went down.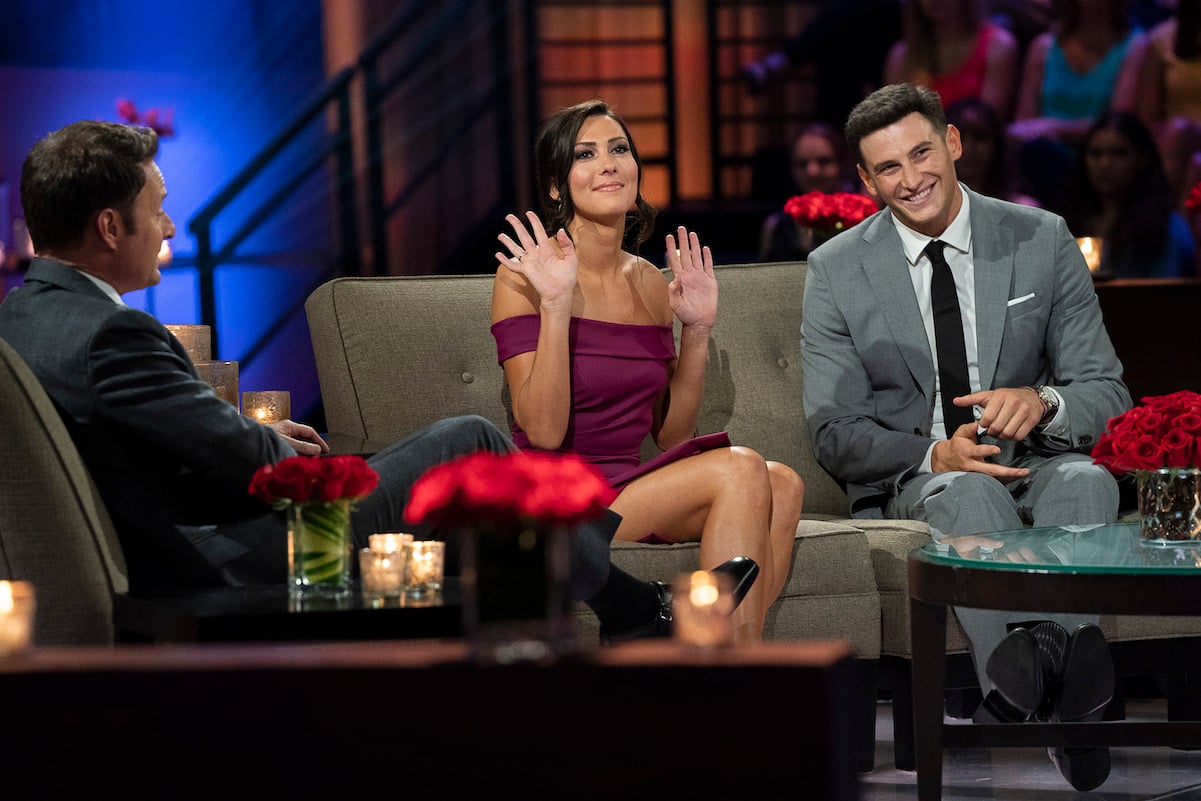 Becca Kufrin dumped Blake Horstmann on 'The Bachelorette'
While Kufrin and Horstmann had a seemingly effortless connection on The Bachelorette, she opted to choose another man instead. Kufrin and Horstmann had many fans rooting for them throughout her season due to the obvious chemistry and bond that the two fostered on the show.
However, Yrigoyen won Kufrin over with moments that reminded her of her father and home. For instance, his "limo entrance" consisted of him arriving in a mini-van. From that moment on, Kufrin was clearly smitten.
Becca Kufrin and Blake Horstmann are friends after she's now single
Kufrin and Yrigoyen broke up in summer 2020 following some public disagreements over politics. While the world watched Black Lives Matter protests happen, Yrigoyen doubled down on his "Blue Lives Matter" stance. Kufrin spoke about their disagreements and her attempt to have conversations with him on the Bachelor Happy Hour with then co-host Rachel Lindsay. But the pair didn't make it through and subsequently ended their engagement.
After Kufrin and Yrigoyen broke up, Kufrin reconnected with Horstmann and their public friendship began to blossom. She appeared on his podcast, Behind the Rose, and many fans were quick to comment on their returned chemistry.
She asked him if he would accept her rose in a new Instagram video
Kufrin and Horstmann were spotted on fellow Bachelor Nation alum Kendall Long's Instagram Stories as caught by Reddit. Long shared a video of Kufrin and Horstmann out together with Kufrin holding a rose.
In the clip, Kufrin smiles as she debates giving Horstmann a rose.
"Oh sh*t, the pressure," Kufrin said. "Blake, will you please accept this rose?" She asked him.
The two giggled as she handed him the rose, and he joking replied, "F*ck this" and handed it back to her.
The pair have been seen together multiple times on social media, as well as commenting on each other's pages. While they have both been coy on their status together, fans are definitely rooting for them to connect yet again, years after their stint on The Bachelorette.
Both Kufrin and Horstmann said they would return to Bachelor in Paradise, so there's potential that romance between the two could happen on the summer show. We'll have to see what happens — anything is possible in Bachelor Nation. And even though things didn't work out between them the first time around, they've both grown plenty since then.