Before George Clooney, His Handsome Dad, Nick Clooney, Stole Hearts on TV
George Clooney is mega famous. He has an irresistible charm that's hard to describe and harder to find. He's been smart about building his career, too. Even though he started on TV, he quit a sure thing on ER to take a risk on the big screen. It paid off, and George has an Oscar to prove it.
There may be a reason why George has been so smart about his career. He had a great role model. His father, Nick Clooney, is kind of famous in his own right, and he built an amazing career himself.
Nick Clooney had a career in broadcasting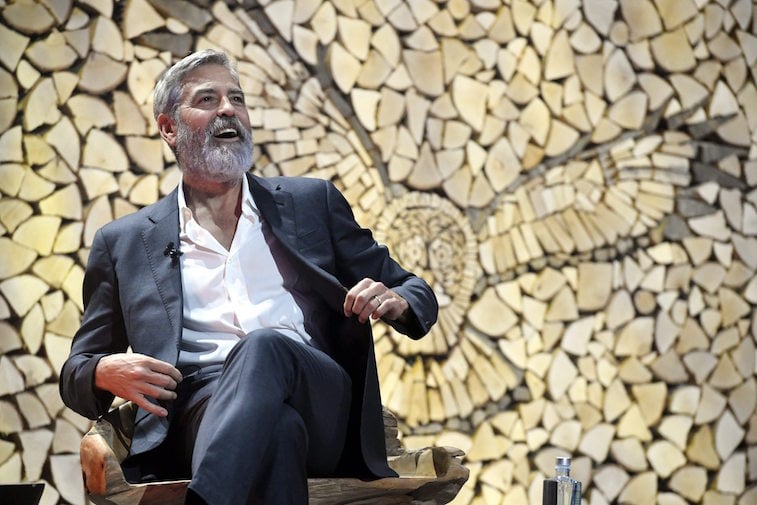 RELATED: George Clooney's Search for a Hangover-Less Tequila Has Made Him $239 Million and Counting
Although he is now retired, Nick had an impressive career in broadcast journalism. Providing viewers with new information seems to be a passion for Nick. He started his journalism career at just 16 years old.
Considering he grew up listening to journalists bring World War II stateside through the radio, it makes sense he has an appreciation for the power of broadcast news.
He took on multiple roles throughout his long career, including reporter, anchor, news director, and managing editor. He has worked in cities all over the country, and he's earned some impressive recognition for his work.
The most prestigious praise Nick has received comes in the form of two Emmys. Nick received one for historical narration, and another for commentary. He's been nominated for many more awards.
His son's career may at times eclipse Nick's own work, but the two actually did one of their best projects as a team.
George and Nick Clooney have had some successful collaborations
George is a well-known humanitarian, but it turns out that it's a passion he and his father share. In fact, Nick and George collaborated on George's Darfur documentary.
The two smuggled cameras into a refugee camp in order to document the conditions.
The 2006 film revealed the tragic situation in Darfur, Sudan. It opened the eyes of the world to the plight of the Sudanese people, and Nick and George haven't stopped advocating for the area since.
Nick even tangled with the law over his passion for Darfur. He was arrested during a protest in front of the Sudanese embassy.
Even though both Nick and George have done a lot for the Darfur region, George has said that he feels like his efforts have failed. Not much has improved in Sudan, and George wishes he could do more to get the world to pay attention.
Nick Clooney loves being a grandfather
RELATED: George Clooney's European Home Away From Home Is a Magical Travel Destination
Even though Nick and George may not feel like they've succeeded in Sudan, George's passion led him to meet Amal, his wife. She's a human rights lawyer, so she can help George and Nick further their causes. Most importantly for Nick, George's marriage meant more grandchildren.
George and Amal welcomed twins in 2017, and Nick was thrilled.
Nick and his wife Nina, George's mom, aren't new to the whole grandparent thing, says Fox. They have two other grandchildren, who are both in their 20s. When they were born, Nick joked that he's the world's oldest grandfather, even though at the time he was 83 years young.
Apparently Nina thought that the babies looked like their father right off the bat. Nick said in an interview that "Nina swears they have George's nose. I don't know what that means."
It turns out, even at 83 years old, Nick was full of jokes after the birth of his grandchildren. He also commented on Amal's pregnancy, saying: "She was telling us last week that she is as big as a house. Of course, for her, that's a very small house."