Before Jimmy Fallon, The Roots Were Hip-Hop Legends. Here's How They Got Started
All great music groups have an origin story, and The Roots are no exception. While some fans were introduced to them as Jimmy Fallon's house band, The Legendary Roots Crew were already just that – legends.
Through member changes, studio albums, collaborations, and solo outings, they've remained one of hip-hop's most esteemed collectives.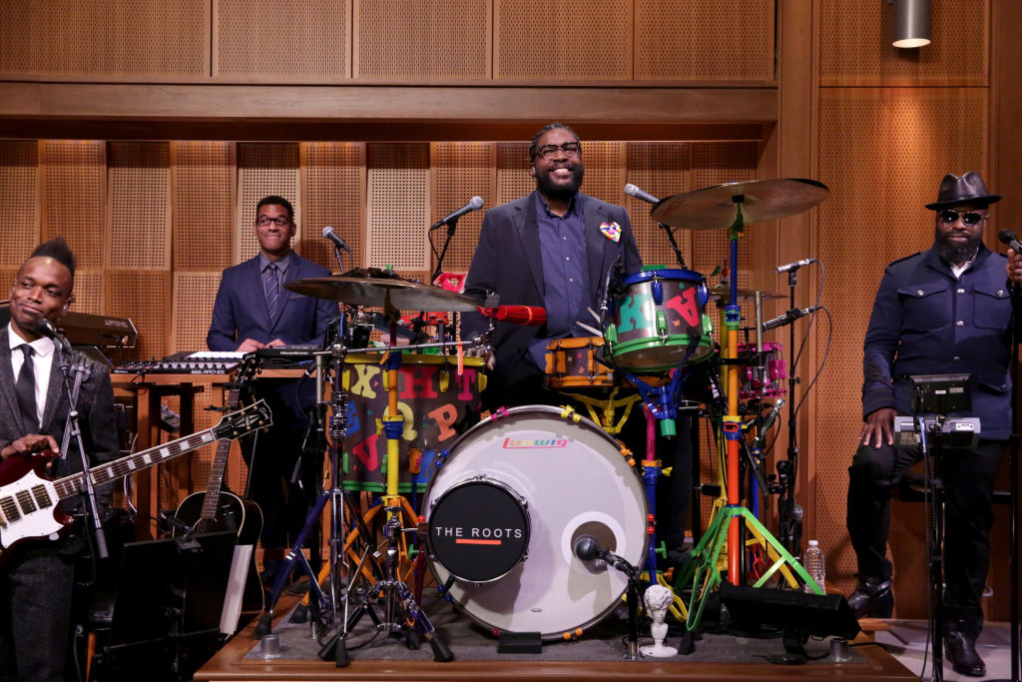 The Roots hail from Philadelphia
In case you missed it, the roots of the The Roots are entrenched in Philly. Not every member you see in the group today is from the "City of Brotherly Love," but two of its originators – Tariq "Black Thought" Trotter and Ahmir "Questlove" – Thompson hail from the East Coast city.
Listen to any of Black Thought's lyrics and you'll note he's always referencing his hometown.
They were originally called the Square Roots
Back in the '90s when they were starting out and promoting their music locally, their name was The Square Roots. They performed under that moniker at shows and live on the radio with all their instruments in tow.
During those early days, Questlove, Black Thought, and the rest of the crew would frequently do spots on Drexel University's college radio station, WKDU.
At the time, they linked up with one of its DJs, A.J. Shine, who would later become one of their producers and co-managers. Those who dig will be able to find some of the songs from that era, as well as some gems from their demo, Organix.
The Roots experienced member switch-ups
With more than 25 years' worth of music to their credit, The Roots' road to acclaim is paved with talented artists – some of whom didn't stick with the group.
While Questlove and Black Thought (who were childhood friends) are the only current members who were founders, there were a few others that helped formed the band in the early '90s.
Among them is Scott Storch, the famous producer who started out as a keyboardist with The Roots when he was just a teen. After Storch left, Kamal Gray took his place in 1995 and has been with them ever since.
Malik B., also considered a founder, was an emcee along with Black Thought. He departed and ventured out as a solo artist, but appeared on The Roots' 2006 and 2008 albums as a featured guest.
Longtime fans may also recall two beatboxing masters: Rahzel and Scratch. Rahzel, who rapped and beatboxed, was featured on 1995's Do You Want More? and 1999's The Roots Come Alive. He went on to work with artists such as Ben Harper, Common, and Björk.
Leonard Hubbard rocked with The Rocks from their inception (1992) up until 2007 as their bass player and was replaced by Owen Biddle.
Mark Kelley is in that position now and the band's current lineup includes "Captain" Kirk Douglas (since 2003), James Poyser, Damon Bryson, and others.
They've created a dozen albums and won Grammys
As a group, The Roots made 12 studio albums and two EPs. As a solo artist, Black Thought's released two rap albums but has appeared as a feature emcee on more than 65 tracks. Together, The Roots have earned three Grammy Awards.
Some fans were conflicted about The Roots foray into late night
Adored by hip-hop fans for decades, The Roots threw many for a loop when they announced they'd be joining the late-night circuit as the house band for Jimmy Fallon's show. Some saw it as a bad move, while others viewed it as a platform for growth.
Gawker described the decision as "opening up for Jimmy Fallon every night is the cultural equivalent of Miles Davis playing his horn on the subway platform," and many fans felt the same. But Fallon was a fan, too.
That was in 2009, and the band has since collaborated with numerous celebrities and fellow musicians on the show. Outside of Fallon, The Roots continue to live up to their "legendary crew" status.