'Bel-Air': Coco Jones on Hilary and Jazz's Relationship: 'We Love a Lowkey Dude'
'Bel-Air' actor Coco Jones, who portrays Hilary Banks in the dramatic reboot, weighed in on the blossoming relationship between her character and Jazz.
Actor Coco Jones, who portrays chef and influencer Hilary Banks in the dramatic reboot Bel-Air, recently opened up about her character's relationship with Jazz and where it might go in season 2. She also revealed she talked to Karyn Parsons-Rockwell, who portrayed the role in Fresh Prince of Bel-Air, and claims the actor "really approves" of her spin on the fan-favorite character.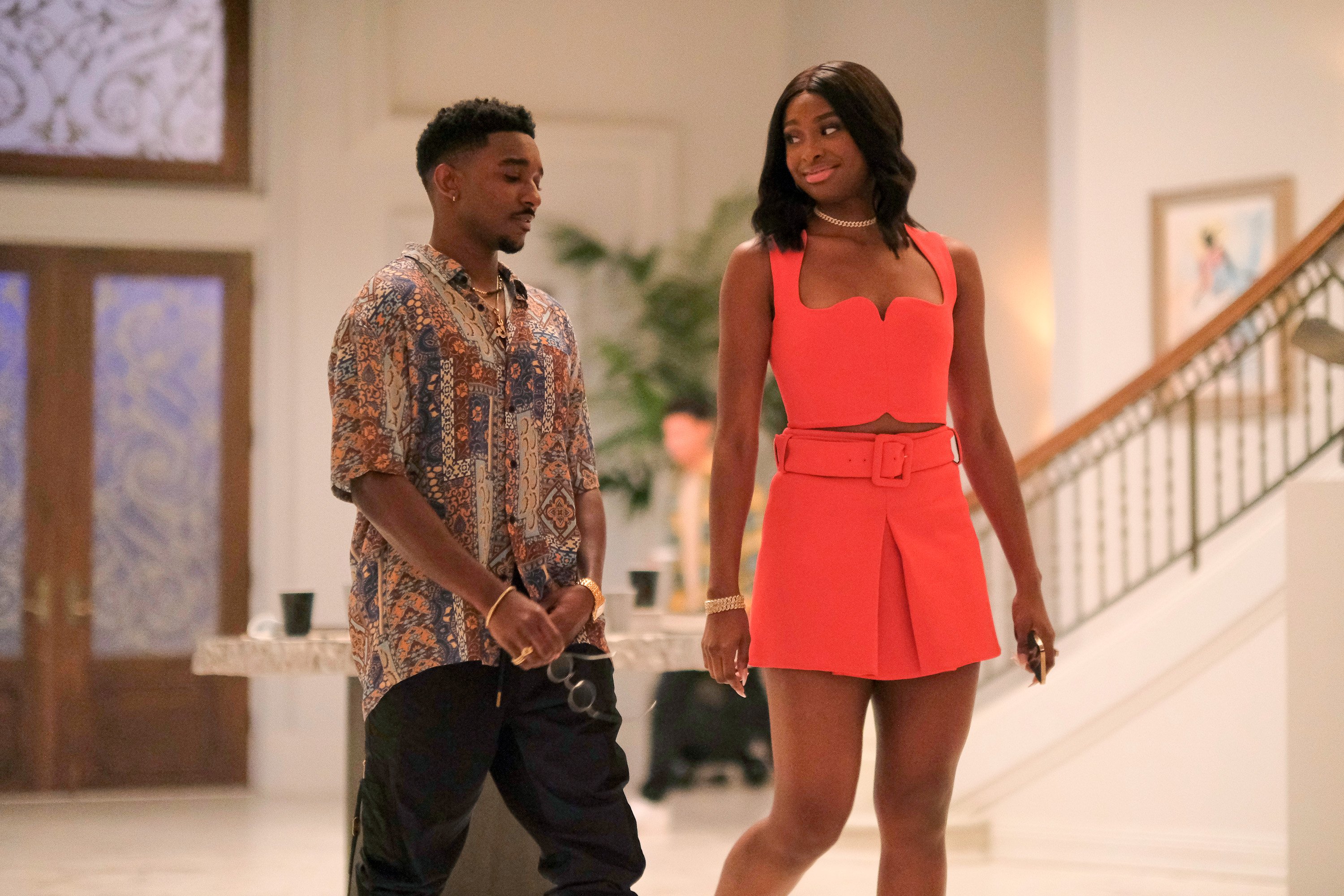 Coco Jones on Hilary and Jazz's relationship in 'Bel-Air'
While speaking to the crew on The Big Tigger Morning Show, actor Coco Jones dished on her Bel-Air character, influencer Hilary Banks, and her budding relationship with cousin Will's (Jabari Banks) friend, Jazz (Jordan L. Jones).
She explained that Hilary, who exists in a community of "fake" social media stars, enjoys that Jazz is "real" and "made it out of the mud." For example, he's a taxi driver and owns a record label.
Additionally, she pointed out that Hilary probably liked that he didn't even know about Instagram, adding, "we love a lowkey dude." Although Jones acknowledged a connection between the two, she claimed she doesn't know what season two has in store for their relationship.
The actor noted that she hadn't read the scripts yet but believes there's "so much room" to dive deeper into the multiple storylines introduced to the viewers in the first season. She also trusts the writers, admitting they're probably going to have them "shook" again with the direction they take the characters.
Hilary and Jazz have a relationship in 'Bel-Air,' unlike 'Fresh Prince of Bel-Air'
Aside from being the butt of a long-running joke in which Uncle Phil (James Avery) tosses him out of the mansion, Jazz (DJ Jazzy Jeff) is remembered for his one-sided crush on the eldest Banks' child, Hilary (Karyn Parsons-Rockwell) in the '90s sitcom, Fresh Prince of Bel-Air.
She never reciprocated his feelings and was later blackmailed into going on a date with him. However, Jazz and Hilary have a mutual romantic interest in each other in the dramatic reboot.
Viewers saw sparks fly between the two when she entered his record store to hang up flyers for her father, who was running for district attorney at the time. He also helped Hilary "steal" her things back from the influencer house after she quit and seemed to get jealous when he flirted with Ivy (Karrueche Tran).
Following the Governor's Reception honoring her mom Vivian (Cassandra Freeman), Hilary and Jazz spent the night in her hotel room together.
Jones says Karyn Parsons-Rockwell 'really approves' of her take on Hilary
While she doesn't want anyone to know about their secret romance, Will already knew when he phoned his cousin the following morning for advice.
The rest of the finale didn't dive much into their relationship, but fans hope to see more in the next season. Even though Jones' version of Hilary differs from the original ditzy character viewers remember, the actor said she did have a conversation with Parsons-Rockwell about the role.
According to the Let It Shine star, the actor "laughed" at the extreme differences between the characters. She claims Parsons-Rockwell created her version "out of thin air and a couple of people she knew" because Hilary also varies significantly from her disposition.
Therefore, the Major Payne star appreciates how similar Jones' take on the role is to her personality. Additionally, she said Parsons-Rockwell "really approves" of her performance as Hilary. Bel-Air is streaming on Peacock.