'Bel-Air': Many Fans Think They Are Finally Getting a Hilary and Jazz Love Story
Hilary Banks and Will's friend Jazz met during season 1 episode 4 of the dramatic reboot, Bel-Air. Some fans are confident they already see the chemistry between the two and think a Hilary and Jazz love story might finally be in the cards.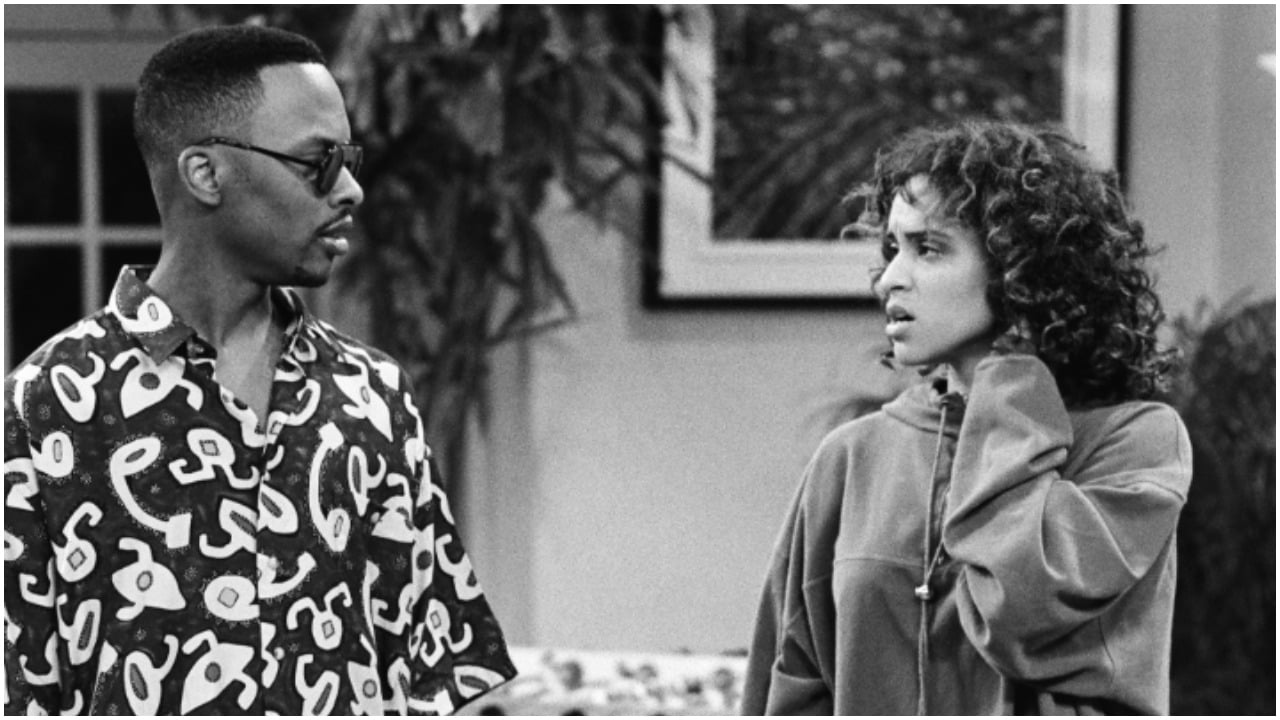 Jazz had a one-sided crush on Hilary in 'Fresh Prince of Bel-Air'
During the popular '90s sitcom, Will (Will Smith) and Jazz (DJ Jazzy Jeff) are first introduced in season 1 episode 2's "Bang the Drum, Ashley."
At the time, Jazz was the youngest Banks' supposed drum teacher and got thrown out of the house by Uncle Phil (James Avery) for the first time.
RELATED: 'Bel-Air' Cast and Characters: A Complete Rundown
The strict patriarch and the goofy club DJ often butt heads, leading to a long-running joke that included Uncle Phil, and other Banks family members, tossing Jazz out of the house. He was also remembered for his massive crush on the eldest, Hilary (Karyn Parsons-Rockwell), although she never felt the same way.
The two eventually went on a date, where he's seen without his signature sunglasses for one of the only times in the series, but it's later revealed that Hilary was blackmailed into going out with Jazz.
Fans think Jazz and Hilary might date in the dramatic reboot, 'Bel-Air'
The dramatic retelling of the sitcom Peacock's Bel-Air reimagines both Hilary (Coco Jones) and Jazz (Jordan L. Jones) as more business-oriented. For example, the oldest Banks is a social media influencer in the food industry, and she's constantly making moves in hopes of making a name for herself outside of her parents.
Additionally, Jazz is an entrepreneur who meets Will when he transports the teenager to the Banks' Los Angeles mansion in his taxi. While Hilary and Ashley walk into local stores where they hoped to hang endorsement posters for Uncle Phil, who is running for district attorney, they ran into Will's friend.
The two introduced themselves to each other for the first time and seemingly instantly hit it off, which many viewers noticed. After finding out that Jazz lacked a social media account, Hilary immediately got him started, resulting in an influx of followers.
Following the episode, several fans took to Twitter to express their happiness they would finally receive a Hilary and Jazz love story. Many admitted they already began "shipping" the two, and others noted they hoped viewers would watch a relationship "develop" between them at some point in the series.
DJ Jazzy Jeff previously called 'Bel-Air' his favorite show
The record producer starred in Fresh Prince of Bel-Air alongside real-life music partner Will Smith as the main character's best friend for all six seasons of the '90s sitcom.
Although his role has dramatically changed in the drama series and DJ Jazzy Jeff reportedly had no input in Bel-Air, the Philadelphia native, he still enjoys the show.
Speaking to Hip Hop DX, the two-time Grammy winner claimed it "might be my favorite show ever" as he explained he sits on Bel-Air: The Official Podcast as a host.
The actor continued to praise the "mind-blowing" series, "if someone was to take The Fresh Prince of Bel-Air in the '90s and move it to '20 to '22 and put a dramatic spin on it, I don't think they could have done a better job." Smith was involved with the reboot as he worked with filmmaker Morgan Cooper to turn the concept into a show. Bel-Air airs Thursdays on Peacock.
RELATED: 'Bel-Air' Season 1 Tracklist: All the Songs Featured in Episode 5, 'PA to LA'