'Bel-Air' Season 1 Episode 5 Release Date and Time
The dramatic reboot of Fresh Prince of Bel-Air premiered on Feb. 13, introducing viewers to more serious and modern adaptations of the characters. What is the release date for Bel-Air Season 1 Episode 5, and what time does it air on Peacock?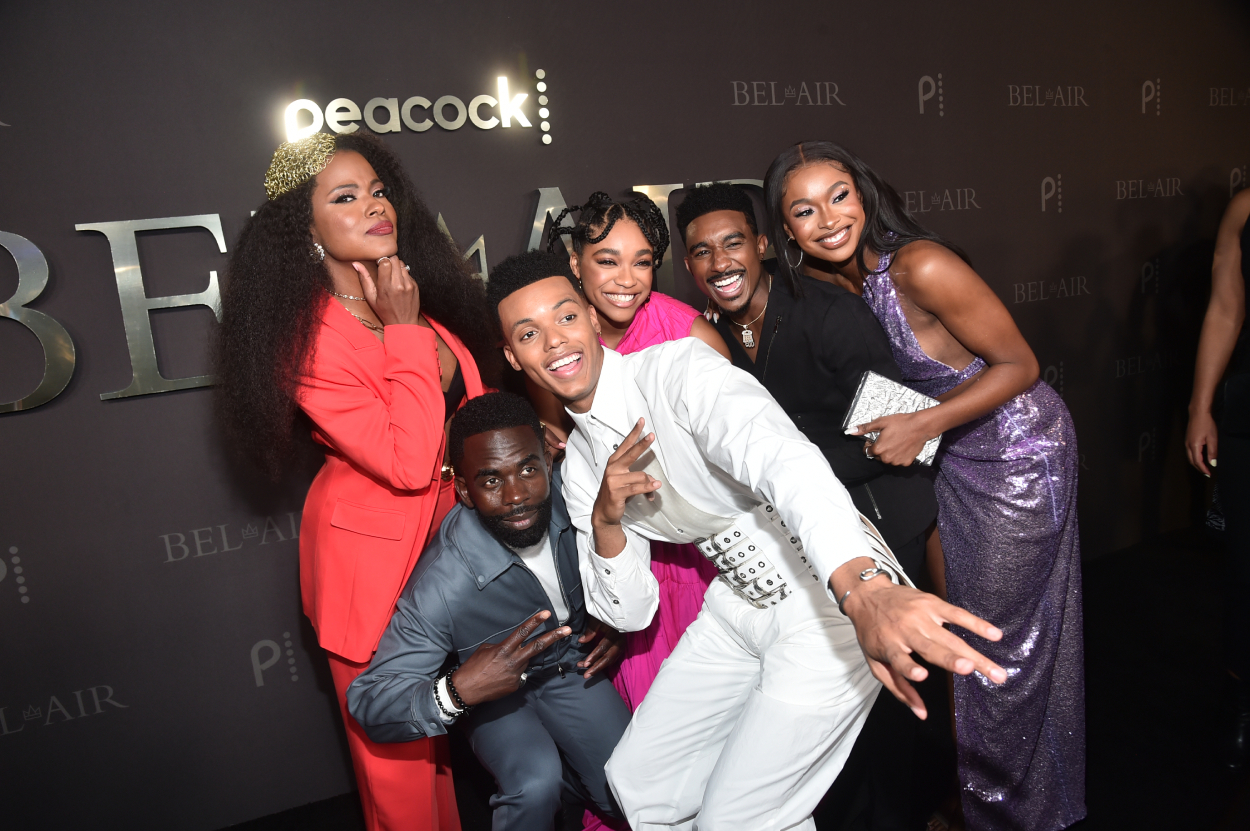 What is the release date and time for 'Bel-Air' Season 1 Episode 5?
Following the Super Bowl 2022 on Feb. 13, the first three episodes of the drama series Bel-Air aired on Peacock. However, new episodes air on Thursdays instead of Sundays. Therefore, episode 4, "Canvass," premiered on Feb. 17.
Episode 5, "PA to LA," airs on Feb. 24, at 5 a.m. EST on Peacock.
RELATED: 'Bel-Air' Season 1 Tracklist: All the Songs Featured in the First 3 Episodes
It follows Tray's (SteVonté Hart) visit to the Banks' Los Angeles mansion, as promised by Aunt Viv (Cassandra Freeman). In exchange, Tray must amicably work with Carlton (Olly Sholotan) on Uncle Phil's (Adrian Holmes) campaign, in which Will's "loyalty to Philly is put to the test."
Additionally, the Banks show their support for Hilary (Coco Jones) and her influencer aspirations by hosting an event. The remaining five episodes will premiere every Thursday on Peacock, without an anticipated break, and the season 1 finale airing on March 31. Bel-Air Season 1 will feature 10 episodes.
Recap of 'Bel-Air' Season 1 Episode 4
The fourth episode of the series followed the family as they supported Uncle Phil's campaign. For example, Will and Carlton, wanting something in exchange, worked door-to-door to persuade voters.
Additionally, Hilary and Ashley (Akira Akbar) walked into local stores, hoping to hang endorsement posters for their dad in the windows. They unknowingly went into Jazz's (Jordan L. Jones) vinyl shop, where Hilary got him started on Instagram, which quickly blew up.
The popularity landed her in a content creator house that she previously spent a day interviewing for by the end of the episode. Finally, notorious drug dealer Rashad Denton (Eazy the Block Captain) found out Will transferred to Bel-Air Academy through a viral video of Will making the winning shot at a basketball game.
After Tray warned Will, the teenager went to Geoffrey (Jimmy Akingbola) for help, who promised to take care of it. By the end of the episode, Tray tells his friend they no longer have to worry about the drug dealer as someone gunned him down.
DJ Jazzy Jeff calls 'Bel-Air' his 'favorite show ever'
West Philadelphia-based DJ Jazzy Jeff previously made music alongside rapper Will Smith before starring as the actor's best friend in The Fresh Prince of Bel-Air for all six seasons.
In the dramatic reboot, Jazz is the business savvy taxi driver Will meets on his way to the Banks'. The two quickly develop a good friendship, and Will plays basketball with him for the first time since his run-in with the cops.
Although DJ Jazzy Jeff notes he didn't have anything to do with the reboot in a recent interview with Hip Hop DX, the Grammy winner enjoys the series and hosts Bel-Air: The Official Podcast.
"If someone was to take The Fresh Prince of Bel-Air in the '90s and move it to '20 to '22 and put a dramatic spin on it, I don't think they could have done a better job," he raved. The producer also called the series "mind-blowing," adding it "might be my favorite show ever."
RELATED: 'Bel-Air' Makes 1 Edgy Change From Will Smith 'Fresh Prince' Story