Bell Biv DeVoe: The Movie is Really Happening, Say Michael Bivins and Ricky Bell
Viewers were glued to their televisions when BET dropped The New Edition Story. The three-part biopic follows the rise of the multi-platinum-selling musical act. Now, fans are giddy with excitement over a possible movie about the New Edition supergroup spin-off, Bell Biv DeVoe. Here's what we know so far.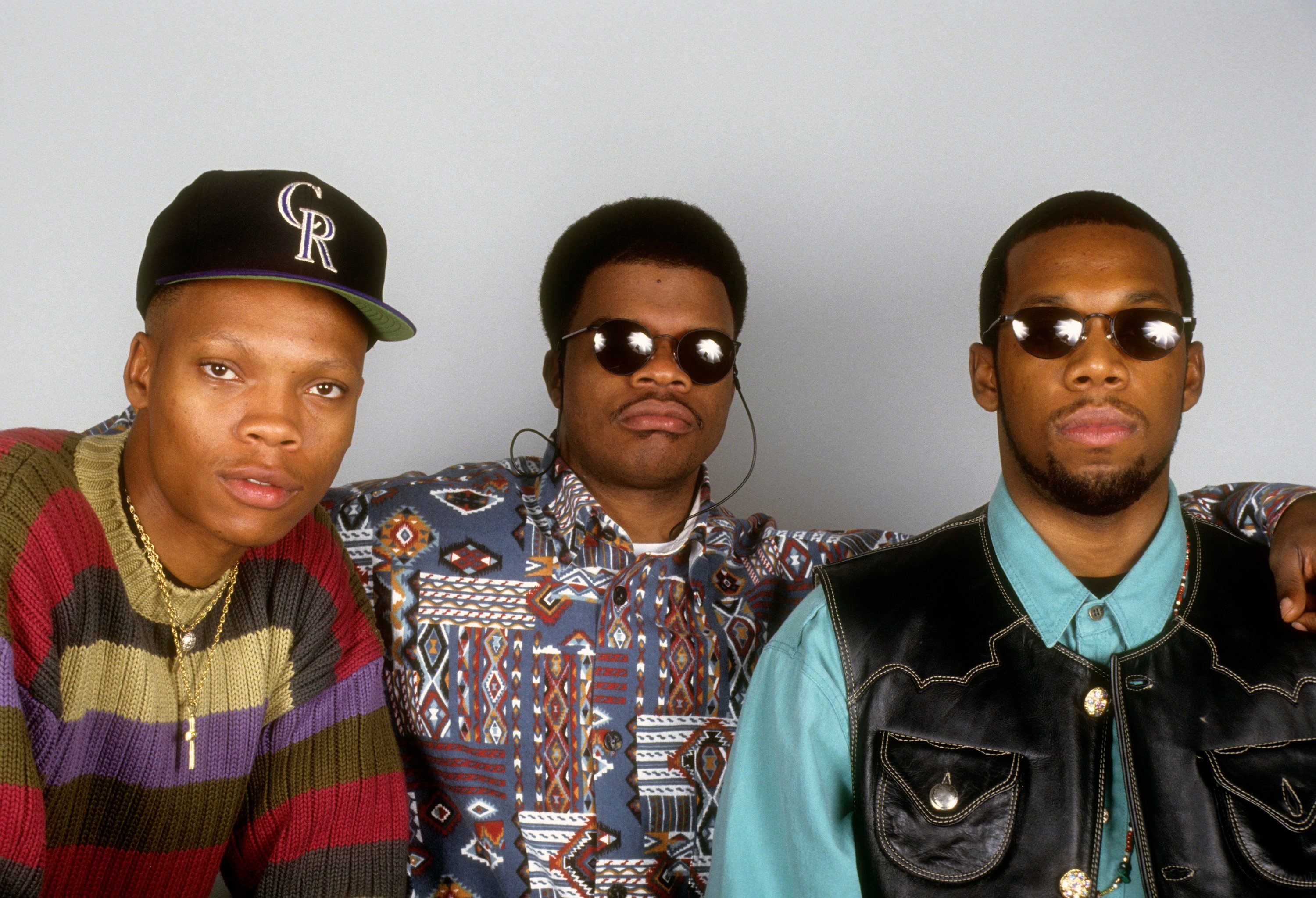 'The New Edition Story' only briefly depicts Bell Biv DeVoe's journey
The New Edition Story gives viewers a glimpse into the creation, success, and struggles of Boston's beloved boy band. As producers on the project, the six members — Ricky Bell, Michael Bivins, Ronnie DeVoe, Ralph Tresvant, Bobby Brown, and Johnny Gill — provided valuable insights into the inner workings of New Edition.
The story kicks off with their formation in adolescence and their tutelage under Brooke Payne, who also produced the biopic. The narrative touches on the conflict between Brown and his bandmates, his dismissal, and the addition of Gill as the group's new featured soloist.
RELATED: New Edition Is 'Rekindling the Brotherhood,' Says Ralph Tresvant
The biopic briefly depicts the various solo projects by Brown, Gill, and Tresvant, as well as the creation of another multi-platinum-selling group, Bell Biv DeVoe, featuring the charismatic trio of — you guessed it — Bell, Bivins, and DeVoe.
The New Edition Story leaves much to the imagination when it comes to the details of the solo projects and B.B.D. Consequently, BET produced a sequel called The Bobby Brown Story, which dives deep into the singer's success outside of New Edition. With that in mind, fans have been clamoring for another sequel with Bell Biv DeVoe front and center.
Bell says a B.B.D. movie is in the plans
RELATED: New Edition and Bell Biv DeVoe Legend Ricky Bell Confessed, This Song Is His Favorite
Bell is a social media sensation who keeps his followers engaged with content on multiple platforms. In a YouTube Live event in April 2020, Bell fielded questions from online viewers. One music fan asked about a possible Bell Biv DeVoe movie.
Without hesitation, Bell responded, saying, "We're making a B.B.D. movie. I'm just going to go on and say that. That's for real, for real. That's going to be real interesting. We haven't decided yet what the exact platform is going to be — whether it will be streaming or theaters or whatever, cable… But we're definitely working on it and as we make progress, we'll let you know."

The Bell Biv DeVoe movie will pick up where 'The New Edition Story' left off
RELATED: New Edition: The Tragic Experience Ricky Bell Says "Broke My Heart" and What He's Doing About It Now
Bell Biv DeVoe joined a panel as a part of the Essence Entrepreneur Summit held in December 2020. During the discussion, Bell doubled-down on his earlier promise by remarking, "Bell Biv DeVoe — we're up next in the TV and film side of things."
Bivins provided further insights into his relationship with his bandmates, and also teased a future biopic. "In listening to my brothers, you can see why Bell Biv DeVoe was so special and so real," began Bivins, "because when we're together, we don't really look in the mirror. We talk to each other."
"We're each other's support system," Bivins explained. "And listening to everyone's stories and stuff and their testimonies and their realness and what we've been through in the music business… And we gave a little bit of it in The New Edition Story. But we want to save the rest of it for The Bell Biv DeVoe Story because that's going to be just as compelling."
And in a confident statement about the future of the group, Bivins quipped, "Everybody knows what the play is and we're gonna call it."
Follow Erika Delgado on Twitter.