Bella Baby Boom! Nikki and Brie Welcome Baby Boys Just 1 Day Apart
Apparently, reality star twins Nikki and Brie Bella really do everything together. Announcing their pregnancies in January 2020, the former WWE superstars headed to the delivery room within the same 24 hours. Nikki took to Twitter to reveal she was the first one to the finish line.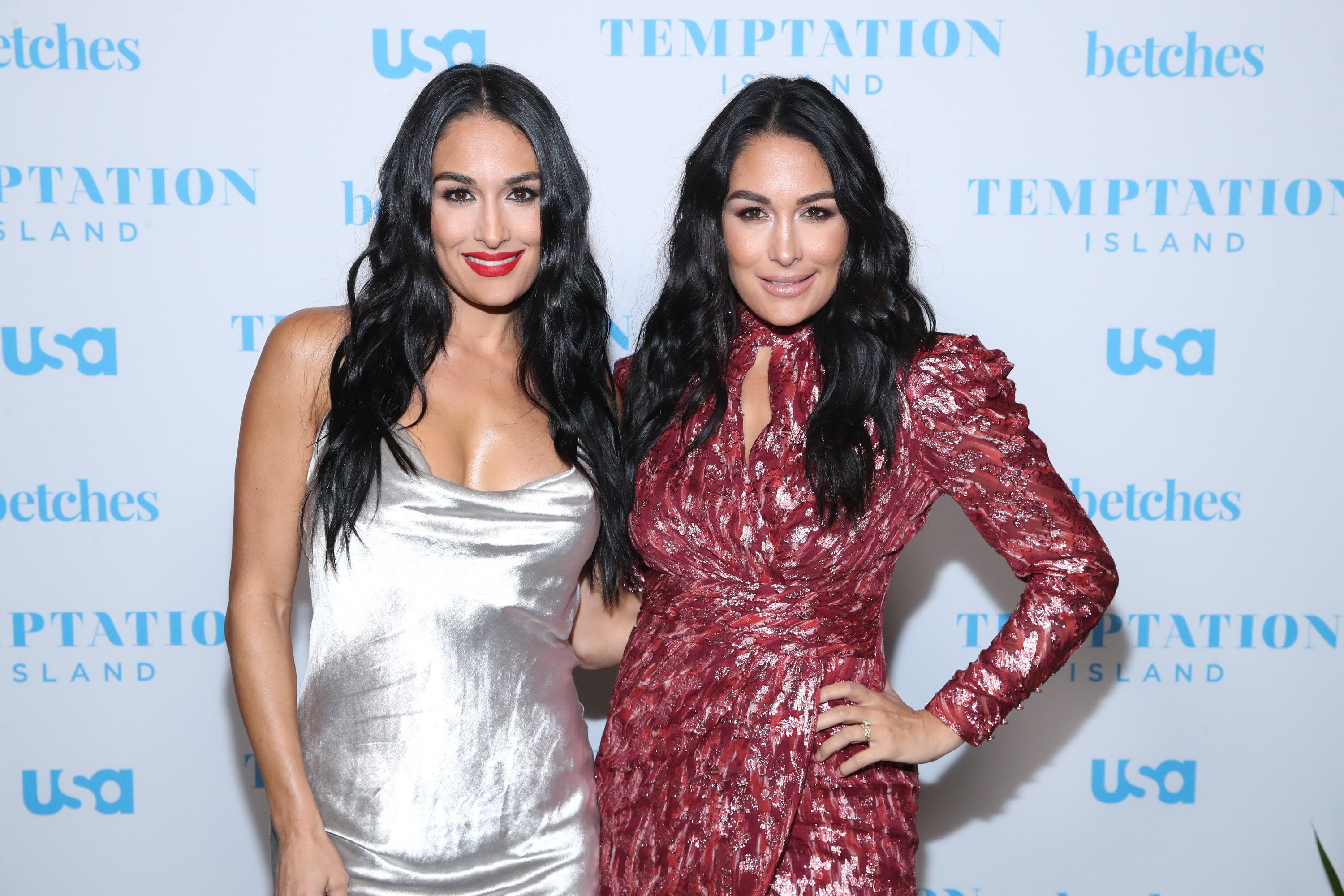 Brie finds out first
The sisters discovered their pregnancies around the same time. Brie is already a mom to 2-year-old Birdie with husband Daniel Bryan and had been hoping for another child.
"My husband and I were trying for seven or eight months," Brie revealed, according to Bleacher Report. "Then I felt in my heart it was a sign from God, like, 'You guys are good with one,' so we stopped trying."
While visiting Nikki and fiancé Artem Chigvintsev in Europe, the former wrestler began getting symptoms.
"When we were in France meeting Artem's family, I felt a little off," Brie recalled. "I was irritated and uncomfortable in my body. When we got home, I took a test two days before Thanksgiving, and when I saw the positive sign, I was like, 'Oh, s*it!'"
Bella twins have great timing
When Nikki discovered she was also expecting, the sisterly duo thought fans would suspect their timing was premeditated.
"Wait, twins being pregnant at the same time? People are going to think that's a joke," Brie said. "We both are shocked. People are going to think we planned it, but you can't really plan pregnancy!"
Brie may have been the first to find out she was pregnant, but Nikki was the frontrunner to the delivery room.
"Our baby boy is here and we couldn't be HAPPIER and more in LOVE!" Nikki tweeted on July 31, 2020. "Everyone is safe and healthy!"
Brie followed up with her own post the following day: "It's a boy," she captioned the photo of herself holding hands with her husband and infant son. "8-1-2020 #babyDanielson."
Nikki tweets some baby deets
A few days following the delivery of her son, Nikki updated her fans on Twitter to share her joy.
"The last few days have been truly incredible! Such a beautiful learning experience, still is, and wow a love like this!" she tweeted. "Everything you all have said it would be! I've never smiled so much with such little sleep. I'm in heaven! I'm so happy!!"
The reality star also praised her fiancé for his already-impressive parenting skills.
"And @artemchigvintse is the best Dad! Our baby boy is so lucky," she wrote. "I didn't think I could love him even more… but goodness I fell more in love with him the past few days. I feel so blessed. Can't wait for the day to officially makes us a family."
Sibling rivalry may have played a role in the race to the hospital, where Nikki had to razz her twin a bit on getting to the delivery room first.
"And how about that tag team!! I can't believe Brie & I had boys less than 24 hours apart!" the Total Bellas star tweeted. "Honestly only us! lol And that I beat her. As you can imagine everyone said it was my baby & mines competitive side that kicked in! I can't wait for our Bellas Boys to grow up together!"
Nikki concluded her Twitter thread expressing her gratitude to her followers. "Lastly thank you everyone for so much love and support!" she wrote. "I have so many people to get back to you! I have been MIA from my phone so I will work on all that. All of your love has been truly incredible to us Bellas!"