Bella Hadid Dealt With Workplace Sexual Harassment From This Surprising Source
Dozens of people are speaking out against the brand that made Bella Hadid famous. Men and women at the company are calling out a Victoria's Secret exec for sexual harassment. In another much needed #MeToo moment, some of the Victoria's Secret angels have joined others who aren't keeping quiet about unacceptable treatment. 
The executive at the heart of the issue, Ed Razek, was near the top of the food chain at Victoria's Secret parent company. Razek is no longer with L Brands as of this August, but that hasn't stopped people from trying to hold the brand publicly accountable.
Victoria's Secret may have made Bella Hadid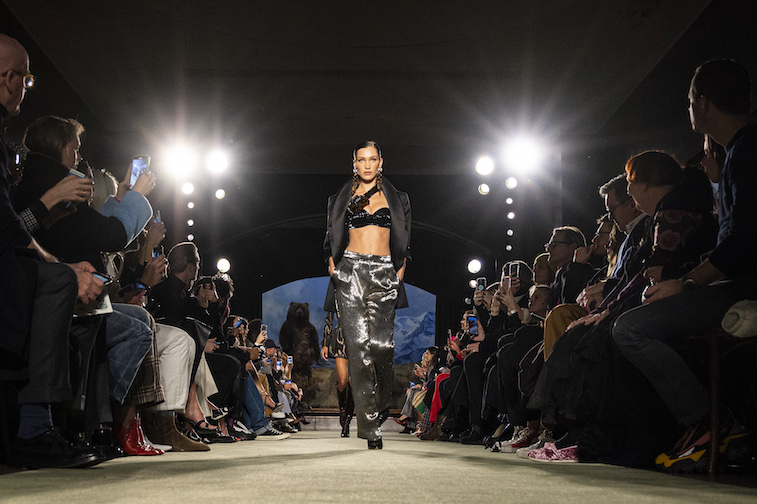 Bella was in the public eye before she became an angel, but to a much lesser extent. She comes from a wealthy family. Her mother, Yolanda Hadid, is on The Real Housewives of Beverly Hills. Bella, her sister Gigi, and her brother Anwar have all appeared on the show with their mom.
That was all before she started her modeling career. Now she's a superstar, and being a Victoria's Secret angel was a pivotal moment in her career.
Bella Hadid went through some shocking things
Many people at the company have said that Rezak terrorized Bella and the other angels. They claim that he made an "entrenched culture of misogyny, bullying and harassment."
He apparently made comments to Bella. She was being fitted for underwear to use on the runway, and Rezak was sitting on a couch watching. To be clear, there was nothing in his job description as an executive at L Brands that required his presence for fittings.
Still, he saw fit to tell the room, and Bella herself, that he wasn't sure she would be allowed to walk "down the runway with those perfect titties."
While fans don't know everything that Bella went through at Rezak's hands, it's clear that this wasn't even one of his worst offenses. At that same fitting he actually groped a model over her underwear.
Bella may have witnessed this event. In fact, it may be why she has never been too hot on the brand. 
Is this why Bella Hadid has dissed Victoria's Secret in the past?
Bella hasn't said anything about what happened at Victoria's Secret yet. It's her right. She may be traumatized by what she went through, or maybe she just doesn't want to relive everything in the public eye. Still, she's said some things about the brand in the past that make a lot more sense in this context.
Notably, when Bella compared walking the runway in Rihanna's Savage x Fenty line to her other modeling experiences, Bella said that the feeling she had wearing Fenty was totally new. 
"That was the first time on a runway that I felt really sexy," she said. "Because when I first did Fenty, I was doing other lingerie shows and I never felt powerful on a runway, like, in my underwear."
Many people took this as a diss to Victoria's Secret since she had modeled lingerie for them before. She was basically saying that Victoria's Secret didn't make her feel powerful. Now that fans have the context of the brand culture at VC, it seems like the underwear may not have had much to do with how Bella felt. 
She revealed in the same interview that she's struggled with depression. She says she feels guilty for having it at all, since she knows she leads a blessed life. But that has nothing to do with mental health, and Bella seems to understand that now.
She revealed that while she worked with Victoria's Secret, she was sad all the time. "I would cry every single morning, I would cry during my lunch breaks, I would cry before I slept."
Bella has never said anything about the culture of harassment at Victoria's Secret, but hopefully she and others who were affected by it can heal.