Bella Hadid Says She 'Blacked Out' and 'Couldn't Breathe' on the Met Gala Red Carpet
Bella Hadid appeared at the 2022 Met Gala in a 'gilded glamour' outfit. She later said she 'blacked out' on the red carpet and 'couldn't breathe.'
Bella Hadid first appeared at the Met Gala in 2015, and she has since made several appearances at the prestigious event.
For the recent 2022 Met Gala, Hadid followed the theme of "gilded glamour" with her outfit. However, Hadid admitted she was also rather uncomfortable on the red carpet.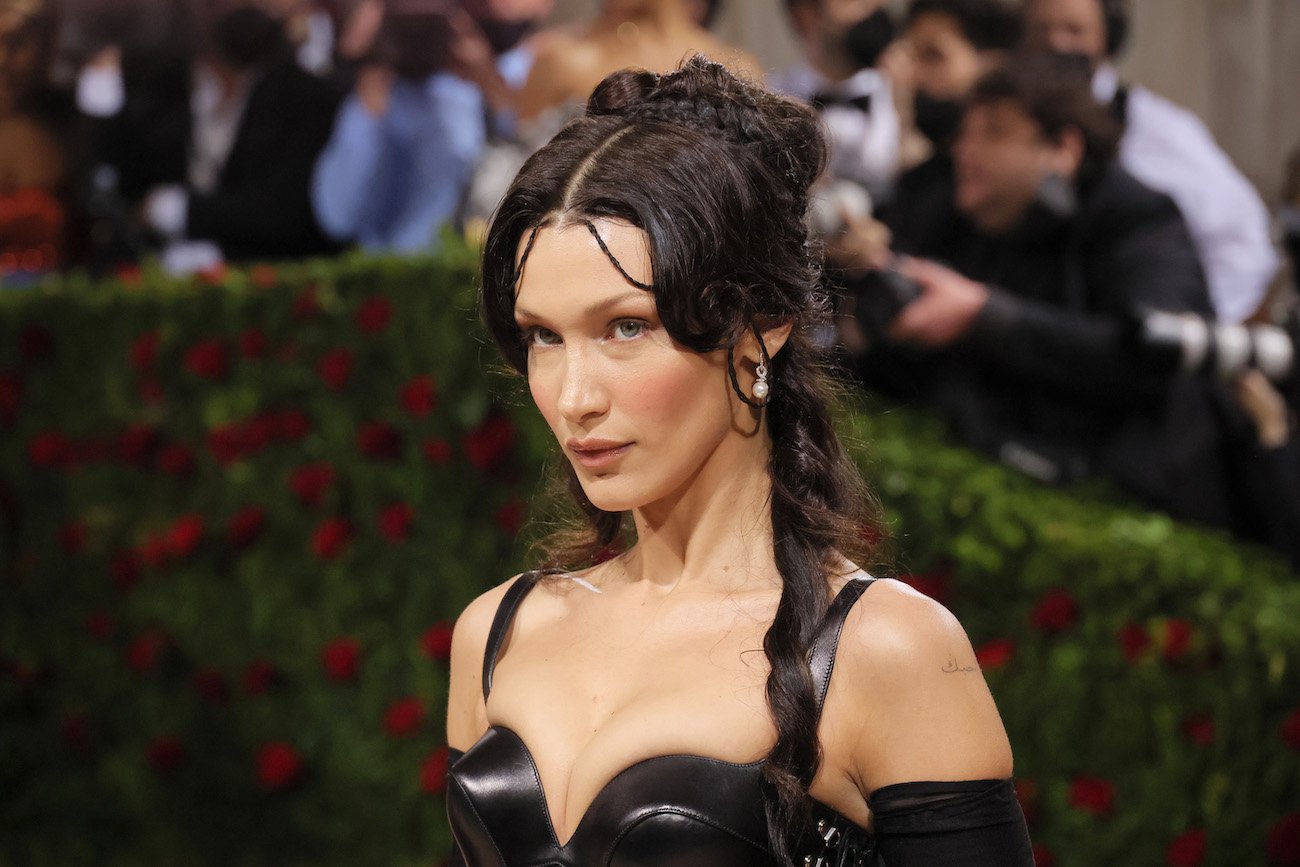 Bella Hadid worked with Riccardo Tisci on her Met Gala outfit
Hadid's outfit was an all-black ensemble. She wore a leather corset bodysuit with tulle sleeves as well as stockings with intricate designs. The supermodel worked with Riccardo Tisci, the chief creative officer of Burberry, on her outfit.
"I made a 25 page deck with all of our references, and I tried to limit it to the period from 1895 to 1903," she explained in an interview with Interview Magazine. "I really liked a lot of the ties and the big fabrics and the tulle and obviously the corsets and the bustiers, but we also wanted to make sure that it stayed very much Riccardo—very simplistic, but chic."
She added, "At this point in my life, I really take a lot of pride in my style and what I do for myself. So, I guess that's why this Met was so different. I mean, I've always put my little bit of creativity into each look, but yeah, I really wanted to make sure this one felt like me, and Riccardo, and Gabi [Gabriella Karefa-Johnson] and Raisa [Flowers] and Evanie [Frausto]. I think it gave a little of all of us."
Bella Hadid says she 'blacked out' and 'couldn't breathe' on the red carpet
Although Hadid's outfit came together well, she admitted wearing it on the red carpet was not the most comfortable experience.
"I literally like, blacked out," she said. "I don't even think I got one good photo on the red carpet. Now that I look back, I realize that people literally stand there for 20 minutes and they give. I looked once to the left, once to the right, and I ran up the stairs."
Hadid continued, "I don't think I was out there for more than three minutes. I don't know if that was my anxiety, or maybe the waist was giving cinch and I couldn't breathe. I mean, there were probably a lot of things happening."
Bella Hadid's boyfriend was involved in her glam process
When Hadid got ready for the Met Gala, she was accompanied by her boyfriend, Marc Kalman. Kalman is an art director and took photos of her glam process, which she then shared with Interview Magazine.
"I'm super comfortable and feel very safe with Marc," Hadid said. "He does this funny thing where he puts the camera down by his belly, so sometimes I literally don't even know that he's taking a photo. He's very much in the moment, takes one photo, and that's the photo you get, which I think is interesting and fun."
She also added about the photos she sent to Interview, "I'm just really excited that these are gonna be out and about, and I'm really proud of Marc, who's like my emotional support bunny and is incredibly talented at everything he does. So yeah, it worked out well."