'Below Deck': Alexis Bellino Reacts to the Crew's Comments About Her Make-Out Sessions on the Boat
Alexis Bellino from The Real Housewives of Orange County brought friends along for a Below Deck adventure to help celebrate her recent divorce. The former Housewife didn't hold back in her newfound freedom, taking every opportunity to snuggle, kiss and make-out with boyfriend Andy Bohn.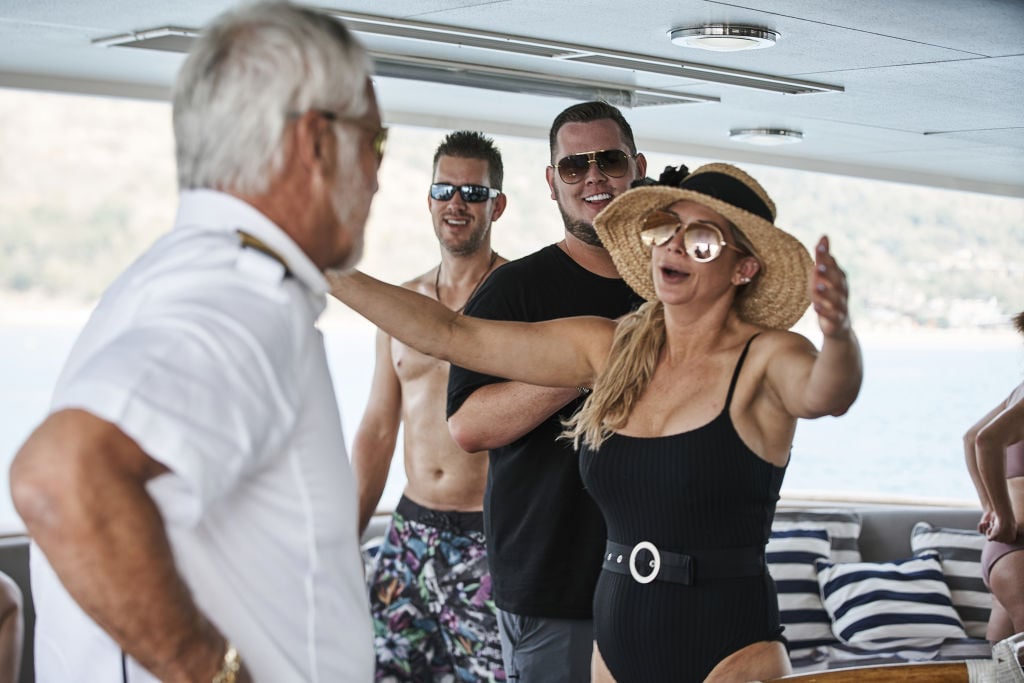 Not one to be shy, Bellino and Bohn spent a good portion of the first episode gleefully lip-locked. Bellino was also pretty vocal about her new relationship with Bohn. After dinner she announced to friends that the couple was headed to bed, commenting about how happy she was to see a mirror above their bed.
Chief stew Kate Chastain (and the other crew members) observed how much time Bellino and Bohn spent kissing. "She just got divorced and I don't know if she's trying to prove it to her ex or her friends that she's 'Doing fine!' but she can be 'Doing fine!' without a tongue down your throat," Chastain shared in a confessional.
The crew made quite a few snarky comments about Bellino and Bohn
At one point Bellino leaps onto Bohn and laughs, "Everyone should get divorced!" The crew asserted that Bellino and the guests were extremely nice during their charter, plus commented about how much they enjoyed them on social media too. Deckhand Rhylee Gerber shared a photo of the guests to her Instagram story. "Never do I not love the f**k out of the charter guests! This crew was no exception!!"
Also, Chastain told Decider she loved having Bellino and friends on board Valor. "She's actually one of my favorite charter guests because she spent a lot of time in the master bedroom."
But the endless make-out sessions were hard to avoid. During the charter, stew Courtney Skippon received a text message from deckhand Brian de Saint Pern that they were just "having fun." She was hurt because she thought they were dating rather than just hooking up. When she was stuck on the tender with the makeout couple, she couldn't resist. "Are you kidding me," she said in a confessional. "That's the last thing I want to see. It's the last thing I ever want to see, but especially not now. It's gross."
Bellino calls Chastain and Skippon out for their comments
Bellino was home watching the episode along with fans. She called out the stews for making fun of all the kissing she was doing on the show. "Pot calling the kettle black???? Kissing shouldn't be judged or ridiculed, especially if you are doing it too @kate_chastain and @courtneyskippon !!!!🤣🤣 Fun times. We enjoyed every minute on the Valor! Thank y'all! ❤️❤️❤️."
She also shared a video of the show where bosun Ashton Pienaar kissed Chastain at a bar. "Oh wait! Oh, they can kiss, Kate can kiss," Bellino screams at her television as she pressed pause. She then continues the video to show Skippon and de Saint Pern kissing at another club. "But Alexis Bellino can't kiss her boyfriend on national television! Who's next?" A fan reminded Bellino that Chastain didn't welcome that kiss. "I don't think Kate asked for that kiss!!!"