'Below Deck': Captain Lee and Rhylee Gerber Have Resolved Their Differences
After a rough start this season, Captain Lee Rosbach and Rhylee Gerber from Below Deck may be back on good terms with each other.
Gerber shared that Rosbach didn't give her a tip when she first returned midseason. She expressed frustration when she chatted with Colin Macy-O'Toole on his Radio Check podcast. She felt that she was already being minimized the minute she stepped on the boat. "Inwardly knowing this is exactly what's happening now. This is the tone, it's right in front of Ashton [Pienaar] he's saying this. Kate [Chastain] was there too. This is how it's going to be. My value on the boat is going to be devalued from the get-go. And it comes straight from the top."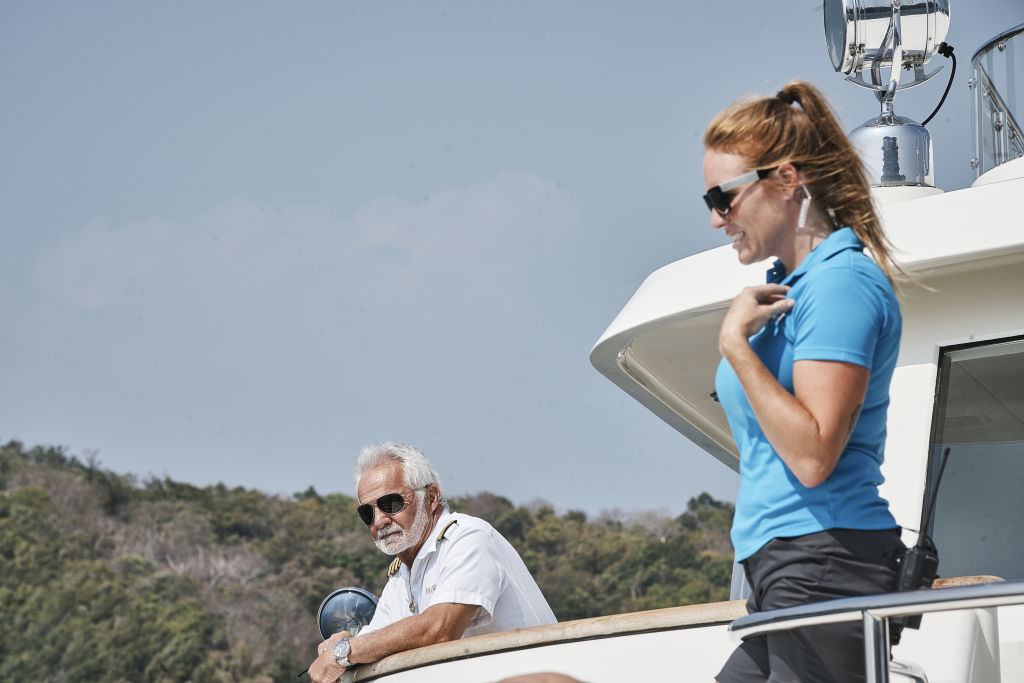 The conversation about tips was not included in the footage. But when a fan asked Rosbach, he simply said his contract wouldn't allow him to discuss it publicly. "I am not allowed to comment on what wasn't aired on the show, so I will honor that contract unlike some of my crewmates. So that question will continue to be one for the ages, but let me tell you things are not always as they seem."
They seem to have worked out any differences
The Below Deck season 7 crew was in New York City to film the reunion. Some crew members went out after the reunion and it appears that Gerber joined Rosbach and his wife Mary Anne for dinner.
Earlier on Wednesday, Rosbach tweeted that he enjoyed seeing Gerber and praised her for her conduct during the reunion. "@rhylee_gerber Well done this evening. Really enjoyed our time together. Be safe out there." Fans, especially Captain Sandy Yawn from Below Deck Mediterranean was feeling the love. "Love reading this and look forward to the #BelowDeck reunion! Come on Feb 10th!" she wrote.
Hours later, Gerber revealed that she spent some time with Rosbachs. "I had a great time last night with you both and I'm grateful we were able to have a long overdue conversation allowing us both to gain a better understanding and appreciation for one another. Looking forward to crossing paths again soon!" Gerber and the Rosbachs looked more like a family who is happy to see each other as the photos included warm smiles.
Fans are loving all the love
After what can only be described as a dark season, fans are thrilled to see Rosbach and Gerber come together. Beyond being left out on the first tip midseason, Gerber was also isolated and dismissed by her coworkers on deck. Bosun Ashton Pienaar was not happy she returned and made sure the rest of the deck team minimize and ignore her too.
Fans are now calling for Gerber to return next season as the bosun. "Love to see you as the bosun and have all the men be your minions," one person suggested. Another person was just happy the two worked out their differences. "Yay!! So glad you two got to finally have open discussions and have resolution."