'Below Deck': Captain Lee Says He Will Never Work With Ashton Pienaar Again
There are no second chances when it comes to Ashton Pienaar from Below Deck. Not that it should come at any surprise to viewers, Captain Lee Rosbach told Jenny McCarthy on The Jenny McCarthy Show that there is no way he'd ever work with Pienaar again after seeing his behavior during season 7.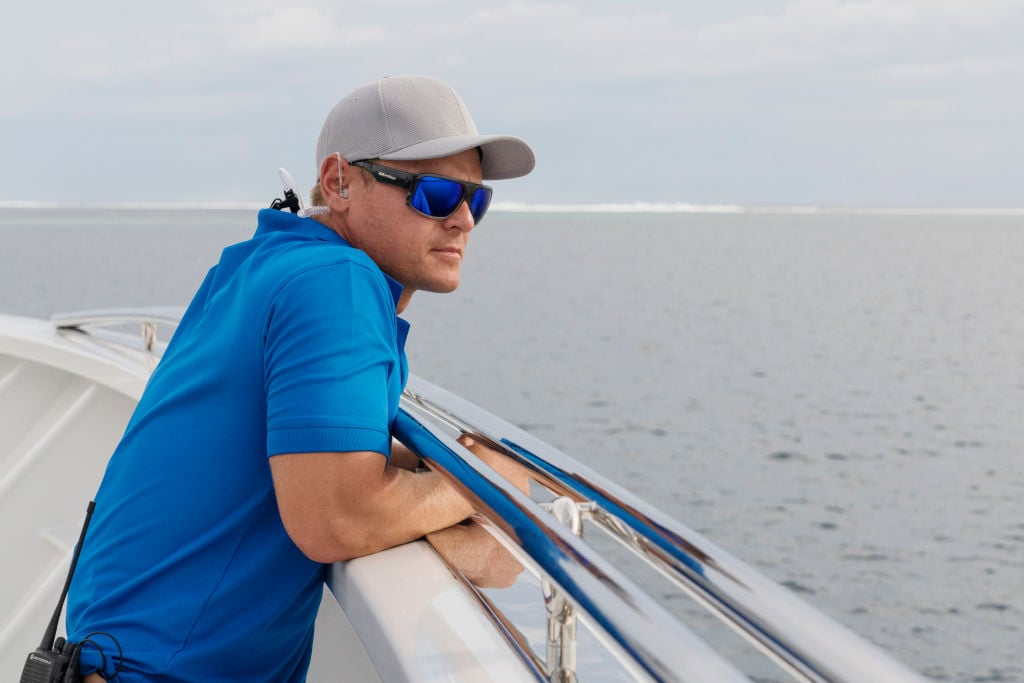 One reason why he'll never get another chance is that chief stew Kate Chastain doesn't think Pienaar is overly remorseful. "I don't think he's really sorry," she said in the interview. Rosbach agrees. "I don't get that feeling of sincerity from him or any remorse at all. And I'm a pretty good judge of that."
Bad behavior is a common thread on Below Deck. However, Pienaar's behavior was next level. Not only did he aggressively come at Chastain during a drunken exchange, but he also poisoned the deck team against deckhand Rhylee Gerber almost the minute she joined the crew. Chastain briefly quit after her exchange with Pienaar, however, Rosbach didn't understand the severity of the situation until he viewed the footage.
Chastain thinks Pienaar is only sorry because he was busted
McCarthy wondered if Chastain ever received an apology from Pienaar. While Chastain said he apologized it wasn't sincere. "I think he's sorry that other people have seen his bad behavior," she remarks. "I think he's sorry because he's embarrassed for himself." Chastain adds, "I don't think he's sorry because he cares about any mental duress that he may have caused me."
Rosbach said he now sees how extreme toxic masculinity infected the crew. "It was very obvious," he observed. "They took it to a whole new level." Rosbach blames a lack of maturity for the sour direction coming from the men on the boat. "They're behaving like its a fraternity," he adds. "And they're spoiled rich kids."
"I think Ashton was a huge problem because he was in the leadership role," she says. "He was the one setting the example for the guys on board, and I don't think he loved having a female that wasn't going to hook up with him. So he's like, 'I don't know what purpose you serve in my life.' He was just not into me being above him in a professional aspect."
Pienaar acts as though nothing happened
Although it can't be easy to respond when everyone is throwing hate your way, Pienaar acts like he hasn't seen the social media outcry. He recently posted about how the show was a learning experience. "Synonymous with the new year is a fresh start, a chance to improve, refine and tweak, off the back of lessons of old," he shared in a lengthy post.
He also appeared on a local Tampa, Florida morning show. Pienaar acted like he wasn't overly tuned into the response. One of the hosts asked Pienaar what he thought about comedian Leslie Jones' Twitter remarks about his behavior. Jones has been brutally critical of Pienaar. She's come down hard on the bosun for his actions and aggression against both Chastain and Gerber.
But Pienaar shrugged it off. "I've heard some of the things he's said," Pienaar remarked until the hosts corrected him, reminding him Jones is a woman. Then added that although he's been laying low on social media, he's "heard some things." Then said, "Why what did [Jones] say?"