'Below Deck': Captain Lee's Latest Blog Indicates an Explosive Reunion
The 'Below Deck' bru-crew will likely be hearing from Captain Lee during the reunion.
Captain Lee Rosbach from Below Deck all but confirmed that he will have harsh words for many crew members during the upcoming reunion next month.
After what could only be described as another shocking episode, Rosbach blasted the "bru crew" admonishing them for their crass behavior. "I could not be more disappointed in the male staff of this boat ever," he began. "They have not displayed one decorum of class nor culture. They have gone out of their way to make certain people feel ostracized and denigrated. Not a good look for them at all."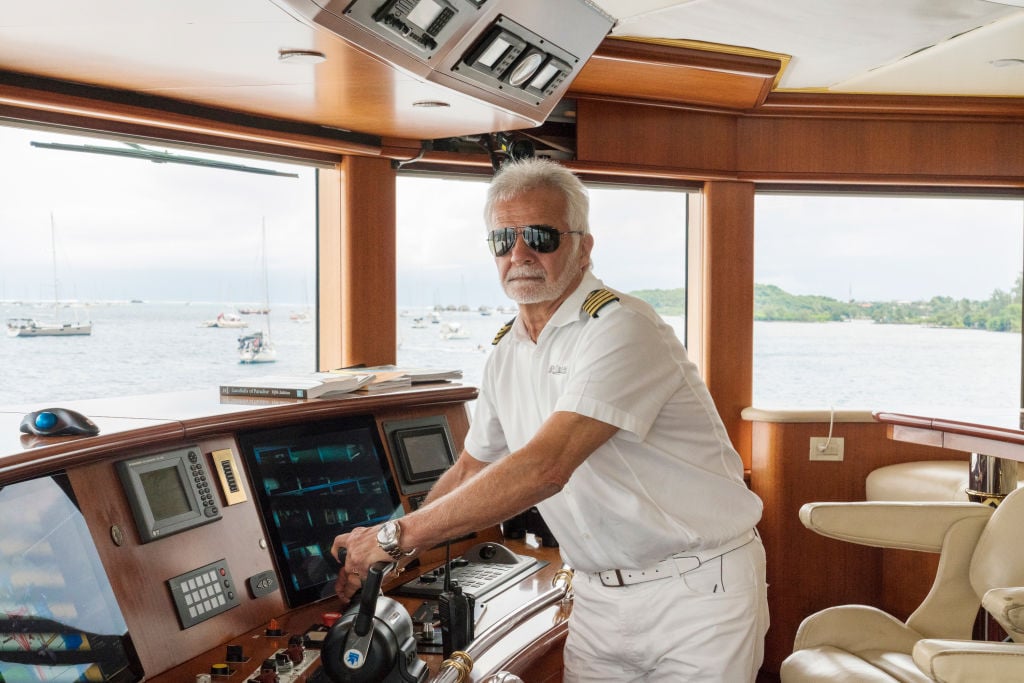 Although bosun Ashton Pienaar appears to be the ringleader, Rosbach evenly distributes the blame. "Not that anyone didn't contribute but the weight of the blame, but from my viewpoint comes from the attitude of the male members of the deck crew." Rosbach reminds readers he's sharing an opinion. However, many fans expressed similar sentiments on social media.
Rosbach says Pienaar set the tone for misogyny
Rosbach slammed Pienaar for creating the 'fraternity" atmosphere and being complicit in allowing the testosterone tone to rage. "Ashton, we had a chat and I asked you to set it all aside for 6 days and make it work," he reminded the bosun. "But that was too much for you to handle. You had to keep poking the bear and you got what you wanted. At the crew mess during lunch, you had a perfect opportunity to make things work, but you not only screwed the pooch, you really just f**ked the dog."
"All you had to do when Rhylee came up and asked for someone to move in a bit so she could sit and have her lunch, you went crickets. Then when no one moved you, and the rest of your bunch sat there and laughed at one of your crew-mates. How proud must you be for behaving that way. All you needed to say was, Guys make some room for Rhylee, and that would have bought you so much credit and respect, you have no idea. But you couldn't bring yourself do to that simple thing."
Rosbach notes that Tanner Sterback smirked when Gerber asked for him to move over. This further indicated that the crew knew she was struggling. "Tanner smirked, looked at you and no one did anything but humiliate your crew-mate. You should be ashamed for your behavior. It was beneath a deck officer. Which you are clearly not. Sorry. But I'm an old truth teller and here it is." He adds,"You sir is responsible for most of it as your crew follows the example you set and I'm not sorry that it's not a good one."
The rest of the men will be hearing from him too
Rosbach laid into Sterback saying he has lost "total respect" for him. He then referred to deckhand Brian de Saint Pern as a "lemming" and a follower.
While Rosbach acknowledges that chef Kevin Dobson delivered on the meals, he failed with his attitude toward his crewmates. "Kevin, I am so over you it is beyond belief. You really believe that Kate has 'checked out'? Lets see here, you go over how you want the dinner served and then she lets you know in plenty of time that they are eating inside and then when they are all seated you want to change the plan and its Kate's fault for not acquiescing to your not making the right call in the beginning. You don't know that in order to do you want, she now has to make the guests move to get the utensils that you need to do it your 'last minute way'. Wow!!!!"
Rosbach also agrees that Gerber was isolated. But wishes she could change her approach. "It pained me to see you humiliated in that fashion, but they baited you and you took it hook line and sinker. And the way you reacted did you no favors. It doesn't matter that they were wrong, it's how you were perceived, and it didn't come out well. Sorry, just trying to help."