'Below Deck': Chef Kevin Should Have Watched Season 2 To Know He Was Being Set Up
Kate Chastain from Below Deck meant what she said when she promised to get creative with her revenge against chef Kevin Dobson. She encouraged Dobson to go that extra mile with a bachelorette cake for charter guest Jemele Hill.
Hill asked for "penis" shaped items for her bachelorette party, but Chastain suggested Dobson get even more creative with the cake. Instead of going lowkey and drawing something phallic on the cake, Chastain encouraged Dobson to actually construct a standing, three-dimensional penis that stood erect on top of the cake.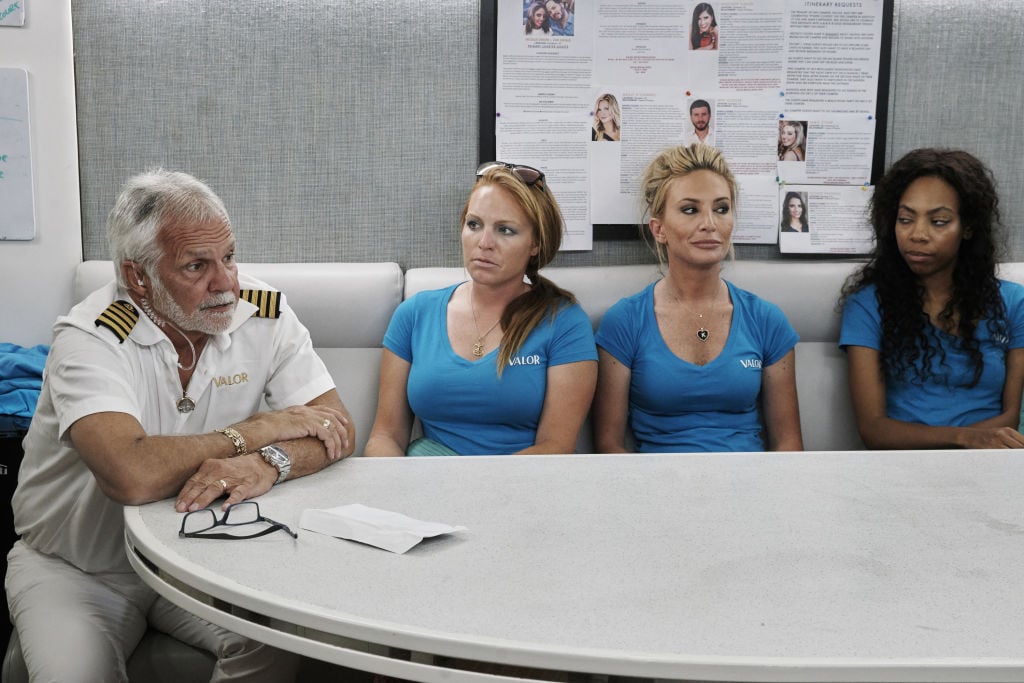 Dobson ultimately looked pretty foolish when he triumphantly emerged from the kitchen with this phallic cake and Hill had already gone to bed. In fact, the conversation at the table focused on charities and Captain Lee Rosbach was in attendance. Dobson looked pretty embarrassed when he realized that his grand cake was nothing short of awkward.
He should have known what was coming
Chastain dished about how some of her revenge moves on the boat have revolved around a phallic symbol. When season 2 charter guest Dean Slover needled her about not smiling or appearing stern, she created a phallic symbol blanket fold on his bed. She insisted it was a rocket ship, but recently admitted that indeed she created the shape of a penis. Luckily for Chastain, Slover thought it was funny.
Dobson has been on Chastain's last nerve for the entire season. The Below Deck After Show explored their contentious relationship. Plus, tracked what led up to the now-infamous penis cake. "Why do my revenges always involve dick-shaped items, I don't know," she says. "It's like my personal legend like 'The Alchemist.' Like the universe has conspired to make my revenge involve dick-shaped items!"
Chastain asserts that she didn't plan the penis cake, but she encouraged Dobson to create the shape. He first suggested he create something in a horizontal shape. But Chastain said, "Don't you think vertical would be better?" Rosbach sits next to Chastain looking supremely uncomfortable.
Don't mess with Kate
She insists that the vertical shaped cake would offer that "wow" factor. When Dobson called her a "dick" for arguing with him about the serving dishes, she knew she needed to enact her revenge on him. Chastain laughs about how intense Dobson was about building the cake too. "Jemele gets wasted, she goes to bed," she recalls. "And you guys are talking about charity. He's like rushing me, like, 'Kate when can I bring it out?'"
Chastain knew Hill had retired to her quarters so she was ready to play. She instructed Dobson to set the gigantic phallic cake next to Rosbach and lit a sparkler candle on top. The guests looked uncomfortable as Dobson emerged with the penis aglow. "It was like the most inappropriate time," Chastain recalled. "He's holding a big ole … " Rosbach says, "Dick."
Deckhand Rhylee Gerber says, "It's almost like the perfect f**king setup. Perfect in all of its horror." Dobson knew he was set up too and said most people would have mentioned that the primary went to bed. "She knew what she was doing right from six, five-o'clock," he says. Although he adds, "Good on her. She found me to be completely obnoxious, condescending, a prick … and she got me back at the guest's expense."