'Below Deck': Courteney Cox Displays a True 'Friends' Seafood Extravaganza
The big Below Deck seafood extravaganza flop still resonates with viewers as fans continue to share (and mock) the entire debacle.
Recently, actress Courteney Cox shared "the last supper" photo with her Friends co-stars. The table is covered in towers of seafood as the cast celebrates and honors the end of the show. "'The Last Supper' before taping 'The Last One' on Jan 23, 2004," Cox wrote along with the photo. Friends cast members commented and shared emojis remembering the melancholy last day of shooting.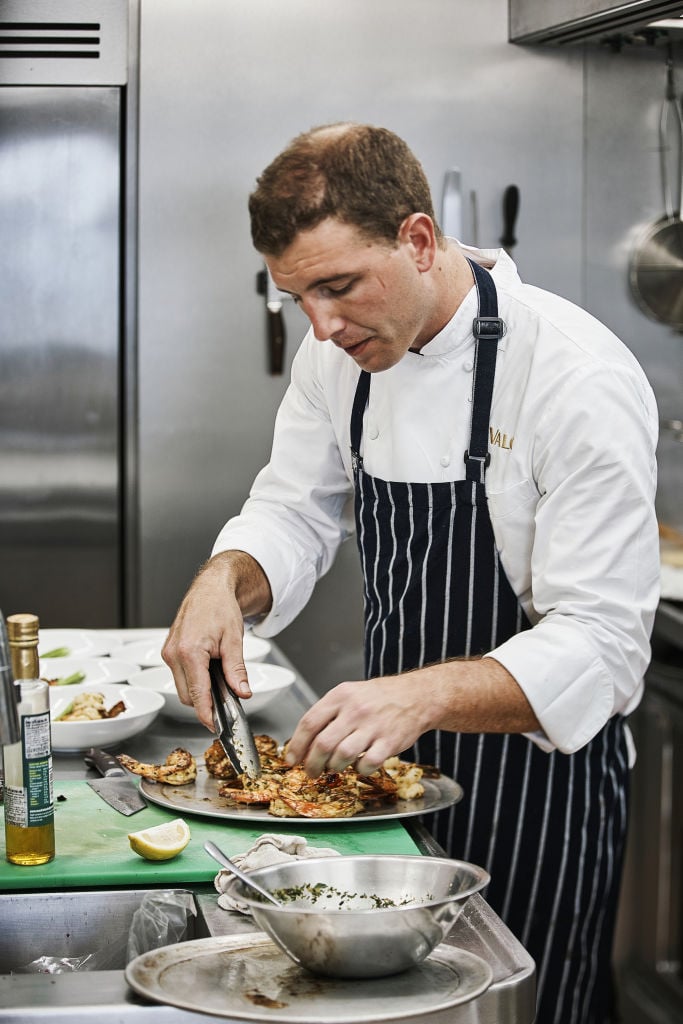 But "another Courtney," stew Courtney Skippon from Below Deck, couldn't help but notice that the table was set with the proper amount of seafood, fit for the extravaganza the charter guests had expected.
A fan noticed that they even knew how to do it in 2004
At this point, no seafood tower extravaganza photo is complete without a Below Deck reference. A fan commented and tagged Skippon. "@courtneyskippon is that a seafood extravaganza?" the fan questioned. "Even 2004 knows what it is." Skippon shared the photo and comment to her Instagram story as she was one crew member who had plenty to say about it during the episode.
Charter guests Richard Fiore and Helen Hoey requested a "seafood extravaganza" on their preference sheet. When it came time for chef Kevin Dobson to deliver he was missing one crucial ingredient — the seafood. He banked on the guests to bring in the seafood after they went fishing. But when the returned empty-handed it was panic time.
When Dobson learns the guests didn't catch any fish he asked, "What am I going to do?" Dobson ends up literally "screwing the pooch" (to steal a phrase from Captain Lee Rosbach). Rosbach dines with the guests that evening and is served some meager appetizers and he receives garnish for his main dish after Dobson eats Rosbach's mahi-mahi. The "extravaganza" definitely lacked the "vaganza."
Now 'this' is a seafood extravaganza
Skippon's eyes rolled right off the boat during the big seafood extravaganza. She explained what a real seafood party should resemble, which included multiple towers. Rosbach also shared his version of an extravaganza. "This what a seafood extravaganza looks like, just saying," he shared to Instagram along with a photo.
Skippon joked on Twitter, "'live tweeting' makes me feel a bit self-important, but I guess I'm on the show and I don't have a seafood extravaganza to go to, so I'll do it. For the 5 people who care." Chastain also had something to say about it too, especially when Dobson implied that her service skills weren't up to par. "I know what a seafood extravaganza is," she shaded.
Fans also weighed in on the seafood extravaganza mess on Twitter. "Kevin forgetting the seafood for the 'seafood extravaganza' after his constant bitching about the dumbest things," one person tweeted. After Chastain briefly quit, Dobson said the crew was better off. One fan reminded viewers of the missing seafood. "Kevin 'without Kate we'd do a lot better'. Hilarious. Forgets to order seafood for a seafood extravaganza, forgets to cook the Captain a meal, forgets to do a birthday cake for guests, forgets to do a cheese-less pizza. Forgets he's an a$$hole!"