'Below Deck': Courtney Skippon Shares She 'Didn't Think Much of Anyone on Board'
Even though she appears to be warming up to deckhand Brian de Saint Pern, Courtney Skippon from Below Deck shares she wasn't really into anyone on the boat.
The Below Deck season 7 crew has been touted as the "hottest" crew to date. Although a few of the men on the deck team appeared to be interested in Skippon she's been very cool with her response to their flirtatious comments. However, when de Saint Pern's leg infection worsened, Skippon showed him some affection. She even kissed him while he had to lay in bed before the rest of the crew went out on the town.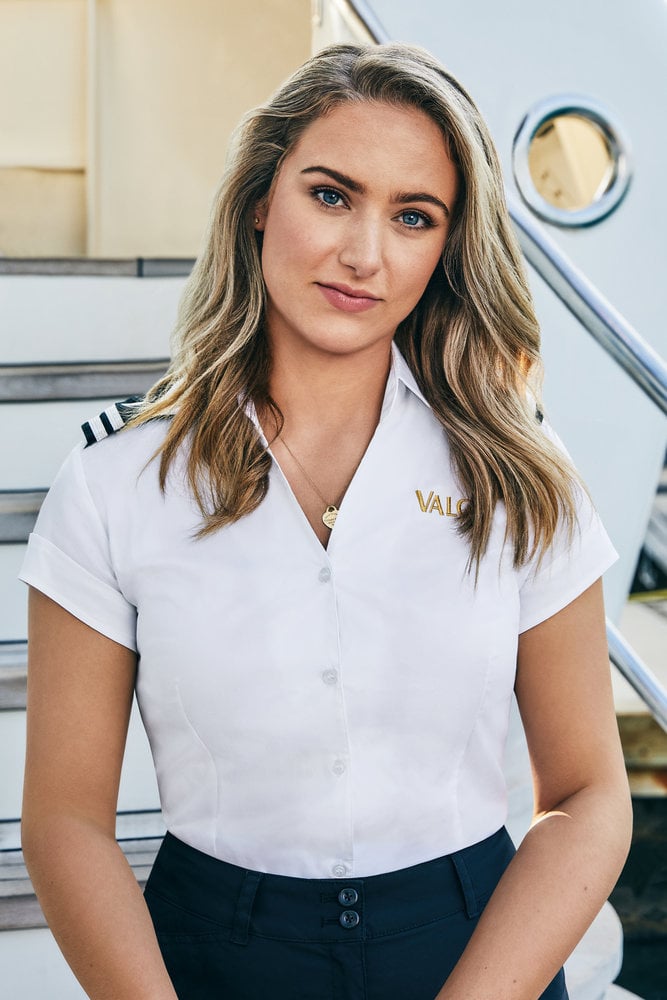 But in the Below Deck After Show, Skippon made it clear she wasn't into anyone on the boat romantically. That likely includes de Saint Pern, who is now dating one of the former charter guests.
Skippon wasn't hot for anyone on the boat
During an interview with stew Simone Mashile, Skippon was asked what she thought of Tanner Sterback. Mashile and Sterback finally hooked up on the show and producers wanted Skippon's thoughts. "I mean, I've said this, I didn't think much of anyone on board," she said laughing.
But the producer wanted to know if she had made any snap judgments either. "No, I mean I'm not ignorant enough to make assumptions about people based on the way that they look," she replied. Mashile jumped in and added, "Man I thought Tanner was fine as hell."
Skippon has had to put a few of the deckhands in their place for making sexist or obnoxious remarks. She also recently responded to chef Kevin Dobson's remark about how her tastes for the finer things in life are funded by her parents. "It's crazy that b/c I expressed a taste for quality, everyone assumes it's paid for by someone. While I consider myself v. lucky, & have parents who instilled in me the importance of quality: I don't come from some pony-riding, Warbucks family – we just have different priorities," she tweeted.
Skippon can be caring 'when she wants to be'
Some viewers wondered why Skippon hasn't warmed up to de Saint Pern. One person tweeted that she was "icy" and not "warm and fun." She responded, "So sorry for deviating from the social script of how women should behave!We are expected to be warm, fun, friendly & nurturing. I am, but I don't have to be to be lovable. We can also be smart, assertive, decisive & demanding of respect. If that makes me bitchy & icy, sign me up."
After de Saint Pern appeared on Watch What Happens Live with Andy Cohen, he was asked about his relationship with Skippon. "@courtneyskippon can actually be an awesome, caring person when she wants to be and I was lucky enough to have seen that side of her. She's not as bad as you guys think," he tweeted. Skippon responded, "I've never seen someone who knows me undersell my personality so much in my life."
The two then lobbed comments back and forth. One person asked if de Saint Pern was sweet. "He can be when he wants to be. I was lucky enough to see that side," she wrote. "You forgot #sarcasim," he responded.