'Below Deck' Crew Members Voice Support for Hannah Ferrier
Crew members from the Below Deck franchise expressed their support for chief stew Hannah Ferrier from Below Deck Mediterranean after she was fired on the series.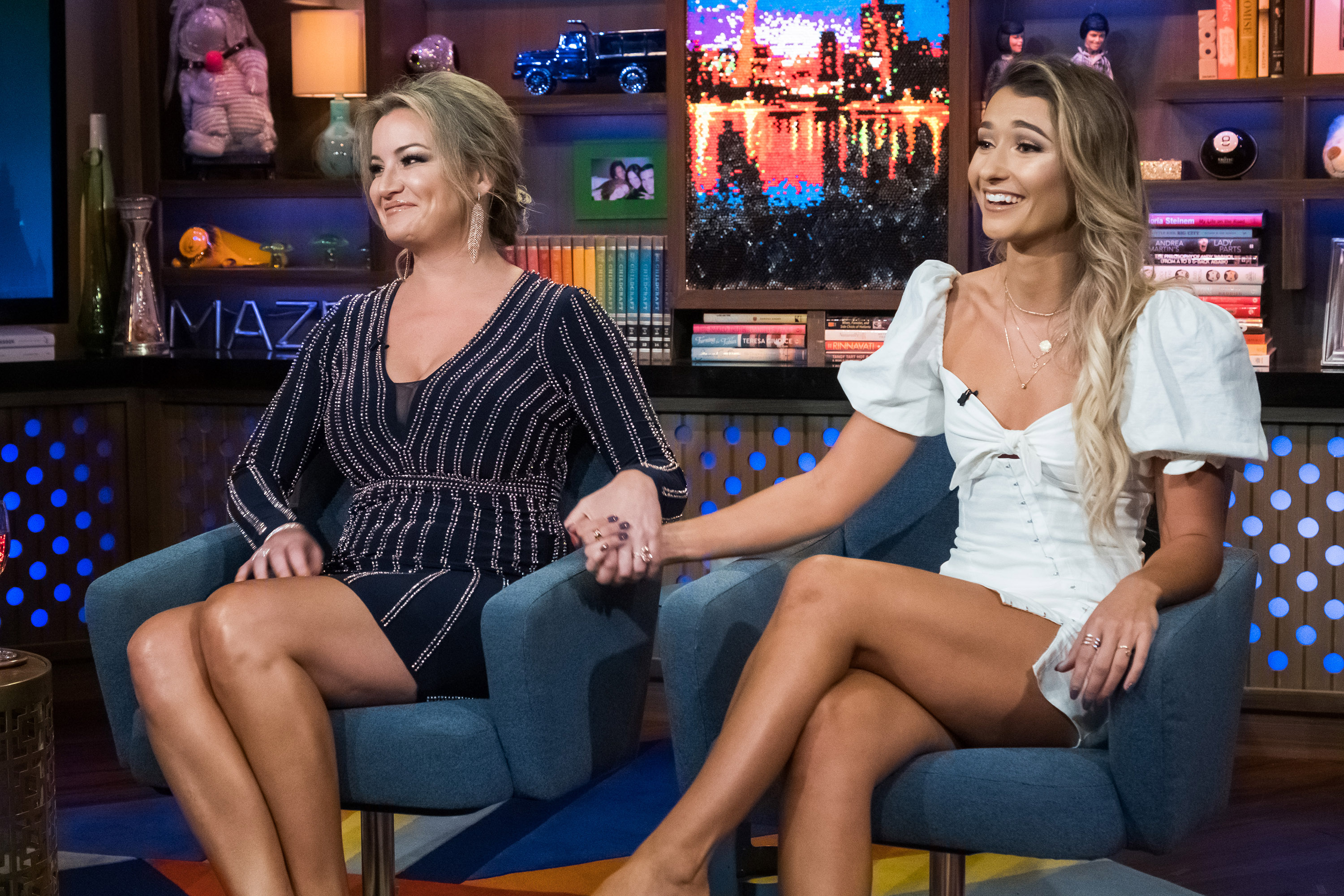 Bosun Malia White alerted Captain Sandy Yawn that Ferrier had prescription valium and a CBD pen on board the boat. But Yawn told Ferrier she fired her because she considered Ferrier to be a safety risk to the crew and guests.
Stew Courtney Skippon from Below Deck shared that she travels with anti-anxiety medication and it hasn't been an issue. "Jokes aside, I travel w/ two kinds of anxiety medication (one to knock me out for the entire duration of a 16+ hr plane flight & another for occasional general anxiety)," Skippon tweeted during the episode.
'Is anyone in the service industry not having panic attacks?'
Skippon also included a photo of the seafarer exam certificate. "Both were disclosed w/ prescriptions when I took my seafarer medical exam & the Dr. said (direct quote) 'pfft'." She added, "The doctor didn't document either prescription on my certificate and I travel with them loose and prescription-less much like [Lisa Rinna from The Real Housewives of Beverly Hills]."
"I think the biggest problem with this entire narrative is the suggestion that there was something to 'hide,'" Skippon tweeted. Adding that disclosing the medication may not have occurred to Ferrier. "I always bring a bottle of Ativan for flying (prescribed to me but w/o a paper prescription). I don't take it often, but travel w/ it for peace of mind (esp. when I'm [now] to get yelled at 18 hours a day for incorrectly making a banana daiquiri)."
"If there are crew members on board looting and abusing other people's prescription meds the boat has bigger problems," she continued in her thread. "Is anyone in the service industry not having panic attacks??"
Hannah Ferrier's former co-workers sent her love
Former deckhand Jamie Jason was saddened by what she saw on the show. "What I am going to do is reserve my feelings about last nights episodes, I have so much I absolutely want to say but I will tell you I definitely did cry!" Jason shared on Instagram along with a photo.
"I also have no f**king desire to watch a show that ruins people and their lively hood, and also makes a mockery of guests. I get it, it's entertainment we all signed our lives away walking onboard but sh*t man the lengths people will go to for ratings and emmys at the expense of the exploitation of another human being is sickening." She sent Ferrier her love adding, "You achieved and all the sheer amount of shit you've powered through cause hunnnnnyyy look at you know, THRIVING!" 
Stew and new business partner Anastasia Surmava was also watching and tweeting during the episode. "If you have anxiety you can work in the yachting industry!! Don't let this discourage you," she shared. Surmava also shared a photo of Ferrier's valium box, which displayed the prescription. She added, "ALSO! It wasn't marijuana… it's CBD. Which isn't illegal. I am a huge CBD advocate."
"Okay now I'm crying," Surmava tweeted during the episode. "HANNAH YOU ARE THE F**KING GOAT. Absolute LEGEND. WE LOVE YOU."