'Below Deck' Crew Reveals Their Stunning Reunion Looks
The Below Deck crew looked glamorous as they hit the Watch What Happens Live Clubhouse for a reunion showdown. A few crew members offered glimpses of reunion looks on their Instagram stories, but now Bravo spills about what everyone wore.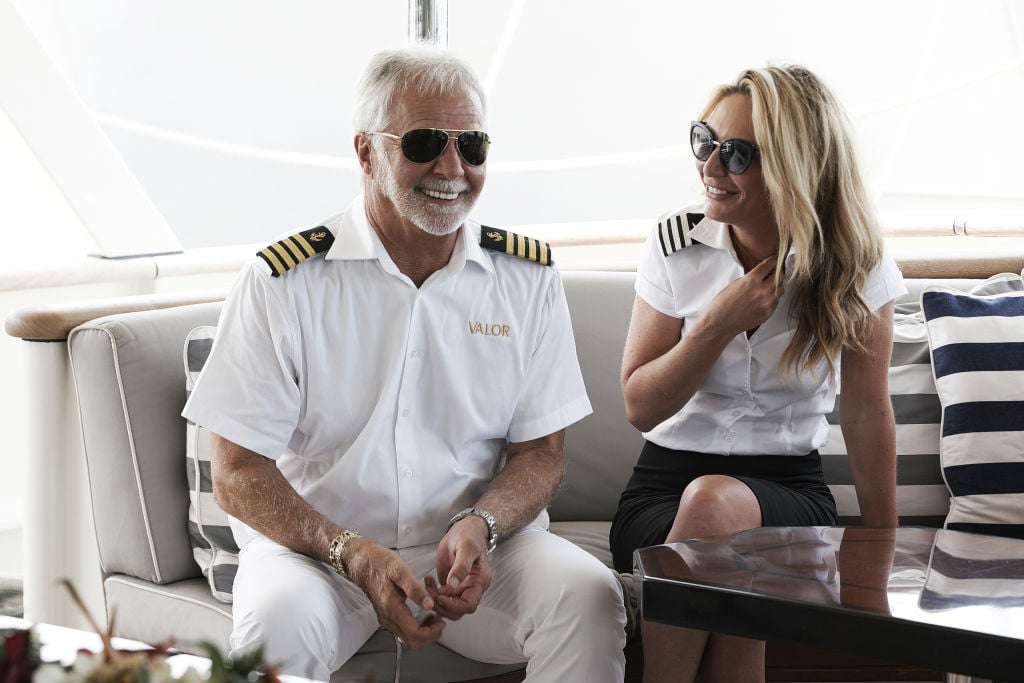 Captain Lee Rosbach rocked his signature boots and jeans while chief stew Kate Chastain went for glam all the way. Some crew members dished about where they purchased their clothing. Deckhand Abbi Murphy took to Instagram beforehand to admit that she bought her dress for $40 on Amazon. She joked about possibly being held together with safety pins as the dress didn't quite fit.
Below Deck fans will have to wait until February 10 for part one of the reunion. Bravo producer Andy Cohen recently confirmed that viewers will be treated to a two-part reunion too. This is a far cry from last year's one-hour reunion that left fans wanting more.
The ladies stunned in sparkle
Chastain and deckhand Rhylee Gerber went for the glitzy earth tones as both women rocked shimmering frocks. Chastain revealed that she didn't anticipate wearing such a dramatic gown, but shared it just oozed chief stew vibes. "I'm going to be wearing a long, copper sequined dress," she said in a digital original. "It was a little fancier than I wanted, but I was tired of shopping and it's really glamorous. It fits great and I just feel like a chief stew. I wish this was my uniform."
Gerber too couldn't have found a more perfect outfit. "I have a 'sequinzy,' gold, heavy dress," she shared. "It's kind of like a tie. I wanna wow, but I also want to feel comfortable." Stews Simone Mashile and Courtney Skippon also chose stunning outfits. "I was trying to go for a little bit of glam but chic," Mashile said. Skippon simply said, "It's pink. It's a power color."
And as for Murphy's $40 score on Amazon? She looked great in her black and red dress. "Boho, just thrown together," she said. "You wanna look nice but you don't wanna look like you tried too hard."
The men went for traditional attire
The Valor men also looked dapper in suits and boots. Rosbach has his smart look down pat. "Jacket, jeans, boots," he said. "Monogrammed French cuffs. Of course." Thankfully, someone talked deckhand Tanner Sterback out of wearing a Hawaiian shirt, which was his first choice. He went a "little more classy" and wore a jacket over a clean white t-shirt.
Bosun Ashton Pienaar revealed that a shop in St. Petersburg, Florida dressed him. "They have been kind enough to give me this suit to wear and they also styled me," he said. "It was something fresh, something clean. I really love the blue color in this."
Contrasting Pienaar's blue is chef Kevin Dobson's pink jacket, which he picked up in Italy and is finally getting a chance to wear. Deckhand Brian de Saint Pern also wore a suit he purchased in Florida. He leaned more into a traditional look with a button-down shirt.