'Below Deck Down Under': Aesha Gives Magda 1 More Chance on Service – but Will She Blow It? [Exclusive Clip]
Chief stew Aesha Scott puts third stew Magda Ziomek on service again on Below Deck Down Under but is she going to make the ultimate stew faux pas?
The guests are ready for snacks on the Thalassa, but confusion over the demand for gluten-free crackers becomes a cringe-worthy situation, making the interior team look like total amateurs.
Aesha tells Magda that crackers are not gluten-free and there's a big 'Below Deck' miscommunication
Ziomek responds confidently that the crackers they served are gluten-free when a guest questions them. Spoiler alert: they totally are not gluten-free. But to make sure, she quickly radios chef Ryan McKeown who tells her the crackers are sourdough and not gluten-free.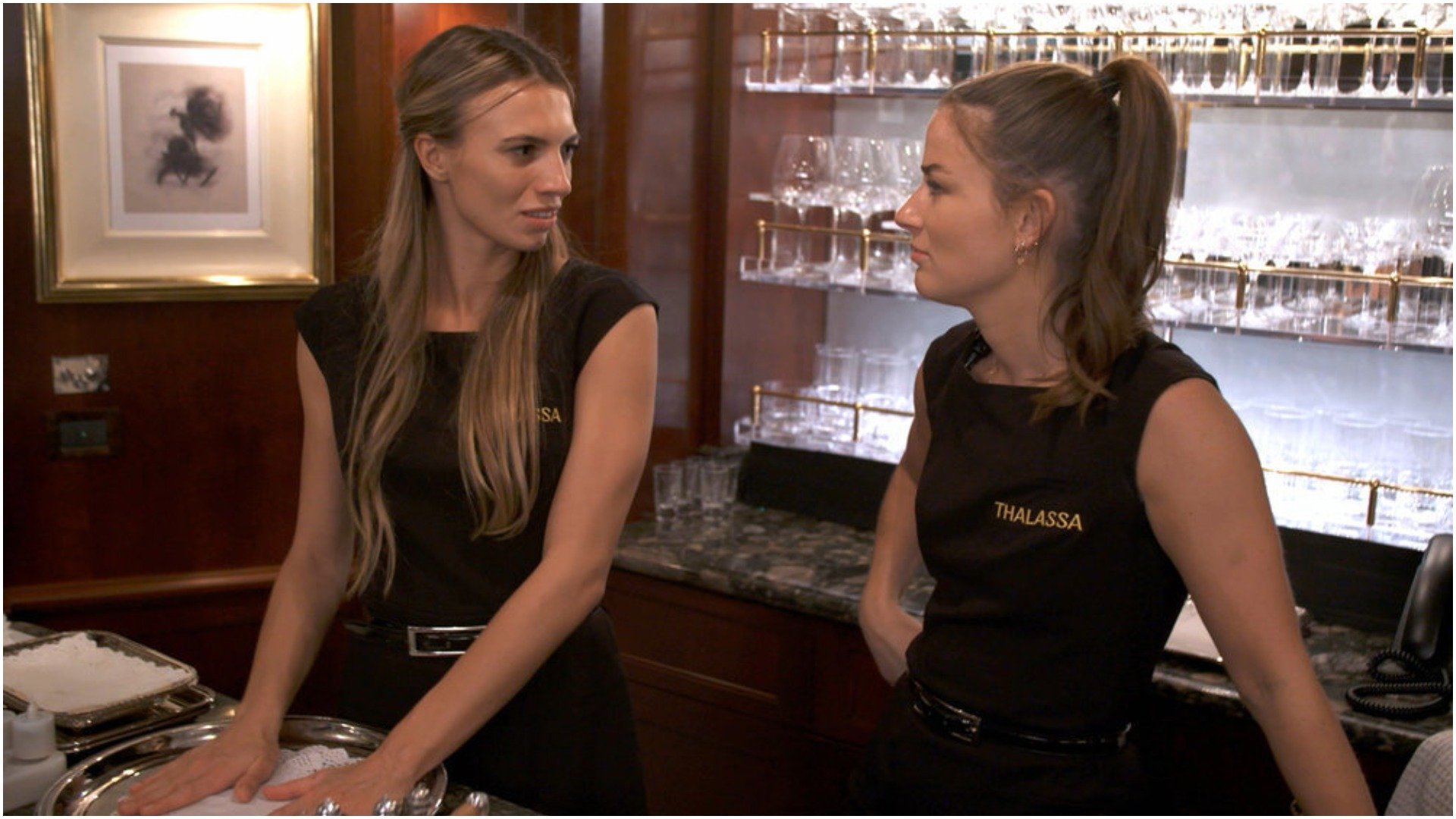 Either Ziomek has an issue with her radio or didn't understand, but she ends up telling the guests, "Yes, they are [gluten-free]." Oops. Meanwhile, she throws herself into refilling the guests' cocktails. Down in the galley kitchen, McKeown produces the gluten-free crackers.
The guest still seems suspicious and says the crackers don't taste gluten-free.
'Below Deck Down Under' stew argument prompts the guest to almost apologize
Scott delivers a tray of gluten-free crackers to the bar area, which is when she and Ziomek end up in a cringy situation – in front of a guest. Ziomek insists that Scott told her the crackers that were already served to the guests were gluten-free. When Scott says she never said it, Ziomek responds, "Yes, that's what you said." All in front of the guest who is waiting by the bar for a cocktail.
Mortified, Scott says to Ziomek under her breath, "Don't do this in front of the guests." Ziomek, still annoyed she misheard Scott, starts to argue with her – again – in front of the guest.
The guest, who is still standing in front of the bar, almost apologizes for interrupting their argument and asks for whipped cream. "Ah yes, but gluten is a very important thing for some people," Ziomek says to the guest while piling the whipped cream high on his cocktail.
Before the guest returns to his friends he says to Ziomek: "Don't f***b it up." Ouch.
Magda worries she could have 'killed' the guest by serving the wrong crackers
Ziomek insists she will take care of the guest who required gluten-free food. Meanwhile, Scott makes sure the guest who needed gluten-free crackers gets the correct snack. Then Scott worries the guest has celiac, a disease where consuming gluten can be hazardous to the person's health. Thankfully, she doesn't have celiac.
"I'm not celiac, no," the guest assures Scott. "I just get puffy …"
Scott returns to Ziomek, who is pulling utensils away from the guests, and delivers a stern warning. "Never go back and forth like that in front of the guest," Scott says in a quiet voice. Ziomek worries that the mistake could have had fatal consequences. But Scott just says again to never argue like that in front of the guests again. "I don't wanna kill anyone!" Ziomek says.
"Oh gosh," Scott says in a confessional. "I'm like why did we put her on service? So unprofessional."
And while Scott is annoyed, Tumi Mhlongo told Showbiz Cheat Sheet that Ziomek was a huge asset to the boat. "To be honest, Madga, she's so good for crew morale," she said. "And sometimes that's really needed on the boat. Like yes, we can have three strong stews or whatever the case is, and then one is an a**hole and doesn't speak to everyone. But you have to have fun in yachting."
Episodes of Below Deck Down Under are currently streaming on Peacock.