'Below Deck Down Under' Cast: Tumi Dishes on Crew – Madga 'Good for Crew Morale' [Exclusive]
Tumi from 'Below Deck Down Under' dished about some of her crewmates, including what it was like to work with Magda and Aesha. Plus did Chef Ryan annoy her?
Tumi Mhlongo spilled on what it was like to work with some of the Below Deck Down Under cast, revealing if she really got along with third stew Magda Ziomek.
Only a few episodes in and Mhlongo is clearly doing more work on the boat than Ziomek, who often takes breaks to call her boyfriend. But Mhlongo told Showbiz Cheat Sheet there are no hard feelings and said Ziomek was fun to work with.
She also shared her hilarious first reaction to meeting Captain Jason Chambers, and what Aesha Scott is like as a chief stew. Plus did she get along with chef Ryan McKeown?
The 'Below Deck Down Under' cast had fun, Tumi said
Mhlongo said the Below Deck Down Under cast had fun and Ziomek made sure everything stayed pretty light. "To be honest, Madga, she's so good for crew morale," she said. "And sometimes that's really needed on the boat. Like yes, we can have three strong stews or whatever the case is, and then one is an a**hole and doesn't speak to everyone. But you have to have fun in yachting."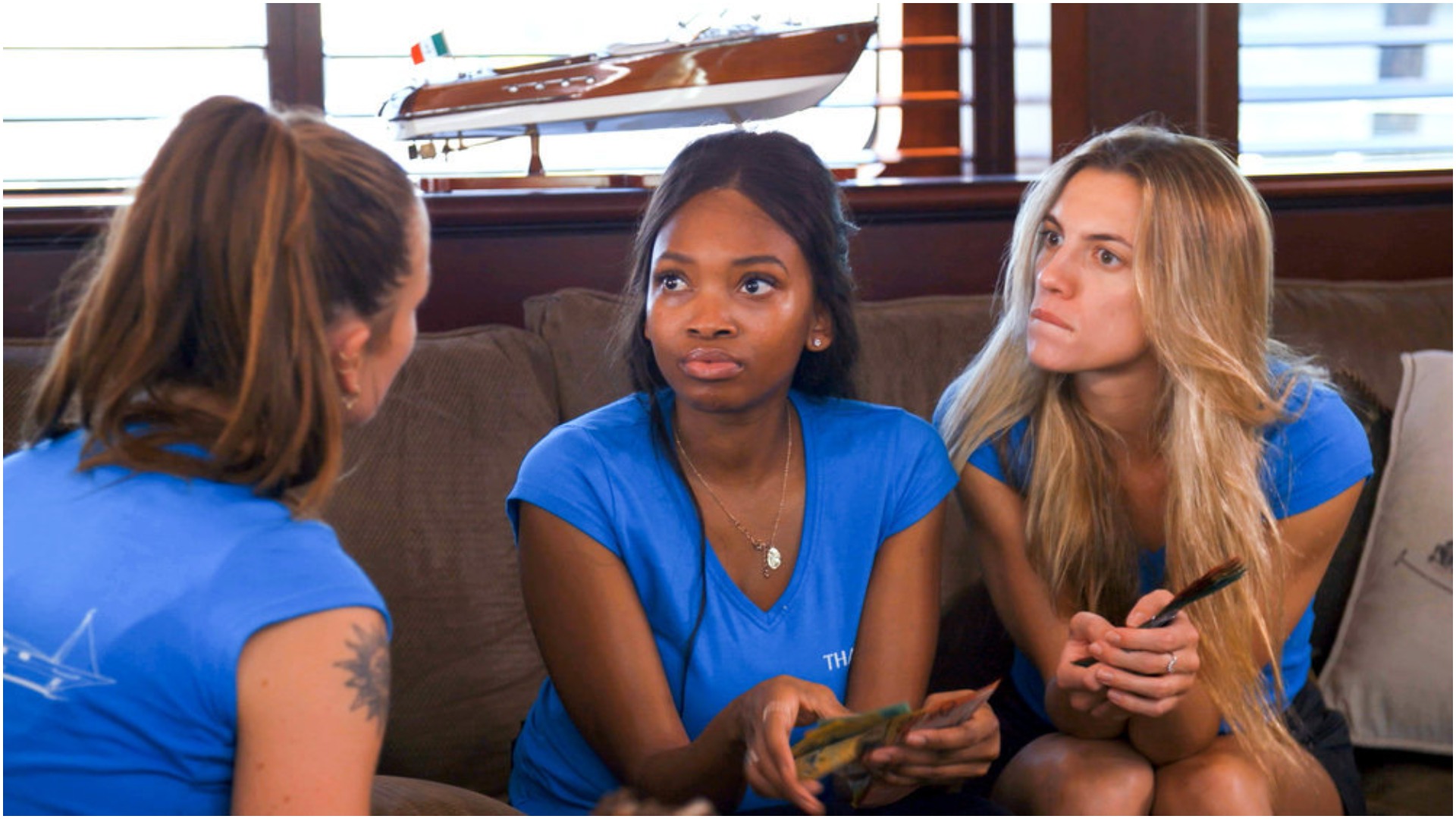 "So yes, her breaks were a bit annoying, but she is so good for morale," she added. "She just made me laugh and you need that. To take off that pressure, you know? To make things light-hearted and sometimes we take it too seriously and it's good to have a personality like that on board."
Aesha and Tumi complemented each other
Of everyone from the Below Deck Down Under cast, Mhlongo said she and Scott got along really well. "I think Aesha and I complement each other, and I think she also made me extremely comfortable because Aesha really couldn't give a s***," she said.
"So having her there just calmed my nerves a little bit," Mhlongo said. "And it was good to have a leader like that. You can say how you feel and just be yourself." She said having a chief stew like Scott in normal yachting isn't the norm. Plus, "She's hilarious."
She had the funniest reaction to meeting Captain Jason
Mhlongo thought someone was pranking her when she initially met Chambers. "I walked on board and went to the bridge to meet him. I almost fell on my a**. Like is this a joke?" she laughed. "Like, I was like, Oh s***, I never, ever saw a captain this good looking. I was expecting an old, angry man. So I was caught off guard I'm not gonna lie to you."
"He's also one of the most hands-on captains," she emphasized. "Like he always helps out and I've never come across a captain that always helped. So it was really refreshing and gave me hope actually. He was really great in that sense. And yeah, just amazing."
And while she loved Chambers, the one Below Deck Down Under cast member she "tolerated" was McKeown. "I just like to keep the peace when a chef is involved. Sometimes you just have to find a way to keep the peace because you don't want a situation like you are butting heads with the chef," she said. "It's just doesn't make our lives easier and I like to have my life as easy as possible. So, you know, you kind of have to learn to work with the people."
Below Deck Down Under episodes are currently streaming on Peacock.