'Below Deck': Has the Show Ever Had a Reunion Outside the 'WWHL' Clubhouse?
As fans prepare to have their voracious appetite for a Below Deck reunion met, some still don't love that the reunion is being held in the Watch What Happens Live Clubhouse.
"Is this a real reunion or just a gathering in the club house like usual? #belowdeck deserves a real reunion that has to be shown in three parts!!!" one person recently tweeted. Another person agreed. "Dear @Andy, we need a real two part #BelowDeck reunion with all the razzle dazzle of a housewives reunion not in the WWHL clubhouse please and thank you."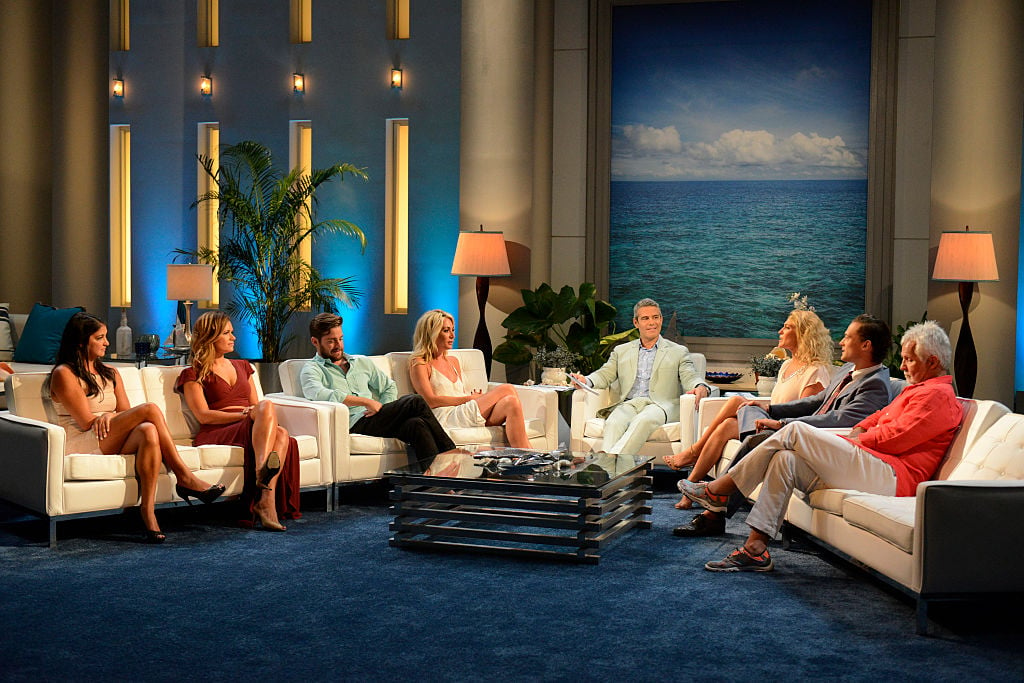 Bravo fans are accustomed to Real Housewives receiving multiple part reunions in special destinations. Also, Southern Charm typically has a multi-part reunion on a special set. But with Below Deck quickly becoming one of Bravo's top shows, fans wonder why the yachties can't escape an hour-long Clubhouse reunion.
Season 3 got a special set reunion
Although Below Deck reunions are traditionally held in the New York City WWHL Clubhouse, season 3 got the reunion fans are begging to see once again. The multi-part reunion did a deep dive into what was the most dramatic season to date.
Season 3 included multiple cast departures and firings, plus a torrid affair between a Below Deck sweetheart (Eddie Lucas) and a stew (Raquel "Rocky" Dakota) who became unglued. The season clocked the most cast departures as two crew members were fired. Chef Leon Walker was dismissed after a midnight kitchen fire. A dirty oven was ultimately to blame for the fire. Then, new deckhand Dane Jackson only made it for three episodes. Jackson drank excessively and lashed out at the crew during a crew getaway.
Deckhand/ second engineer Don Abenante suddenly quit when he was questioned by Captain Lee Rosbach. Returning crew members who joined the team included chef Ben Robinson (replacing Walker) and deckhand David Bradberry.
The crew had a lot to review
The season intrigue was just too juicy to not have multiple reunion shows. When Lucas hooked up with Dakota he was fighting with his girlfriend back home. They momentarily broke up and then Lucas and Dakota had a secret affair. Most of the action took place in the laundry room. Producers didn't install cameras in the laundry room, but Lucas and Dakota's affair inspired them to add some. Lucas later lied to the crew about having an affair with Dakota but came clean during the finale.
Also, the swinging door of firings and departures also needed to be hashed out. Walker and Jackson did not show up for the reunion, but the controversy around their actions was discussed. Also, Walker and chief stew Kate Chastain had an extremely contentious relationship. Despite the relationship being pretty toxic, Chastain revealed that she'd prefer to work with Walker over chef Kevin Dobson. Chastain also butted heads with Dakota. During the reunion, Dakota accused Chastain of drinking on charter. It doesn't seem that time healed all wounds. When the two appeared together on the Below Deck 100th episode celebration, they ended up exchanging a few barbs on camera.
The reunion set mirrored what viewers are accustomed to seeing for Real Housewives or Southern Charm. Instead of sitting on stools, the cast lounged on comfortable couches. The large room was decorated with light colors and palm trees to provide a beachy appearance.