'Below Deck': How Does Captain Lee Really Feel About Crew Hookups and Certain Crew Members?
Captain Lee Rosbach from Below Deck joined friend and producer Jaime Primak Sullivan on an Instagram Live chat where he dished about the show.
Sullivan asked Rosbach how he felt about filming season eight without chief stew Kate Chastain. Fans on the feed wanted to know more about her departure, to which Rosbach replied that fans would have to ask her directly. But he admitted that last season, season seven was the hardest for him. "That was a tough one for me," he told Sullivan.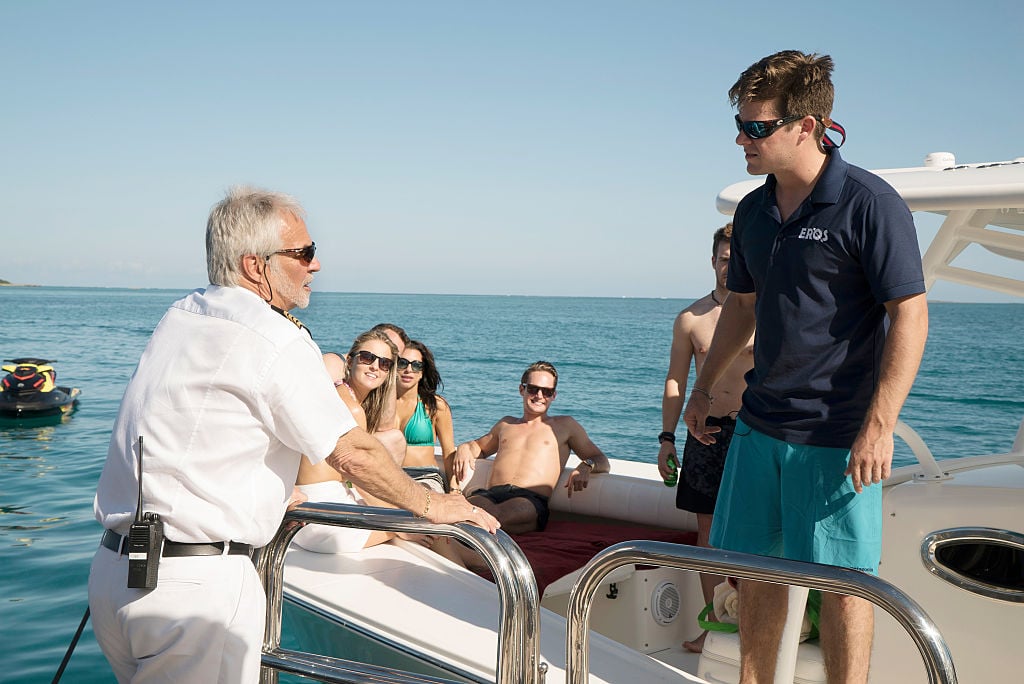 During their short time on the live feed, Sullivan allowed fans to ask as many questions as possible. She knew Rosbach couldn't address certain questions, especially about season eight, but Rosbach was able to answer questions about previous crew members he'd work with, what it's like to have a camera crew filming you while you work and how he felt about hookups.
Rosbach knows that hookups are going to happen
Captains know crew hookups happen but how they feel about them can be very personal. Captain Glenn Shephard from Below Deck Sailing Yacht said he's open to having couples work on his yacht.
"I'm open to couples on board, whether they come on board as a couple, even if they hook up on board because we live in very close quarters, he told Showbiz Cheat Sheet in February. "But that can always lead to drama and you'll see a little bit of drama related to romance between crew members."
Rosbach laughed when Sullivan wondered if he was concerned about "young people fornicating" on the boat. "It's not like you're going to stop it from happening," he said. "You can sit there and say 'don't do it' all you want, but that's not gonna happen."
He'd work with these crew members (or not)
He was also asked if he's work with João Franco from Below Deck Mediterranean and Eddie Lucas from earlier seasons of Below Deck. Rosbach couldn't exactly comment on whether or not he'd work with Franco since the two have never been on the same show. But he said he'd work with Lucas again.
What about working with third stew Raquel "Rocky" Dakota? "Probably not," he said. "Her heart just wasn't into doing what she was doing. I think she had a different agenda there. And it didn't fall into what I needed to have done." Dakota and Chastain had a tense relationship when she was on the show. When the two recently came together during the 100th-anniversary celebration and it appeared their relationship hadn't gotten any warmer.
Fans also wanted to know what Rosbach thought of chef Ben Robinson. Robinson has been the crossover chef between Below Deck and Below Deck Med and truly a fan favorite. "Ben was our chef for a few years and did some Below Deck Med and Ben's a character," Rosbach remarked. "He's a lot of fun. He's a charismatic guy and a very talented chef.
Does he find it challenging to captain the boat while being filmed?
One aspect fans love about the show is that they get a peek into how a crew works and lives together on a luxury superyacht. Sullivan pointed out that Rosbach has a serious job where he needs to keep the crew and guests safe. Does having cameras in his face 24/7 impact how he does his work?
"I have a job to do," he insists. "I just happen to be a captain that gets filmed doing his job. So my job is to make sure the guests have a great time and that my charter guests are taken care of. My crew do their jobs to the best of their ability. And if they have another agenda when they get on board, I'm sorry, it's got to fit my agenda. It's not a democracy. You don't get a goddamned vote."
He adds that the cameras have never interfered when it comes to safety on the boat. "They always, always get it and they always acquiesce," he remarks. "Safety is paramount."