'Below Deck': Josiah Carter Shares Insider Cleaning Hack That Also Disinfects
With many people running out of their favorite cleaning supplies, Josiah Carter from Below Deck decided to share a yacht stew cleaning hack.
Carter shared on his Instagram story that he often gets messages from fans wanting to know how the interior team kept the boat so clean. He decided to share one of his favorite hacks and offered a video on how to create a glass cleaner that will remove stubborn watermarks and disinfect surfaces.
He said he ran out of his favorite glass cleaner, but making glass cleaner that also disinfects at home is easy.
You only need a few ingredients
Carter shared a video from his bathroom to show fans how easy it is to create and clean with a homemade cleaner. He first hoped everyone was staying safe during 'this crazy time we're all in." He added that he thought he'd do a video because people have asked him for his cleaning tips, especially what he did on the boats.
He said the stew team didn't use many commercial products because they were hard to get. Since his favorite cleaner ran out, instead he purchased some cleaning alcohol. He got his from Amazon but said it can be purchased anywhere online.
"All I do is [one-third] alcohol and two-thirds water," he shares. "And you can pretty much clean any surface. It's great because the alcohol is a disinfectant, especially with everything going on, you have to be extra cautious." Adding, "It's a really, really good way of getting rid of all the germs before you start prepping food." He later clarifies in the story that cleaning alcohol and rubbing alcohol are different products. But rubbing alcohol can be used too.
Here's how to maximize your cleaning
Carter used his shower door to demonstrate how well the cleaner works. "That I purposely not cleaned for a week." he shares. "As you can tell it's really, really dirty. There's watermarks on there."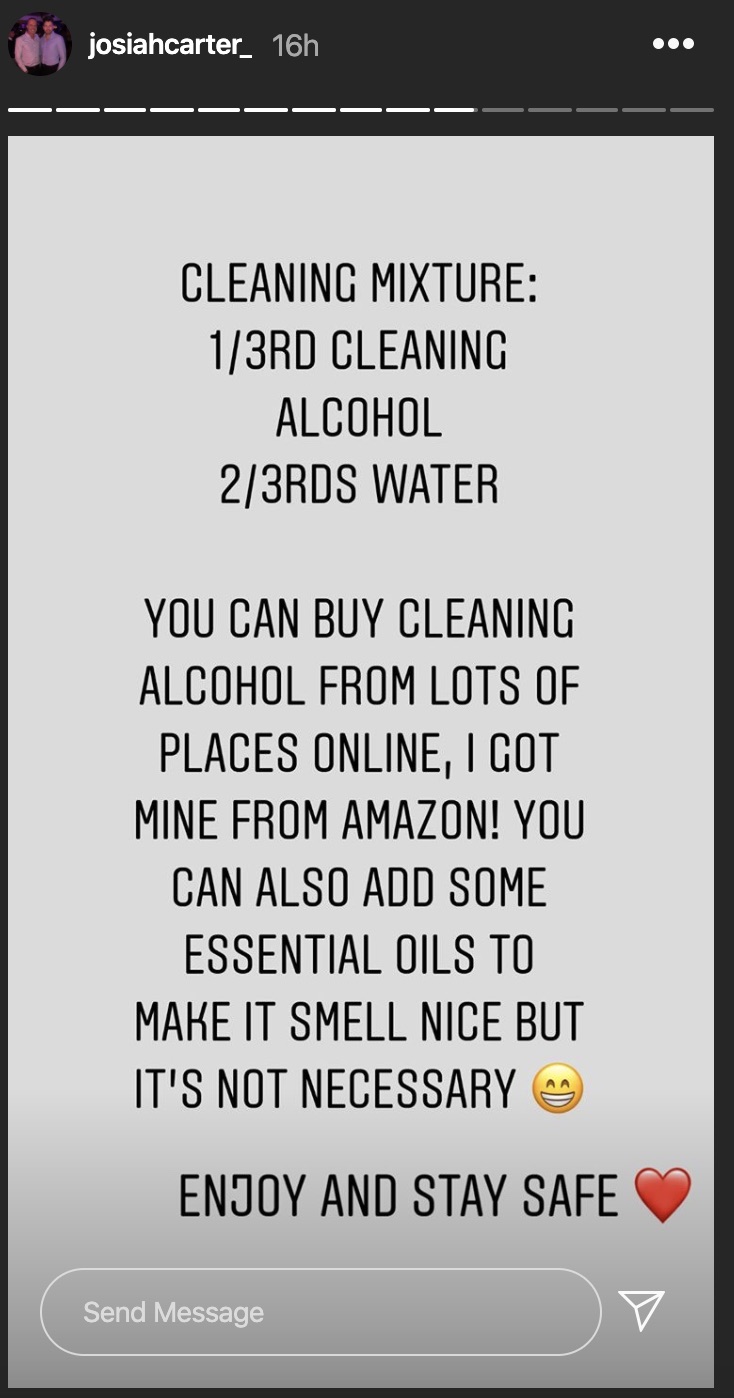 He sprays the solution directly on the door explaining the cleaner is ideal for glass, mirrors or any surface. As he talks he vigorously wipes away the cleaner. He jokes about how the door is a little squeaky. "But as you can see it comes out," he shares showing the camera how clean the door is now. "Pretty," he observes. "Nice." Carter shared that this method should remove soap scum although you may need to clean the surface a few times.
"So before it was really bad," he says moving the camera closer to the glass door. "And it's come out really, really nicely." He adds that he just cleaned the entire bathroom and it's now completely disinfected. Another tip is to use microfiber cloths or an old t-shirt to get surfaces to sparkle. But you can also use paper towels too. He used an old face towel for his demonstration.
Carter shared his cleaning recipe too. Plus added that using essential oils along with the water and alcohol recipe can give the solution a nice smell, although the oils aren't necessary. He also showed a message from someone who pointed out that his bathroom window is a porthole (like on the yacht).