'Below Deck Med': Alex Radcliffe Reveals He's Actually Not the Lead Deckhand
Alex Radcliffe from Below Deck Mediterranean wanted to clear up some confusion about the big promotion viewers thought he received. He's actually not the lead deckhand now.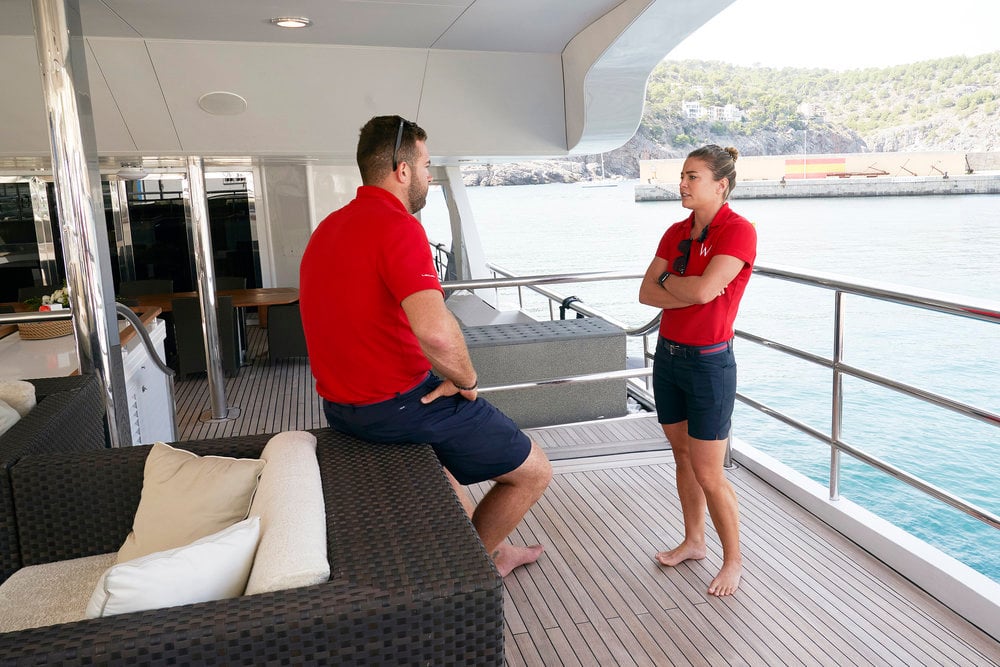 Pete Hunziker was demoted from the position after he made second stew Christine "Bugsy" Drake feel extremely uncomfortable when he made sexually explicit remarks in the crew mess. Hunziker also continued to diminish bosun Malia White's authority on deck.
Although White demoted Hunziker, she didn't necessarily fill the position with someone else. Viewers never saw a conversation where White specified that Radcliffe or deckhand Rob Westergaard would replace Hunziker. However, White shared in a confessional, "With my decision to demote Pete, I need someone else to step it up. So I'm giving Alex this responsibility. I'm hoping he'll just run with it." 
But that doesn't mean Alex Radcliffe is the lead deckhand for the season
Radcliffe told Showbiz Cheat Sheet there was confusion surrounding the position. "So there's a confusion about that," he clarified. "Pete got demoted, and Malia was saying, 'OK I'm gonna give the boys a shot at it. See what they can do.' So, she just picked me. She was like you take the bow … so I think it was a misunderstanding."
"A few people have reached out and said, 'Congrats.' But what Malia was saying was that he got demoted. But she was just going to give us a shot and see how we do," Radcliffe explained.
"It just happened that day, and it's not a lead deckhand job to go on the bow, but she just had [Hunziker] on the bow, so she just had me do it," he added. "She just chose me but the job is still up for grabs."
Radcliffe also says the lead deckhand gig doesn't necessarily pay more money. However, it designates one person who can take over should the bosun not be available.
"If the bosun steps away or if someone has to ask questions, the lead deckhand can be answering those questions," Radcliffe said.
Radcliffe vibed well with the crew
"I'm pretty good at reading people," he shared. "For Malia, I could definitely see that she's a great person, but you could tell she has a 'don't f**k with me' mentality. She's in charge, she's fair but she's also very relatable. She's also good at talking to all of us and finding a middle ground between me, Rob and Pete. She's awesome."
"Rob was definitely quiet," he observed. "I feel like Rob maybe had a little bit of a harder time because we were all American on deck and he's South African. So he thought maybe we didn't get his humor so maybe it took him a little longer to adjust. But he's just a goofy, funny [guy]."
Radcliffe says he also vibed well with Captain Sandy Yawn and he was upfront about where he stood with yachting.
"I think Sandy is awesome," he said. "Me and her got along very well. I think what happened with me and Sandy was she asked me, 'Oh so you wanna be a captain someday?' And I was like, 'No, I don't.'" This opened into a larger discussion about travel and passion for the job.
"I want to grow but I really don't care about having a career in yachting," he admitted to Yawn. "I just going to travel and explore, you know, life experiences and she really appreciated me saying that. After that moment me and her were just really close. But also she's still the boss and intimidating at first but she's a good person."