'Below Deck Med': Anastasia Surmava Picks Her Crew but Leaves João Franco off the Boat
Anastasia Surmava from Below Deck Mediterranean recently pondered who would make up her dream team, especially if she had to choose from the season 4 cast.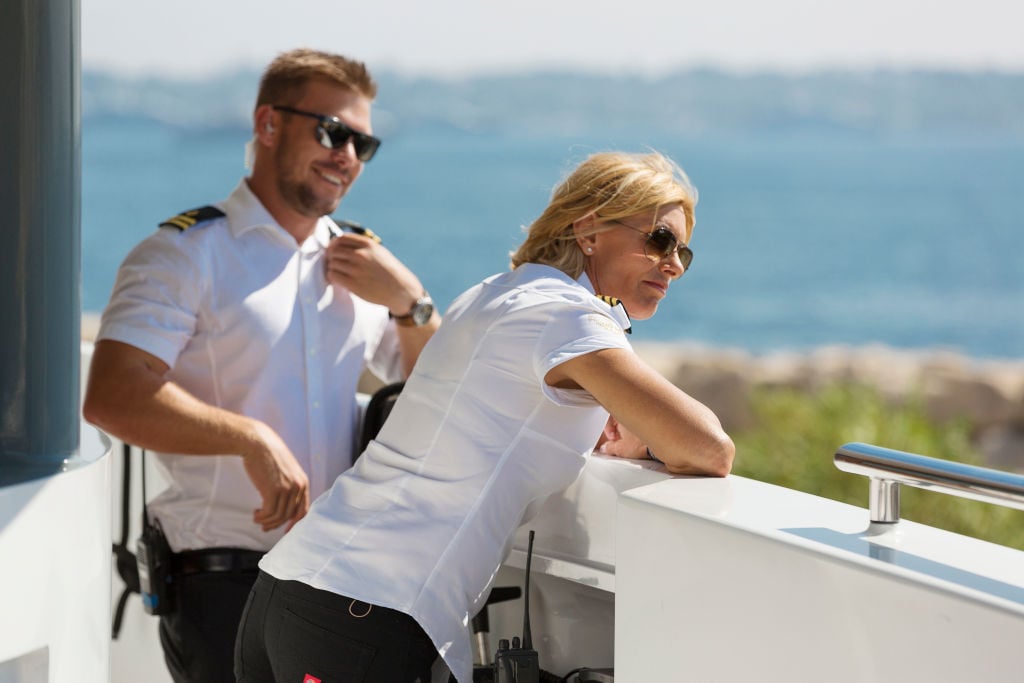 The question was geared more toward who she'd pick to be on a deserted island with her. So she had to think of survival skills. However, she selected some obvious cast members. She'd bring her stew team for sure. "Definitely my girls, Hannah [Ferrier] and Aesha [Scott] because I love them," Surmava told Amir Yassai. Indeed, the trio was probably the tightest stew team in the history of Below Deck. Almost from the beginning, Ferrier, Scott, and Surmava were like three peas in a pod, which unfortunately made new stew June Foster feel a little left out.
Surmava added, "Probably Jack [Stirrup] for entertainment. Also, Jack is a new daddy. Phoenix, he's so cute." But then she had to name who she'd leave behind. "I'd probably leave behind João." She laughed but then said nothing more regarding her remark.
Surmava and Franco butted heads when she was promoted to chef
Surmava moved up from third stew to taking over as the yacht chef when the original chef was fired. While the crew was relieved, Franco was a little critical of Surmava, which didn't sit well with her. She was clearly nervous to take over and Franco planted some additional seeds of doubt in her head during a meal with the crew.
One reason why Franco wasn't thrilled about the crew shakeup was that deckhand Travis Michalzik was shifted into the kitchen to back Surmava up. "With her being in the galley, she also took Travis," he said on Watch What Happens Live with Andy Cohen, Bravo's The Daily Dish reports. "So that was hard for us because he was our strongest deckhand." 
Franco insists he was also concerned that without formal training, Surmava might struggle in the role too. "I've had amazing and incredible chefs, so you can get away with one or two amazing charters," he added. "And I was just worried she wouldn't be able to hold the pressure by herself." While Surmava performed beautifully, she eventually asked Yawn to move her back to third stew because the pressure became overwhelming. Chef Ben Robinson came in to finish out the season.
Surmava thought Franco would be a good captain
Surmava and Scott appeared on Watch What Happens Live with Andy Cohen in October. Cohen asked the stews what they thought about Franco as a new captain. "He takes his job very seriously," Surmava said. Scott shared she thinks Franco has a good work ethic too.
But then Cohen asked if Scott or Surmava liked to still speak to Franco. "Hard, no," Scott said after a few seconds of awkward silence. But Surmava said, "I saw him last time he was here, but we don't talk that often."
While Surmava didn't seem to have any serious problems with Franco, Scott certainly did. "I noticed when he was last on Watch What Happens Live when he mentioned like, 'Oh, I don't understand why Aesha blocked me. We left such good friends,'" she said during her appearance on WWHL. "The reality is he bullied me every single day onboard. He never stopped judging me and criticizing me. When we left, you'll notice on the last episode tonight, I didn't even hug him goodbye. I was so sick of him treating me like crap. So I don't know where he gets this from that we left such good friends."