'Below Deck Med': Why Did Ben Robinson and Hannah Ferrier Avoid Getting Romantically Involved?
Hannah Ferrier and chef Ben Robinson from Below Deck Mediterranean came pretty close to hooking up during season 1. But Robinson shared in a confessional why he wanted to remain friends.
"The chief stew and the chef is the hardest relationship in the world," he said after a night of contemplating whether or not they should take their relationship to a romantic level. The two never hooked up and instead, Robinson ended the season getting cozy with stew Tiffany Copeland. Robinson and Ferrier likely feel as though they dodged a bullet, sharing they are now grateful they never got together.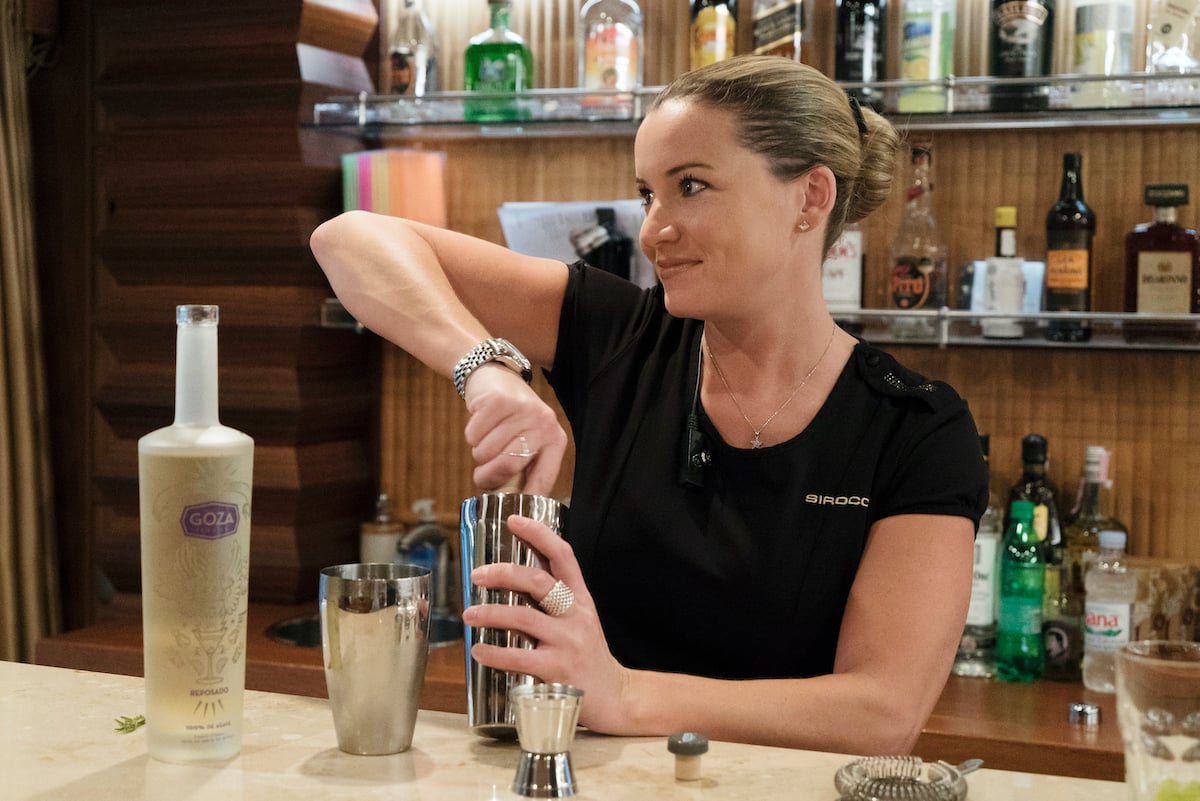 Hannah Ferrier got mixed messages from Chef Ben
Ferrier and Robinson flirted during season 1. She said they ended up becoming more of an old married couple as the sexual tension was pretty high. "It's like he really loves strong women in the chief stew position, but then he absolutely hates it as well," she told Bravo's The Daily Dish. "I'm not someone who's gonna back down if I think that I'm right or if I think someone needs to take partial responsibility."
Ferrier admitted that Robinson gave off mixed messages during a season 1 episode. She said one minute he'd be flirty, but the other minute he'd back off.
"In terms of my relationship with Ben, it was very, very hot and cold, and what you see is basically what was going on," she told The Daily Dish. "I think there was flirting and then there was fights and things like that, so it's always difficult when you're trying to gauge what kind of relationship you're gonna have on the boat." 
No love lost between Chef Ben and Hannah Ferrier during season 4
Robinson and Ferrier may have been a little flirty during season 1, but that flirtatiousness had vanished when he returned for season 4. Robinson arrived midseason to fill the chef vacancy and he and Ferrier got on each other's nerves.
He crabbed at her for rushing him during dinner service. "Why is Hannah rushing me right now?" Robinson asked in a confessional. "I didn't realize she had a plane to catch." He was also annoyed when Ferrier wasn't forthcoming with feedback from the guests about dinner.
He later shared that Ferrier had a long way to go as a chief stew. Robinson didn't think Ferrier was a "big picture" manager, which was going to hurt her in the long run. "The problem is, is we need a boss," Robinson said during the Below Deck Med After Show. "We need a big picture boss. I feel like she's great in the trenches and she's great at the grunt work." Adding that she's too deep in the daily grind that she can't anticipate everything that needs to be done.
Robinson also had sexual tension with chief stew Kate Chastain. But he told Bravo's The Daily Dish podcast that Chastain was a little tougher on him than Ferrier. "In a personal setting, Kate is probably a little tougher on me because we're very close, we're both Capricorns, we know how to piss each other off," he said of Chastain. "And it's a lot of fun. Hannah, I think she tries to be tougher in the field with me and it's not going to work for her, ever."
"She's a lot of fun," Robinson said of Ferrier. "I do think reality TV does kind of change people a little bit. I think that it's probably changed Hannah more than Kate."