'Below Deck Med': Bugsy Drake Describes Chef Tom's 'Worst Nightmare'
Chef Tom Checketts from Below Deck Mediterranean may feel as though "cake" is a four-letter word, but like most chefs, having food sent back may be his worst nightmare.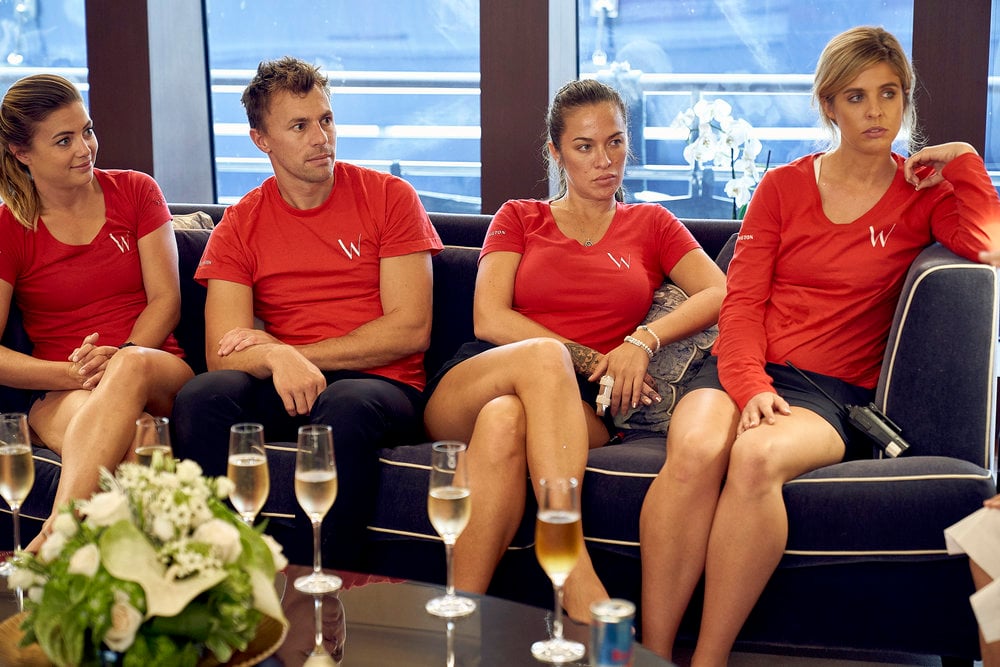 Chief stew Christine "Bugsy" Drake finds herself in a tense situation when a guest sends a plate back during dinner. Checketts whips up a dinner with beef as the featured main plate. And while the guests seem happy about the meal, one of the primary guests sends it back because she doesn't eat beef.
"Oh, hmm," she says in a preview clip. "Is this beef?" Another guest informs Drake that the primary, "Z" doesn't eat beef. Drake looks worried, knowing that sending the plate back could push Checketts over the edge.
A sent back plate could be Chef Tom's worst nightmare
"Ugh, having things sent back is Tom's worst nightmare," Drake says in a confessional interview. "I know that." Drake stands in front of the guests and elegantly presents the full meal.
Meanwhile, the guest asks the primary if they are bringing her chicken. "I'll find out," the primary says. "All I know is it won't be beef."
RELATED: 'Below Deck Med': Chef Tom Becomes So Enraged He Storms Out of the Kitchen … or the Boat?
Second stew Aesha Scott is the unlucky crew member to break it to Checketts that the food was sent back. "Um, Z says she doesn't eat beef," Scott says to Checketts.
"What?" Checketts says to Scott. "Oh sh*t" Checketts walks away. "Alright, this is gonna be a minute or two." He calmly says he has some chicken ready for the guest.
The crew has good reason to brace themselves
Checketts seems to take the meal request in stride. But the crew looked nervous, especially Scott. Checketts lashed out at Scott in the past when he was disturbed during his break.
The guests wanted cucumber for a snack and Captain Sandy Yawn asked Checketts to do it since she couldn't find another crew member to handle the task. Checketts became so angry, his words made Scott cry.
He also melted down during the previous episode. Checketts was annoyed with the provisions on more than one occasion and lost it when he was given frozen instead of fresh fish. Yawn tried to help but Checketts said it only made matters worse.
RELATED: 'Below Deck Med': Was Miscommunication the Real Reason Why Chef Tom Melted Down?
"I think in that instance, I think that Sandy got involved a little too early because I had no idea what was going on with it," Checketts said in the Below Deck Med After Show. "She called the provisioner who she thought had delivered the fish. It was the wrong person. I had sent it back and as far as I was aware they were going to bring the right fish."
Yawn said she could understand Checketts' frustration. "When your captain comes in and asks how can I help and makes a phone call, and that doesn't really help you," she said. "I mean yeah he's gonna spiral and lose his mind. Because again, he's exhausted. He's lost reasoning. Now I don't know how to have the food conversations. That's him. And if he doesn't get the response he needs, he needs to share that with me. Otherwise, I can't help him."