'Below Deck Med': Bugsy Drake Gets Promoted to Chief Stew After Hannah Ferrier Is Fired
Within the first 20 minutes of the latest episode, chief stew Hannah Ferrier from Below Deck Mediterranean is fired and replaced by second stew Christine "Bugsy" Drake.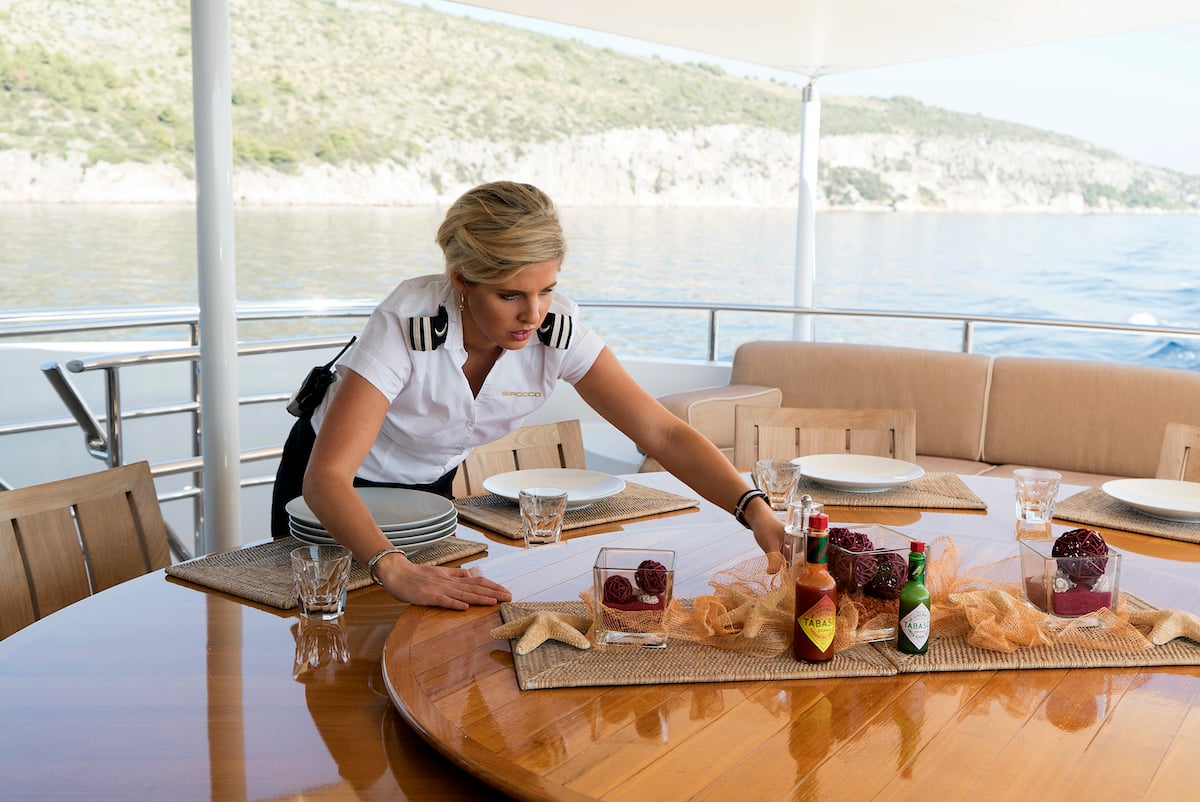 Bosun Malia White uncovers Ferrier's prescription valium and CBD pen in her cabin and sends a photo of it to Captain Sandy Yawn. The valium and CBD were not previously registered and Ferrier cannot produce proof of a prescription. Yawn explains to Ferrier that she has to dismiss her for safety reasons.
"I did not let the stew go because of drugs," Yawn explained in an Instagram Live last week. "I let the stew go because I had to make a critical decision which protects the vessel, the owner of the vessel, and my license." Adding, "I no longer felt I could trust that crew member."
Drake is promoted to chief stew almost instantaneously. The crew has only hours to prepare for the next charter.
Hannah Ferrier says she was ready to leave yachting
Ferrier packs her bags and tries to avoid the cameras. She has a tense encounter with White but does not confront her before she leaves. "Apparently you get fired for having anxiety attacks," Ferrier says to White. "I have a legal CBD pen and legal valium on board. I have prescriptions also."
Third stew Jessica More is saddened by Ferrier's departure. But she is also worried about Drake's intensity now that it is obvious she will take over as chief stew.
"This is how it ends?" Ferrier says in a confessional shrugging. "I'm very aware of the maritime laws. I've been in yachting for years. It was a mistake on my part. I needed to declare that. But to be honest with you, I think I've been ready to make a hasty exit from yachting for a few years now. But I don't like going home like this."
RELATED: 'Below Deck Med': Captain Sandy Says She Did Not Fire Hannah Ferrier Because of the Valium
"As sad as I am to be leaving on this really dark, horrible note, I would never ever regret my time in yachting," she says. "It molds who you are as a human being and who you will always be. Working in yachting is like the highest of highs and the lowest of lows. It's just I'm done with the heart attack. I would have preferred to end on a high … not literally," she laughs.
Bugsy Drake becomes chief stew
The crew assumes Drake will take over as chief stew and Yawn makes it official. Yawn calls Drake into her office and delivers the news that Ferrier has left. She asks her to step in as chief stew for the rest of the season. Unfortunately the team must work the next charter a stew down, but Yawn says she'll bring in another strew for the following charter.
"Okay, that's a weird way to be promoted I guess," Drake says in a confessional. "Somebody has to step in and take charge for a charter that's starting in like, what an hour? It's very unfortunate the way it's all kind of played out."
RELATED: 'Below Deck Med': Malia White Doubles Down on Her Assertion That Medication Must Be Disclosed to the Captain
Yawn holds a crew meeting where she reveals that Drake will now take over for Ferrier. Drake springs into action and gives More her directions. "While working as a chief stew is a title I feel very comfortable with, I never expected that I would have to do it on this boat running with only one stewardess," Drake says in a confessional.
Although More thinks perhaps she may be promoted to second stew it appears that Yawn is looking for someone to take over Drake's former position.