'Below Deck Med': Bugsy Drake Says She's Not 'Toning Down Her Style' After Being Shaded for Her Outfit
After getting a little shade over her lively ensemble when she approached the boat, Christine "Bugsy" Drake from Below Deck Mediterranean said she's not changing her style due to a little online snark.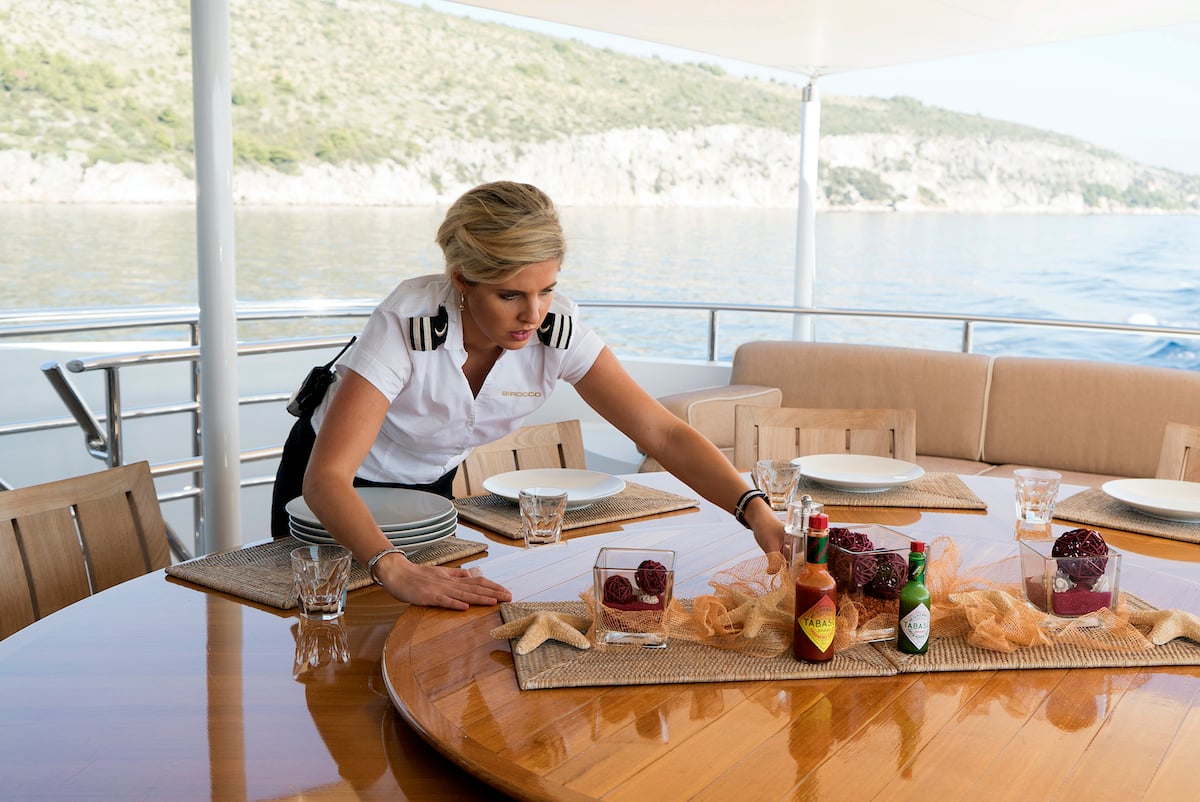 Drake made a huge entrance when she returned to the series. She approached The Wellington in a thunderstorm wearing a coordinated, tropical-theme outfit. Not only were her shirt and pants matching, but she also rocked a backpack and even luggage that complimented the entire look. 
She seemed to be overjoyed to be back on the series and got right to work. Former chief stew Kate Chastain from Below Deck recently discussed Drake's outfit, comparing personal fashion style to table decor. Like Drake, Chastain prides herself in her table decor. But she got a little shady when it came down to Drake. 
She is 'loud and proud' of her style
Comments about her personal style may not have been limited to what Chastain shared. Drake posted on Instagram. "I have no shame. ❤️I appreciate all the advice and tips I get from all the fashionistas out there on MY style. It's MY style. I ain't toning it down for no one! ❤️✨ see you all Monday!" She also shared, "Yes I dress like a walking table scape. One of MY tables capes to be precise. Loud and proud. It's art, deal with it."
Fans responded to the post favorably backing up her pride. "You always look amazing! I can't believe anyone would even say that to you," one person shared. Another added, "You owe nothing to these people! People also complain about the sun being too bright. Keep being FABULOUS, Bugsy!"
RELATED: 'Below Deck Med': Is Bugsy Drake the Martha Stewart of Yachting?
Drake also shares a number of her table designs on Instagram too. She gave fans a sneak peek of one of the tables she designed for the show, using plenty of gold accents. "Tablescape from tonight's dinner with the incredible meal which was executed with absolute skill by chef @hindrigolorran! He absolutely crushed it!! ✨🥂✨ The post received more love from fans. "Beautiful tablescapes! What was happening in the galley during that dinner was the perfect example of teamwork – no personal drama allowed! Great job crew!" one person summed up the comments. 
Kate Chastain said tablescapes reflect how you dress
Chastain shared on Bravo's The Daily Dish podcast that she has had nothing but positive encounters with Drake. "I think Bugsy is gorgeous," she said. "Bright blue eyes. She's got this charming accent, she's very bubbly. Her Instagram, she's a natural influencer. And she's always been very sweet to me in DMs and stuff."
But then Chastain got a little shady. "But here's what I will say. Let's talk about her outfit walking up the dock," she dished. "Tablescapes for every person is basically a reflection of how you dress Hannah's style is lacking. And I don't get it. Bugsy is the other end of the spectrum there. She's like over the top. Matchy, matchy, matchy. Palm fronds backpack, palm fronds in my hair necklace, palm fronds earnings."
RELATED: 'Below Deck Med': Is Kate Chastain From 'Below Deck' Shading Bugsy Drake's Tablescapes?
"I think Bugsy is really into tablescapes," Chastain observed. "Courtney [Skippon] my stewardess from [season 7], queen icon legend. We DM from time to time and it's like 'Goldilocks and the Three Bears.' There's one that's too little, one that's too much. We like it just right. I think that what's elegant is something that's beautiful but that you aren't trying so hard. There's a difference between simplicity and doing nothing."