'Below Deck Med': Bugsy Drake Says There's More Pressure Doing the Job on Camera
Christine "Bugsy" Drake from Below Deck Mediterranean admits being a chief stew on a private boat is an entirely different situation than doing the job on the show.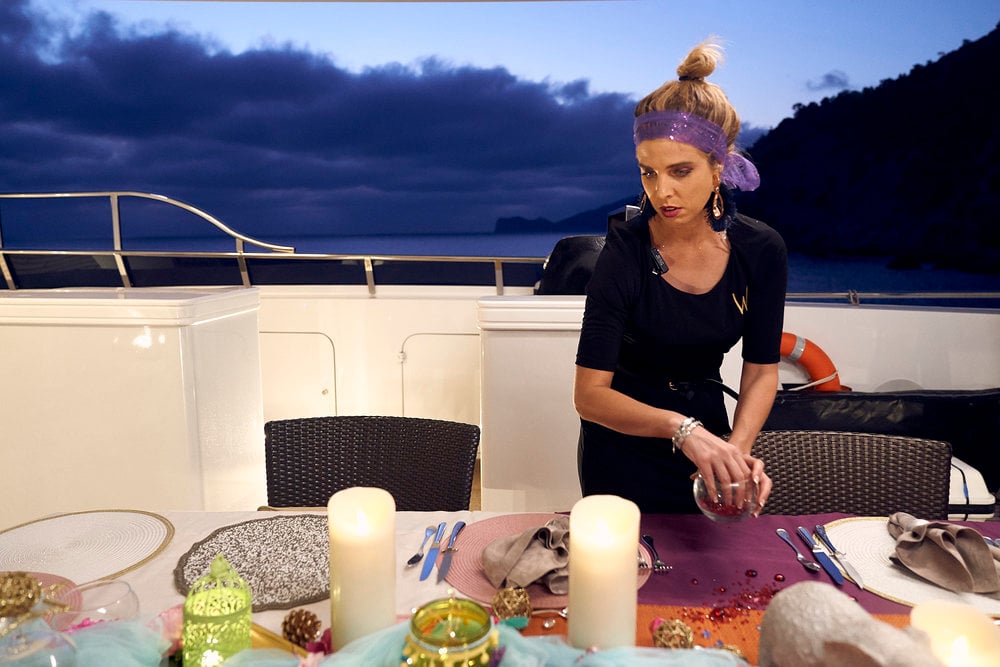 "I think there's a lot more pressure that comes with being a chief stew on camera," Drake told E News. "I think it adds that extra layer of just being more aware of your surroundings and the kind of way you lead your team and the way you come across."
She added that she was shocked to learn that chief stew Hannah Ferrier had been fired. Drake was quickly promoted to chief stew after Ferrier left the boat. Ferrier was fired after bosun Malia White shared a photo of Ferrier's unregistered prescription valium with Captain Sandy Yawn. Yawn told Ferrier she didn't feel safe going to sea with her and dismissed her before the next charter.
Bugsy Drake can understand how fans are upset
Drake said she was blindsided by the news that Ferrier was fired. "It wasn't really something I had expected was gonna happen," she said."Obviously, it came very out of the blue to me and, at that point, it was just time to hit the ground running. We had to carry on amidst all the drama that was going on."
She also understands how fans are disappointed to see Ferrier leave the show. "Hannah's been there from the start [on] Below Deck Mediterranean and I think a lot of people are super invested in … her as chief stew of the series," she said. "I'm completely open and accepting of people being upset and having a lot of emotions about it."
"Out of everybody, I think I was the last to find out that she'd actually left the boat," Drake continued. "You don't get to see it on the show, but Hannah did say goodbye to me and we both kind of agreed that it was good that we got to start over."
Drake and Ferrier are in a better place
Ferrier and White tried to make amends this season, but that relationship tanked after White turned Ferrier in for having the medication. However, Ferrier, who worried about Drake's return, seems to be in a better place with Drake. Ferrier came to Drake's defense when fans piled on hate during the medication drama.
"Hey guys – thanks so much for all your kind words and support," Ferrier tweeted during the drama. "I feel like Bugs has been pulled into this situation so I want to make something clear. I don't believe Bugs had anything to do with the photo being sent to sandy or the subsequent consequences." A fan pointed out that Drake played both sides. But Ferrier responded, "I know. But those are 2 different things and there's obvs a lot of hate coming about the photo etc so I don't want Bugs dragged into that hate as that's not fair."
Drake also wishes Ferrier well as she looks forward to motherhood. "She's very happy and I couldn't be happier for her becoming a mum," Drake told E News. "Because, I think that's been a long time coming and that's what she's really wanted. It's a bigger title to take on than a chief stew and I think she'll be good at it."