'Below Deck Med': Bugsy Drake Won't Tolerate Sexually Inappropriate Behavior From Lead Deckhand
Christine "Bugsy" Drake from Below Deck Mediterranean had a gut feeling that something was off with lead deckhand Pete Hunziker.
He seemed to leer at her from the minute she arrived on the boat, even making her uncomfortable as he lurked in the crew mess. She joked about him being the "crew mess creeper" but moved on as she was busy getting to work.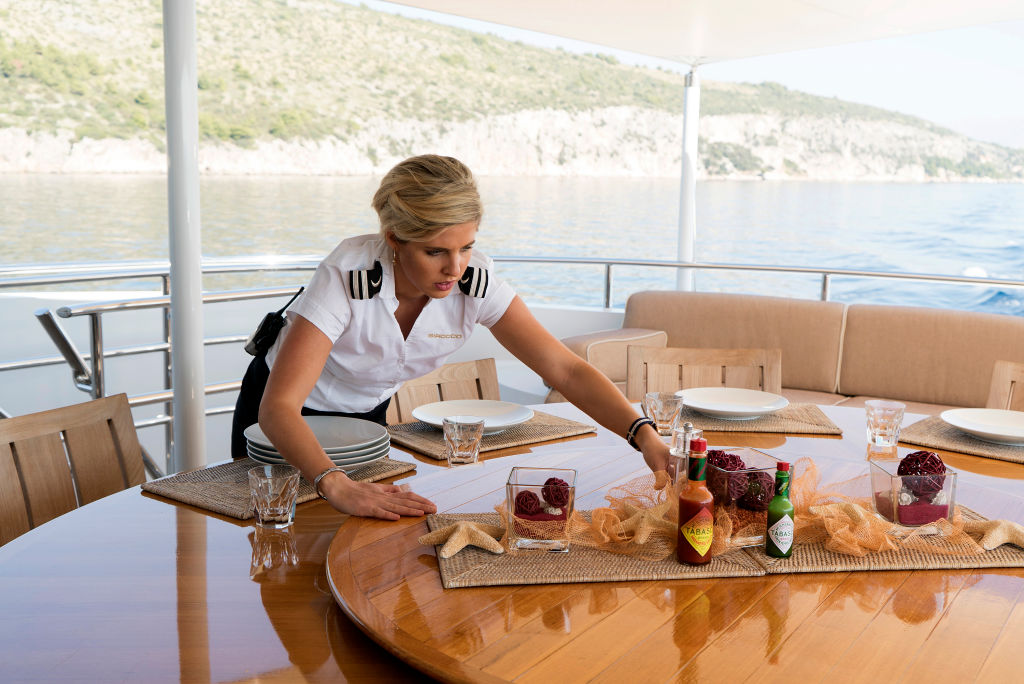 Hunziker confided in deckhand Alex Radcliffe that he was romantically interested in Drake, even though he continued to pursue Lara Flumiani, who departed after one charter. Hunziker continued to text and talk to Flumiani during the last two episodes. He even shared that he planned to meet up with her after the season ended.
Hunziker makes Bugsy Drake's hangover much worse
Drake continued to get an offputting feeling about Hunziker throughout the entire episode. He ultimately crossed the line when he was alone with Drake in the crew mess toward the end of the episode.
As she sits alone, he tells her she's going to get to know the real "Pete." He tells her, "By the way, they call me 'Shameless Pete'." Drake tries to shift the discussion away from her and asks about his involvement with Flumiani.
"We had a connection from the get," he tells her. "I'm gonna go chase her down and see what happens." Adding, "I'm gonna undress her with my f**king teeth. I'm gonna do things to her she's never had done to her before. And she's gonna fall in love."
As he talks, Drake looks more and more uncomfortable and ultimately horrified. "You're making my hangover worse," she tells him.
Hunziker crosses the line with remarks about past stews
Drake asks Hunziker if he's had relationships on boats before. "Just banging my stewardesses," he says as she looks completely shocked. In fact, she can't believe what she's heard and asks, "Sorry?"
He doesn't think what he's said is wrong. "You see I don't know if you are saying that for shock value," Drake replies. But he doubles down. "No, it's true. Just stews who are down for a [good] time," then he adds a maniacal laugh. "That's where I got my name last year. Party Pete." Drake notes that the laugh was disturbing. He then adds that he's met some "f**king hopping stews." Drake looks completely disturbed. "You seem batsh*t crazy," Drake says to Hunziker. He agrees.
Later bosun Malia White is pushed to the brink because of Hunziker's insubordination. "Your cockiness is putting the safety of this vessel in jeopardy," White tells Hunziker. Plus, Drake is seen sharing the encounter she had with Hunziker with Captain Sandy Yawn.
Yawn lays down the law. "I've got a charter that starts soon," she tells Hunziker. "And I'm seriously considering letting you go." Bravo and production company 51 Minds fired Hunziker in June after he shared a racist and violent meme on Instagram. The network plans to reduce Hunziker's character throughout the season. He's already been eliminated from the title sequence of the show.