'Below Deck Med': Captain Sandy Reveals Which Crew Members Are on the Boat During Filming but Not Usually on Camera
At least two of the superyacht's crew members remain on the boat during filming for 'Below Deck,' Captain Sandy shared. While they are supposed to remain off-camera, sometimes they get dragging into the on-camera drama.
Captain Sandy Yawn from Below Deck Mediterranean shared that owners who rent their superyacht to the series maintain two crew members on their boat during filming.
Viewers likely notice that crew not listed on the cast roster make an appearance on the show from time to time. Yawn shared this is a common practice for the series. "The yacht owners' engineer and 1st officer stay with the yacht while filming. They aren't shown on the show," Yawn tweeted in response to a fan's question. But alas sometimes viewers get to know some of these reluctant crew members, especially during Below Deck Med Season 5.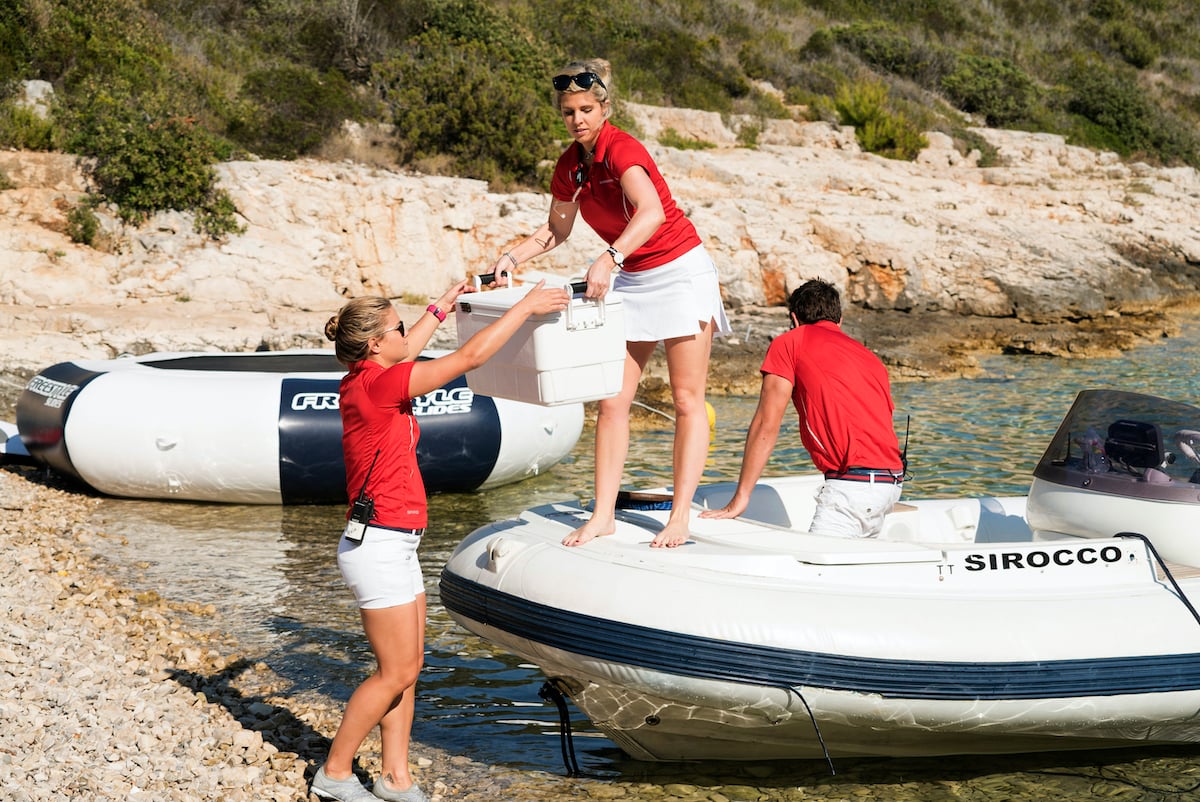 First Mate "David" ended up on camera more than once during 'Below Deck Med' Season 5
First mate David found himself in the middle of more than one instance of unfortunate drama during Below Deck Med Season 5. Yawn asked him to be present during her confrontation with chief stew Hannah Ferrier. Bosun Malia White sent Yawn a photo of Ferrier's unregistered valium and a vape pen. Yawn asked David to be present during the meeting.
In fact, it was David who consulted the maritime law books to confirm if possessing unregistered medication was a fireable offense. Yawn has since insisted she did not fire Ferrier because of the medication but because she did not feel as though she could trust her.
David was again back on camera when the boat lost power during docking. Plus deckhand Rob Westergaard was filmed asking him about joining the crew to do the now-infamous "crossing."
Westergaard also had an instance where he completely fumbled docking and throwing the lines. David offered to help him learn how to throw the lines. "You know, David actually came to me and was like, 'We can go to the dock and learn how to throw a heaving line,'" Westergaard said on the Below Deck Med After Show. "I know how to throw a heaving line; I just had a brain fart — three times. Like, leave me alone. It happens to the best of us."
'Below Deck' chief engineer discovered a stew made 'mustard gas'
Another off-camera crew member ended up on the show during Below Deck Season 8. Third stew Elizabeth Frankini's combination of soap and bleach suddenly made the interior team feel sick. The chief engineer was called in to investigate.
After an investigation, the engineer met with chief stew Francesca Rubi to share his findings. He told her the combination was typically used during World War II to create "mustard gas." Of course the news infuriated Rubi and she pushed to have Frankini fired.
Engineers are also briefly seen on the show when appliances fall apart. The galley kitchen experienced a slew of snafus on Below Deck Season 7 and Below Deck Mediterranean Season 4. Engineers were the crew members who got the kitchen back in working order.
First mates and chief engineers aren't always behind the scenes. Chief engineer Colin Macrae is a featured Below Deck Sailing Yacht cast member, plus Eddie Lucas was promoted to first mate during Below Deck Season 8.