'Below Deck Med': Captain Sandy Disputes Hannah Ferrier's Claim She Wanted Her out 'From Day 1' and Was 'Competitive'
Captain Sandy Yawn from Below Deck Mediterranean pushed back on former chief stew Hannah Ferrier's assertion that Yawn wanted her out "from day one" plus that was she competitive with her on set.
"I feel like Sandy and I never saw eye to eye," Ferrier said on the Side Piece with Melissa Pfeister podcast. "But she pointed out she doesn't choose the crew or who comes back." Ferrier added, "She wanted me out from day one."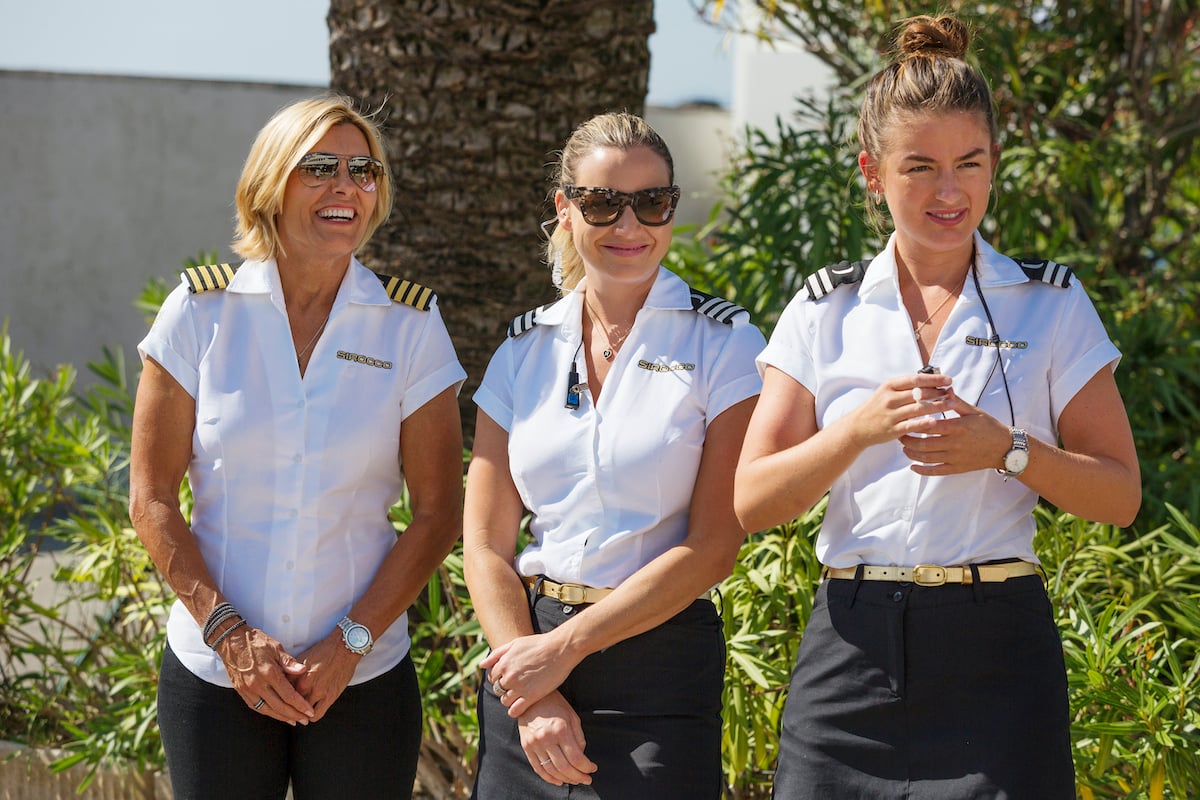 Captain Sandy said she risked more than her license because of Hannah Ferrier
Speaking exclusively to Showbiz Cheat Sheet, Yawn said Ferrier's statement was completely untrue and she doesn't understand why Ferrier continues to rehash what happened on the boat more than a year ago.
"That's not true," she said of Ferrier's assertion. "I'm a real captain and I expect a level of service. Hannah was there for the camera. I was there as a captain. Two different things. I actually care about yachting. And I care about my job."
Yawn said she did not fire Ferrier simply because she had Valium. "Or the fact that she had illegal marijuana on board," Yawn said. "I fired Hannah because I don't trust her. In fact, I met with a manager, a fleet manager that manages crew. And he said he wants to take the clip of the video, how I explained it, and show every captain on yachts that have to deal with crew."
RELATED: 'Below Deck' Women Producers Expertly Demonstrate How to Handle a Crisis on Reality Television
"Because I handled it like the book," Yawn said. "I fired Hannah because I don't trust her as a crew member on board at all, that's why I fired her." Yawn shared an article written by a maritime attorney specifically addressing the scenario from the show.
She added, "I am responsible for every life on board. And I go to prison if something catastrophic happens. I don't just get a slap on the hand or get fired. I go in front of a federal judge. Would you take that risk with a crew member that had Valium and marijuana in their cabin? No, I don't think so."
Captain Sandy wishes Hannah Ferrer well
Ferrier also said she felt a sense of competition from Yawn while she was on the series. "There was some weird competitive thing she had going on with me," Ferrier said about Yawn on the podcast. "Which was kind of silly because it's not two positions that should be competing. But I don't think we were competing like on our work positions. I think she was competitive with me on the TV side of things."
Yawn was stunned by this assertion because she had no idea what Ferrier was talking about. "There's no competition with Hannah. I'm a captain and she waits tables," Yawn said. "There's no equal there professionally. I think that's the part that I think really disturbs her, is her ego. It's sad. I feel for her, this girl still hanging onto that sh*t I haven't thought about until you asked me about it."
RELATED: 'Below Deck Med': Colin Macy-O'Toole Explains Why the Series Costs $10 Million to Produce (Exclusive)
"It's really sad," Yawn added. "She's starting a family like I don't get it. So sad for her. I don't hate her. I don't hate Hannah and never have. I wish her well." Yawn added that the last year has been devastating to so many people that hanging onto what happened on a reality television show a year ago is in the past for her.