'Below Deck Med': Captain Sandy Followed Hannah Ferrier Onto the Dock Out of a 'Place of Compassion'
Hannah Ferrier from 'Below Deck Med' thinks Captain Sandy wanted to fire her for some time.
Captain Sandy Yawn from Below Deck Mediterranean followed Hannah Ferrier onto the dock shortly after she fired her. Viewers wondered why Yawn pursued Ferrier but Yawn said she did it out of a place of compassion.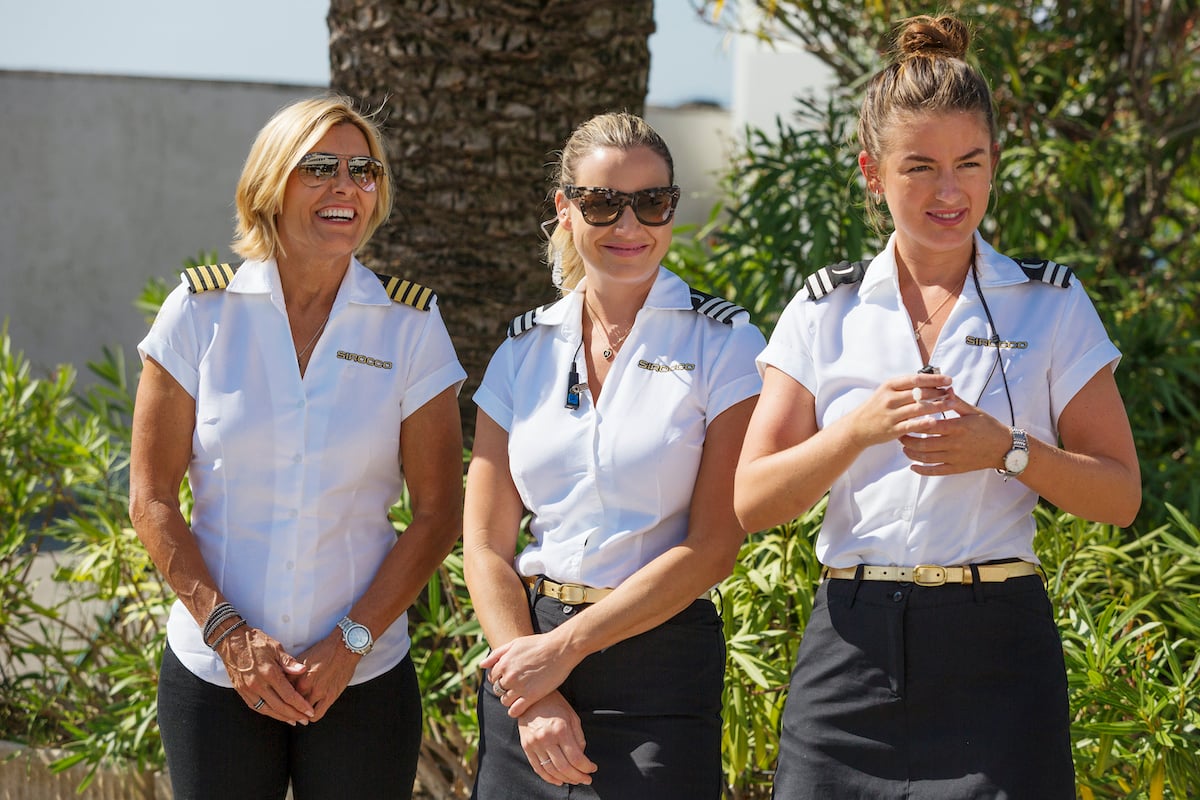 "When I walked onto that dock to see Hannah it came from a place of compassion," Yawn explained in the Below Deck Med After Show. "When you invest in people, and you spend four seasons with someone, of course, it's difficult. It's not easy."
She views the moment as a loss. "But at the end of the day, I have to think about the ultimate goal," Yawn continued. Yawn is seen explaining to Ferrier that going to sea with her is a safety hazard. At this point, Ferrier is over it and wants Yawn to simply leave her alone.
Captain Sandy wanted her to know her hands were tied
"I didn't do this to her," Yawn said. "The one thing that I said I will never lose because I felt that a lot of the corporate people that I worked for, they're just so focused on the next thing that they forget that you've got a human being sitting in front of you."
However, Yawn became agitated when Ferrier rolled her eyes when she told her she cared about her. "When she made it about me, it pissed me off," Yawn said. "You don't know my heart. You don't know my motive. I'm not in the mind or heart of someone else."
"So that's not accurate when someone says I don't care, I just wanted them fired," she continued. "That's not true. She goes, 'You always wanted to fire me.' If that was the case I would have done it first season." Viewers may recall that Ferrier was in the hot seat with Yawn every single season. Yawn had to talk to Ferrier about kanoodling with a guest during her first season of the show.
Ferrier became scattered when she had a boatmance with bosun Conrad Empson during Yawn's second season. Yawn was angry when Ferrier said she was going out with the guests for "one Coke" but was off the boat for hours. Last season, Yawn expressed to Ferrier that she lacked passion for her job.
Hannah Ferrier says it was like being kicked her while she was down
Ferrier doesn't see it the same way and feels like Yawn was just continuing to kick her while she was down. "Okay, you fired me, I'm speaking to my boyfriend and I'm gonna pack my stuff and then I'm gonna leave," Ferrier said in the After Show. "It hasn't been hours. I'd come outside to have a cigarette, especially because of the way I was fired for drugs."
"So it's almost like you've done your part, can you just leave me alone," Ferrier continued. Adding, "It's almost like breaking up with somebody and as they're packing their stuff, just going up and going like, 'Oh hey like you know I actually like cheated on you that night I went out. And I actually hate your mom. It's like okay. You've dumped me. Just let me pack my stuff and leave, you know?"
Ferrier thinks Yawn wanted to get rid of her for some time. "And she's got Bugs [Christing 'Bugsy' Drake] on board who she loves," Ferrier says. "She's just trying to build her perfect little team."