'Below Deck Med': Captain Sandy Says The Crew and Yacht Were Her Biggest Season 5 Challenges
Although she marveled at the grandeur of the yacht, Captain Sandy Yawn from Below Deck Mediterranean said managing it was no easy task.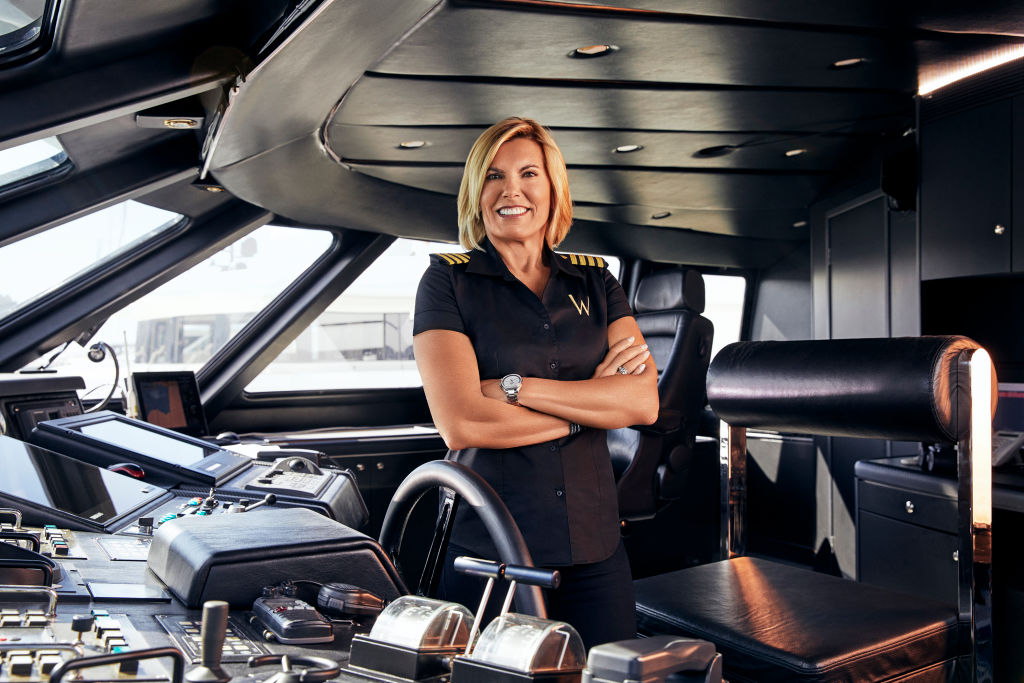 She shared that The Wellington is the largest yacht on the series and the largest she's commanded. Yawn and bosun Malia White offered a virtual tour, which detailed some of the vessel's pumped up amenities. Although the yacht was beautiful, it wasn't the easiest to maneuver.
The yacht wasn't the only thing that was tough to maneuver. The crew apparently gives Yawn a run for her money this season too. Last season she faced an incompetent chef who she had to replace early in the season. She allowed her third stew to give the position a shot, but the stew eventually backed down when stress from the job became too great. Apparently, last season was peanuts compared to what's ahead.
Yawn describes this season as 'explosion, drama, heartfelt experience!'
Yawn said season 5 comes with a wide range of emotions. "Explosion, drama, heartfelt experience!" Yawn told E! News.  "For me, it's the most difficult season I've ever done but the most rewarding if that makes sense."
"My challenge just isn't the crew, but that's the biggest part," she said, indicating crew drama. "The boat for me was challenging, you'll see. And I have all female leaders which is great so I'm looking forward to finding out how well did those boys listen to Malia. That's what I want to know."
RELATED: 'Below Deck Med' Season 5 Yacht Is the Largest Ever On the Series
Yawn added that having a yacht led by all women is a watershed moment for the series. "It's rare for a female bosun," Yawn explained. "Chief stew is always normal. All the women get stuck inside which is unfortunate for the women. However, our lovely network Bravo makes it so we can have bosuns and I love that part because Malia is going to show me if she…I believe she has it in her. So I get to witness it this season. Just like you do for the first time and go, 'Wow, that's how she handled that.' I can't wait for those moments."
Drama with drugs too
Below Deck Sailing Yacht just faced the prospect that a guest brought drugs on board the yacht. Two crew members suspected a guest was doing illegal drugs, which led Captain Glenn Shephard to search the guest's belongings. He ultimately did not find drugs.
Yawn seems to also be faced with the same problem although it is unclear if it is a guest or crew member who is under suspicion. "It's a part of yachting," she said about drug use in the industry. "So I always just say, I don't make the law. The maritime coastguard agency makes the law."
RELATED: 'Below Deck Med': Captain Sandy Shares What to Do If Your Crew Suspects a Guest Has Drugs on Board
"So that means the law is no crew members can absolutely do drugs at all," she continued. "If they're prescription drugs, they have to be logged in. They have be monitored. We're responsible for lives. When it comes to the guests. Well, I just say, 'Hey, mister primary client, we can't have drugs on board, you gotta tell your friends get the drugs off.' And then I call his broker and I inform them and then I call the management company and I inform them. So I stick to protocol."
Yawn told Showbiz Cheat Sheet she draws the line at personal searches. "I would never go through the client's stuff," she insists. "Taking someone's personal stuff? You can't go through someone's stuff."
Below Deck Mediterranean season 5 premieres on Monday, June 1 at 9/8c on Bravo.