'Below Deck Med': Captain Sandy Says 'the Crew Reflects on the Captain'
Captain Sandy from 'Below Deck Med' says she expects the crew to deliver exceptional service.
Captain Sandy Yawn from Below Deck Mediterranean seems like she's riding some crew members especially hard, but she shared that their performance is a direct reflection of her as a captain.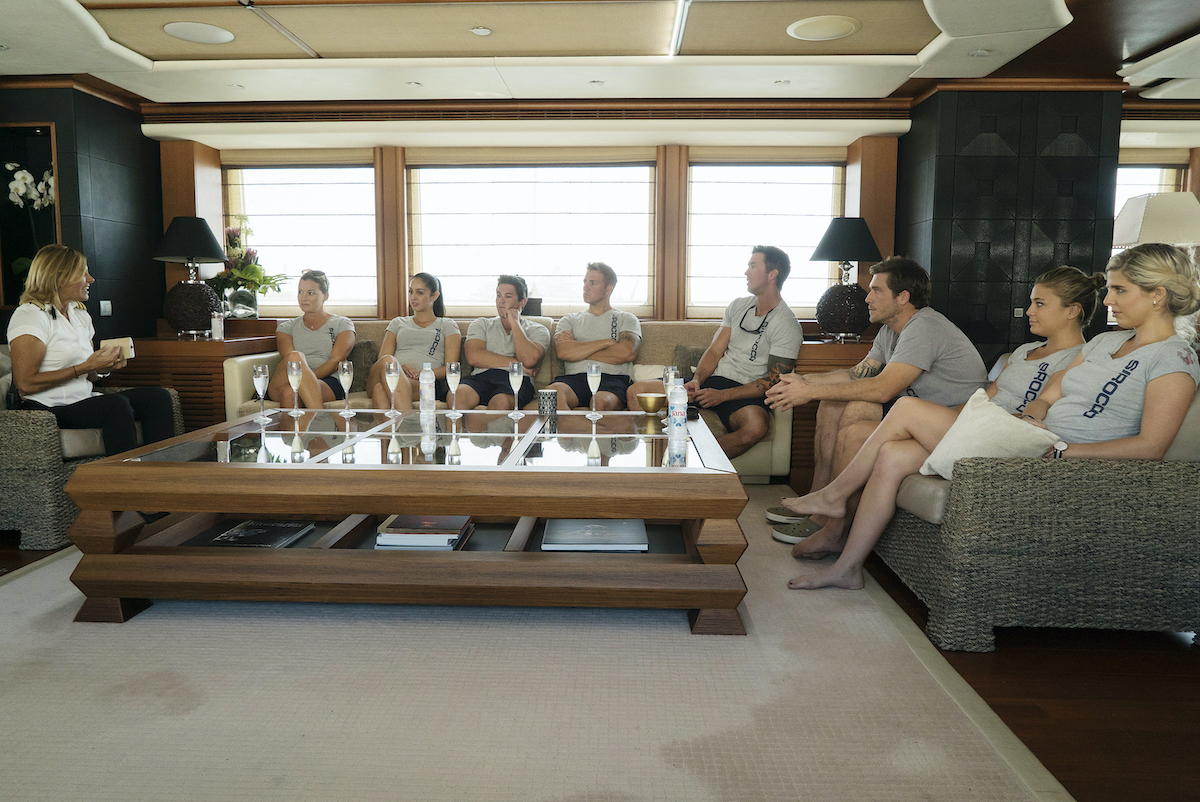 Yawn has been dragged hard on Twitter for being a micromanager this season. The hands-on captain seems to be even more hands-on. She's often appearing in the galley kitchen to ask about the food or having to referee a fight between the stews.
Despite being accused of being a micromanager in the kitchen and the interior, Yawn isn't constantly on deck to monitor the job bosun Malia White is doing. Aside from addressing some sexist behavior from a deckhand, Yawn has left the deck team to manage operations independently.
The crew is a reflection of the captain
Yawn's 30 years in the industry are put to the test every single season. She's fiercely protective of the reputation she fought to build. She's also shared that being a woman made the climb even more challenging.
When it comes to the crew, Yawn has said their job performance is a direct reflection of her abilities as a captain. "The crew reflects on the captain, so I expect a lot, but I also believe in people," she told MarineMax.
"When I've had crew do stupid things, I tell them, 'Look at where your feet are,'" she continued. "As long as I believe in the crew and show I'm not above what I'm asking to do, they don't want to let me down. You have to have people skills. You can't be a dictator. I'm direct. I'm kind. When I've had to fire someone, I say, 'I like you, I want to stay in touch with you, but I can't keep you on board because you're not doing your job.'"
'Step up or step off'
Yawn has been relatively quiet when it came to the especially harsh remarks and criticism she's received on social media this season. However, she reminded a few viewers that her focus is completely on the guests and the guest experience.
"Capt Sandy is a boss thats also her title and thats what she is doing when needed if chef can't cook 5 star meals EVERY charter he is not a yacht chef~ interior most important if you are a guest looking for service stews have failed," one fan tweeted.
"After all the seasons of #BelowDeckMed, viewers know what is expected on a superyacht," Yawn responded. "Crew should also know. We are working on the M/Y Wellington not a 3 hour booze cruise. Step up or step off."
Another viewer told her she should at least find a better way to manage her team. Yawn reminded the person, "You're watching 43 mins a week of 24/7 filming." The production crew obtains approximately 4,000 plus hours of footage to build into 20, 44-minute episodes, The New York Times reports.
Yacht vacations aren't cheap
Yawn is constantly aware that the guests are spending a significant amount of money to travel aboard a superyacht. That means they expect their experience level to match the amount of money they are spending.
Some yacht vacations can cost $1 million or more. For instance, celebrities like Kylie Jenner and Magic Johnson are known to drop millions on a yacht getaway. While Below Deck guests receive a discount, they are still spending more on their three or four-day excursion than what they'd spend on most luxury trips.
For instance, guests on Below Deck season 3 paid $35,000 each, Yacht Charter Fleet reports. Below Deck Med guests who appeared on the show during season 1 got an even deeper discount. "It's $55k for a group of 5 people, that includes everyone's roundtrip airfare to Croatia, 2 nights at a 5 start hotel, 3 days on the 154ft yacht- that normally charters for $207,000 a week, all food and alcohol on yacht, all water sports, crew tip and ground transportation, "The Forward Cabin reported in 2016. "The trip normally would cost over $100k so it's a great deal."