'Below Deck Med:' Chef Kiko Reveals the Craziest Request He's Ever Gotten on Charter
Chef Hindrigo "Kiko" Lorran from Below Deck Mediterranean says the six-course, 72-plate meal viewers saw him expertly prepare was the craziest charter guest request he's ever received.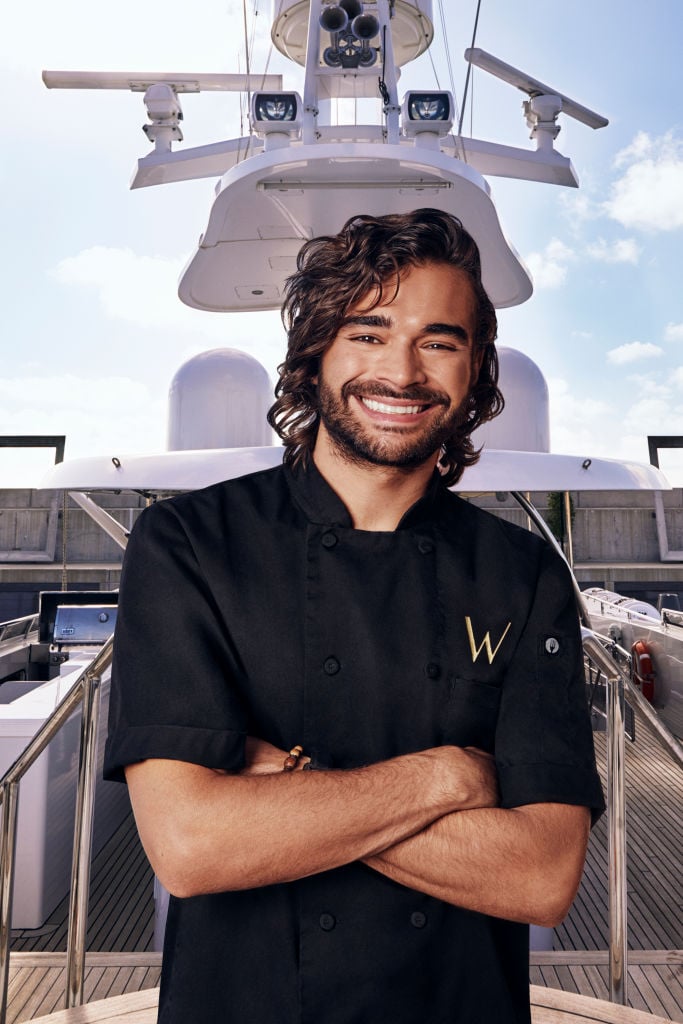 Lorran appeared on Watch What Happens Live with Andy Cohen and was asked about the moment during the After Show. After confirming the marathon dinner was the craziest request from a charter guest, host Andy Cohen congratulated Lorran on pulling off the dinner like a pro.
He admits that getting through the meal was tough and pretty stressful. "It was a lot, a lot of stress," he says. "But I was confident in thinking positive that I would like finish. So I just wanted to get the job done." A slew of crew members and fans were blown away by Lorran's skill and ability to keep a cool head, plus a smile on his face.
The crew applauds Chef Kiko's mad chef skills
The entire crew rallied to support Lorran during the dinner. Deckhands washed plates. Chief stew Hannah Ferrier kept the line going and second stew Christine "Bugsy" Drake even set up a system to label each dish. During the episode, the crew looked back with awe and tweeted and posted about how brilliantly Lorran pulled off the dinner.
"Kiko did such an amazing job with this dinner. His food, timing and plating were all impeccable," Ferrier tweeted. Also, Anastasia Survama added, "Yes Kiko!! but let's not forget you had a total of 6 hours of sleep and still crushed it." Surmava was the third stew who moved up to the chef position last season. Ferrier also confirmed that she worked well with Lorran too. "We both had each other's back this season :)" she tweeted. Adding, "He's super easy to love."
RELATED: 'Below Deck Med': Chef Kiko Reveals the Real Reason Why He Doesn't Like Talking to Charter Guests
Captain Sandy Yawn was also thrilled with the efforts. "Great job Kiko! Interior and Deck teams are rocking it!" she tweeted. Drake added, "Kiko did so amazing!!" Third stew Jessica More tweeted, "Kiko bossed this dinner like a champ."
Many fans are also Team Kiko
Lorran's easy-going disposition and skills blew away the viewers too. Many took to Twitter to offer a "Chef Kiko appreciation" tweet. "Is…is Kiko the best chef in #BelowDeckMed history? He did a six course tasting menu for 12 people with no complaints!!!!" one person shared.
Others appreciated his friendliness, which is sometimes not always found in the galley kitchen. "kiko is by far the best chef below deck med has ever seen! all the other chefs on this show have been so confrontational and anger-prone while kiko just seems like the yacht chef personification of 'live, laugh, love.'" another fan wrote.
RELATED: These are the Craziest Guest Requests Ever on 'Below Deck'
Speaking of other chefs, some wondered what would have happened if chef Ben Robinson or chef Adam Glick were presented with the same challenge. "Can anyone imagine Ben or Adam doing a 6 course 72 PLATE meal like Kiko? No b*tching, no whining, no throwing sh*t everywhere?!"