'Below Deck Med': Chef Kiko Reveals the Real Reason Why He Doesn't Like Talking to Charter Guests
Below Deck viewers often see the chef reviewing the preference sheet with charter guests or presenting their dish and dessert.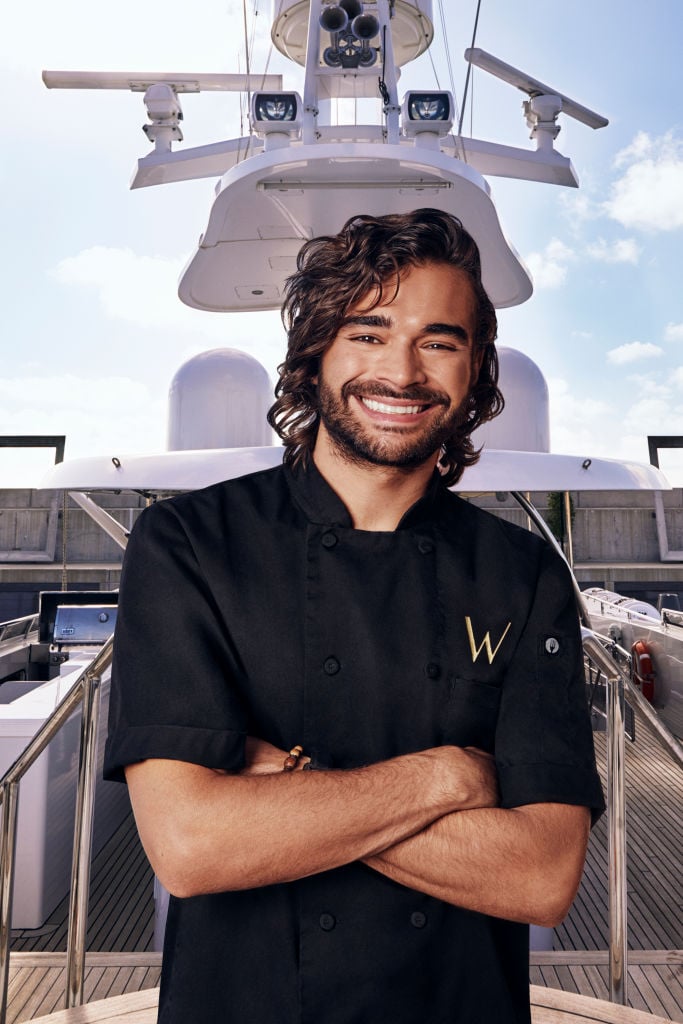 But for Below Deck Mediterranean chef Hindrigo "Kiko" Lorran, coming out to talk with guests is his least favorite thing to do.
A preview clip shows chief stew Hannah Ferrier already having an issue with the guests over their request for shellfish. The guests are about to play poker and one asks, "What happened to the oysters we ordered?" Ferrier explains oysters are coming the next day and the best way to get what they want is to "pop" the request on their preference sheet when they arrive onboard. Clearly, communication with these guests is key and Lorran does not love being in this position.
Chef Kiko explains why he doesn't like talking to charter guests
The crew wonders if Lorran has discussed dinner with the guests. "Did you speak to them after lunch about dinner," Ferrier asks Lorran. He says while he didn't speak to the guests, he's going to follow the primary preference sheet requests.
"I need you to talk to them," Captain Sandy Yawn insists. "Please don't avoid that." While Lorran agrees with Yawn he truly does not want to have to meet with the guests.
RELATED: 'Below Deck Med': Does Captain Sandy Have Another Chef Problem?
"I hate to talk with the guests," he admits while laughing. "It's because English is not my first language, and I'm so nervous of that. You know, just let me cook." Lorran has had a few comical language snafus with the crew thus far. While the crew thought the mixups were funny, a mixup like that could prove to be embarrassing for everyone.
Chef Ben sometimes shied away from speaking to the guests too
Although chef Ben Robinson from Below Deck and Below Deck Med was often very charming and talkative with the guests, he didn't always love guest interactions. Last season, he struggled with broken appliances to prepare meals. He knew some of the dishes were arriving at the table cold and the galley kitchen on Sirocco was cramped.
Viewers may recall when Yawn dined with guests and she called for him to come up to talk to the guests during dinner service. He looked slightly panicked at the request. Why, why do I need to do that," he said looking pretty worried. "Is it good or bad?" 
RELATED: Does Chef Ben From 'Below Deck Med' Get Lost on Sirocco?
Robinson was still new to the boat and unfortunately just finding the table was a chore. "I don't even know how to get to the table," he said as he's seen opening random doors to find his way to the guests. By the time he finds the guests he's greeted with applause. "Oh wow, that is a relief," he said once he realizes the guests simply wanted to thank him. A guest says, "No don't be worried, it is good." 
Some chefs have had to deal with guests getting too cozy
While Lorran may not feel comfortable due to language constraints and Robinson worried about guest complaints, other chefs have had to deal with guests invading their space while they worked.
Chef Adam Glick from Below Deck Sailing Yacht had a few flirty guests who not only gushed about his dishes but made themselves comfortable in the kitchen while he cooked. He was gracious and friendly, but clearly it was extremely awkward.
RELATED: 'Below Deck' Guest Challenges Chef Adrian and Reveals What Was Really Going on With Brandy
Also, chef Adrian Martin from Below Deck season 6 had guest, Helen Hoey extremely interested in what he was cooking. He seemed intimidated and a little concerned she was more than just interested in his food. Hoey returned for season 7 and was a little insulted he joked about her during season 6.
Below Deck Mediterranean is on Monday at 9/8c on Bravo.